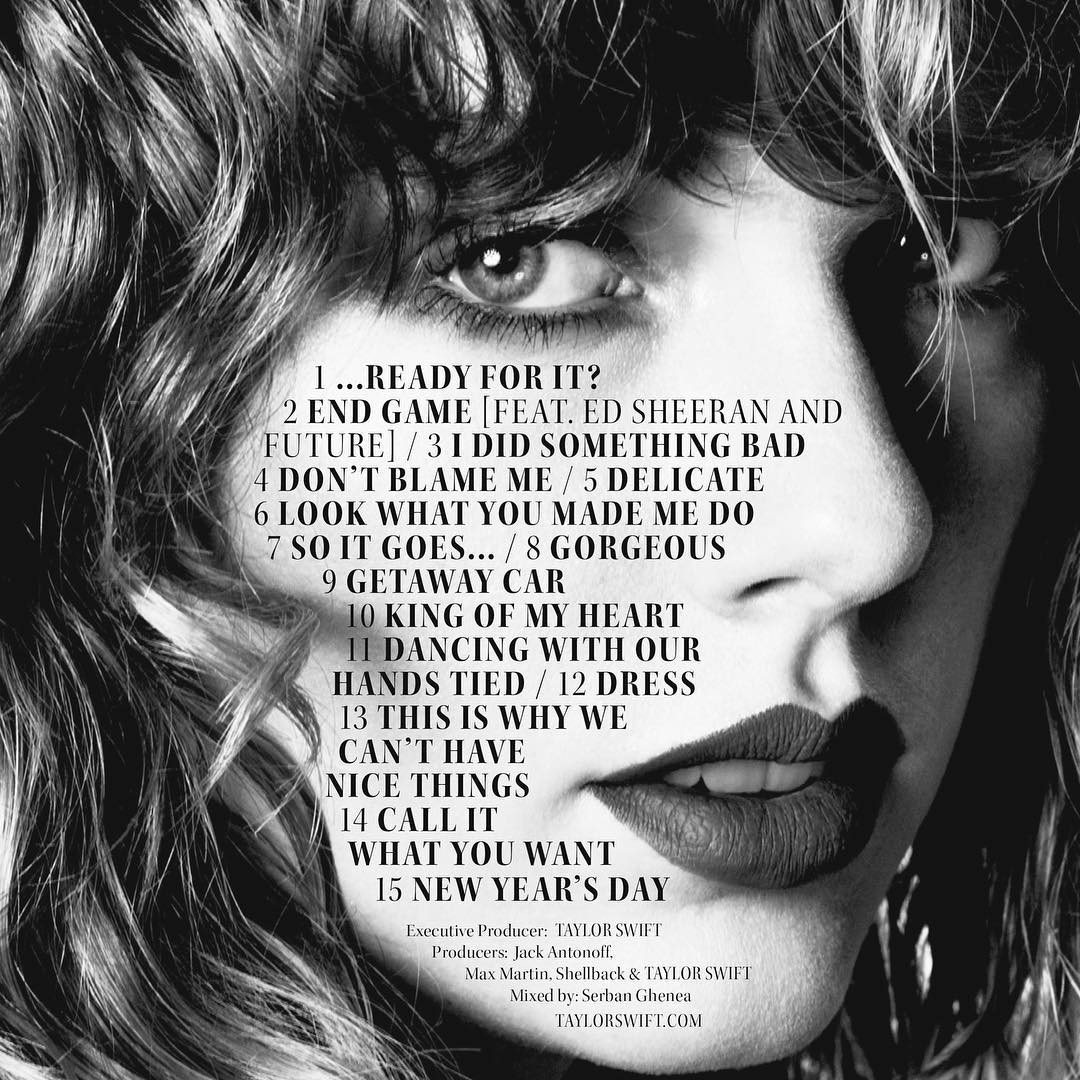 Instagram
...Ready for it? Because Taylor Swift is singing about the men in her life. 
As Swifties digest the songstress' newly dropped sixth studio album, Reputation, there's plenty of personal imagery to decipher in the star's carefully penned lyrics. 
While she sings of getaway cars and New Year's Day, Swift's tracks are peppered with hints about her current romance and its origins. At this point, the world is well aware of her beau, Joe Alwyn, but for the first time, Swift is talking about their relationship herself. 
In many tracks, she alludes to her "baby," the 26-year-old blue-eyed British actor who seems to have stolen her heart. In "Gorgeous," she gushes about how he is just that with lines like "You're so gorgeous I can't say anything to your face 'cause look at your face." She tips listeners off to the fact she's singing about the star when she notes, "and I got a boyfriend, he's older than us," alluding to ex Tom Hiddleston. In "Delicate," she touches on hesitantly seeing him while her "reputation's never been worse," but simultaneously admits she frankly wants him. 
Getty Images; Richard Young/Rex Features/startraksphoto.com / E! Illustration
With that line, Swift sets the stage for her overlapping romantic interests. According to the track, she met Alwyn while she was still dating her ex British beau. Swift references the Night Manager star and her musical ex Calvin Harris in "King of My Heart" when she makes it clear that Alwyn is the king of her heart "'cause all the boys and their expensive cars, with their Range Rovers and their Jaguars, never took me quite where you do." Yes, Harris drove a Range Rover and Hiddleston a Jaguar. 
The musician makes a flurry of transportation references throughout her latest work, noting how she flew one "playboy" "all around the world and I let them think they saved me." Considering she and Hiddleston prominent jet-setters last summer, we would venture to say he's part of the narrative for "I Did Something Bad." 
Meanwhile, in "Getaway Car," listeners suspect she's singing about Hiddleston as she explains needing a reason to leave a man. She describes a mystery lover as her "great escape" only to realize "we were flyin', but we'd never get far," leading some to suspect she quickly realized her romance with Hiddleston was not going to work. Following her breakup from Harris, she and the Thor star went public and briefly dated for roughly three months before calling it quits by early September 2016. 
However, Swift makes it clear that those personal chapters are in her rear view mirror as she sonically gushes about the man in her life today. Having already declared the old Taylor is dead, the 27-year-old has clearly given herself the freedom to be more open about romance, love and sexuality as she reveals buying an outfit just so her man could take it off in "Dress" and "doing bad things" in "So It Goes..."
Overall, as she makes it clear in "Call It What You Want," no matter what was being said about her in the public arena over the last year, in private she was "doing better than I ever was" with Alwyn by her side. 
From the sound of it, Swift is in it for the long run. As she sings in her last track, "I want your midnights, but I'll be cleaning up bottles with you on New Year's Day."