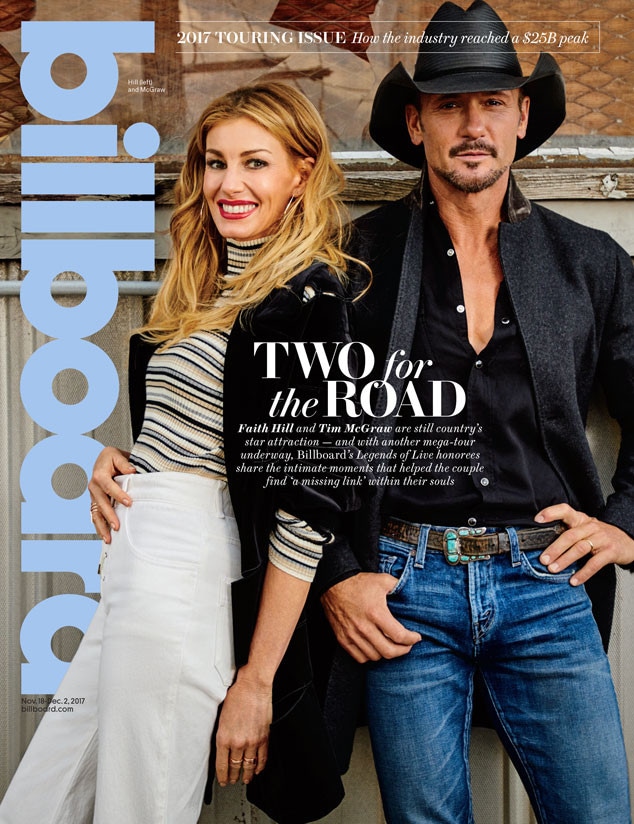 David Needleman
Faith Hill is opening up about her family history.
The singer and her husband Tim McGraw, who are about to release their first album together, are on the cover of Billboard's 2017 Touring Issue and inside the pages, the duo opens up about everything from family to gun control.
The interview talks about Hill's parents, who adopted her as an infant and later said her birth mother put her up for adoption because "she'd had an affair with a married man." But those claims about her birth mom weren't true.
Evan Agostini/Invision/AP
"I used to think there was some kind of conspiracy, that I must be the daughter of one of my aunts. And of course I used to dream I was Elvis' daughter," she says. "I have a great family: salt of the earth, hardworking. But I'm a gypsy at heart. I had a spirit that was completely outside what my family was. I didn't know anyone I was related to, biologically, which gives you a sense of not ­knowing who you are."
Then in her 20s, Hill found her birth mother, who she would learn was a professional painter. She also learned she had a brother. However, Hill tells the magazine that she "kept the relationship at bay," while McGraw adds that the two "were just getting to know one another better" when Hill's birth mother passed away in 2007. But learning that she was a painter helped Hill understand where her artistic ability came from.
During the interview, the couple also shares why they are in support of gun control. "Look, I'm a bird hunter — I love to wing-shoot. However, there is some common sense that's necessary when it comes to gun control. They want to make it about the Second Amendment every time it's brought up. It's not about the Second Amendment," McGraw tells Billboard.
"In reference to the tragedy in Las Vegas, we knew a lot of people there," Hill shares. "The doctors that [treated] the wounded, they saw wounds like you'd see in war. That's not right. Military weapons should not be in the hands of civilians. It's everyone's responsibility, including the government and the National Rifle Association, to tell the truth. We all want a safe country."
To see more from the couple's interview, check out Billboard.
The Rest of Our Life album is set for release on Nov. 17. Soul2Soul: The World Tour will come to an end in July 2018.