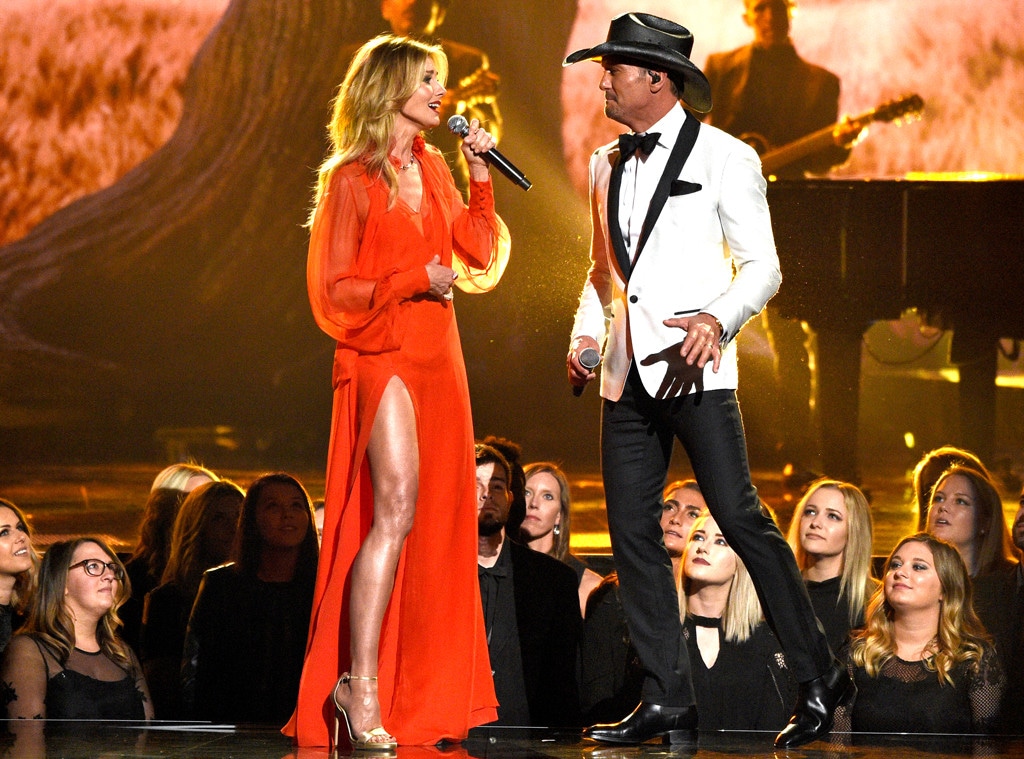 Chris Pizzello/Invision/AP
Let's get real, we could watch Faith Hill and Tim McGraw's 2017 CMA Awards performance of "The Rest of Our Life" for the rest of our lives...
The longtime duo, who have been married since 1996, were on fire for their duet, which showcased their vocal chops, just as much as Hill's stellar stems.
The 44-year-old singer donned a fiery red gown, complete with a revealing slit. Her hubby was a little bit country and a little bit rock and roll with his white tux and cowboy hat. Of course what was most notable was the fire raging between the two of them. Giddy up!
Evan Agostini/Invision/AP
The long-reigning king and queen of country were nominated (but lost out to Willie Nelson and the late Glen Campbell for their "Funny How the Time Slips Away" collab) for the 2017 Musical Event of the Year Award for their song "Speak to a Girl."
Amazingly enough, this is the sixth time the two have been nominated together. Combined, the country stars have nabbed 61 CMA Award nominations over the years. 
McGraw has won 11 CMA Awards, including Entertainer of the Year in 2001. Hill's picked up three CMA Awards, being honored with the 2000 Female Vocalist of the Year Award, the 1998 Music Video of the Year and the 1997 Vocal Event of the Year.
The lovebirds have an upcoming joint album, also titled The Rest Of Our Life, which will be available on Nov. 17. The upcoming record is their first joint album of their 21-year marriage.
One of country music's most beloved duos, who are parents to three children, has been touring together since April with their "Soul2Soul" tour.