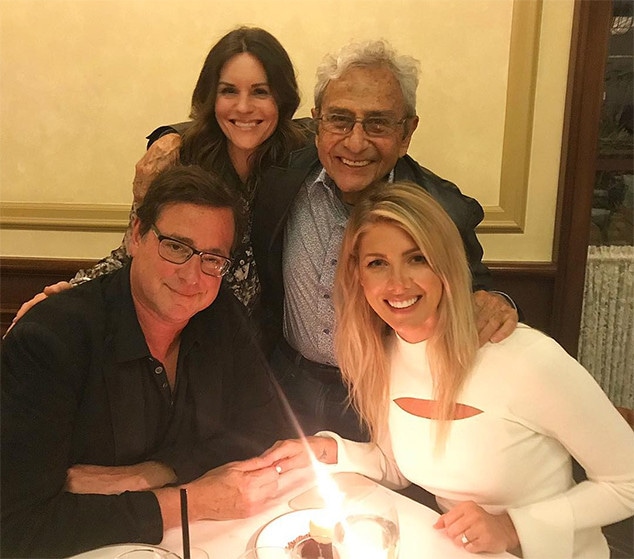 Instagram
Bob Saget is ready to walk down that aisle again.
The 61-year-old actor and comedian, best known for playing Danny Tanner on Full House and Netflix's sequel series Fuller House, revealed early on Wednesday that he is engaged to Kelly Rizzo. Saget and his fiancée, a 38-year-old Chicago native and host of the series Eat Travel Rock, first met more than two years ago.
Saget posted on his Instagram page a photo of the two at a restaurant with friends Katie Killean and Seinfeld producer George Shapiro. Rizzo is wearing a diamond solitaire engagement ring.
"Love the people in this picture. The most loving and legendary @George_Shapiro Katie Killean & of course my gal Kelly," Saget wrote. "In case you're wondering, we were celebrating our engagement—and I know George and I will be very happy together.
Rizzo also posted on her own Instagram page later on Wednesday a photo of her holding an oyster and sporting her ring.
"Who needs pearls???" she wrote. "Enjoying my favorite food with my new favorite accessory."
This will mark the second marriage for Saget, who was previously married to Sherri Kramer for 15 years until 1997. They share three adult daughters—Aubrey, Lara Melanie and Jennifer Belle.
Rizzo told Michigan Avenue magazine that she and Saget met through a mutual friend in early 2015.
"I don't really see him as Danny Tanner," she said. "To me he's just Bobby, my love."
News of Saget and Rizzo's engagement comes a week and a half after his Full House co-star and friend John Stamos, 54, proposed to actress Caitlin McHugh, 31, at Disneyland after dating her for more than a year. This will also be his second marriage; he was previously married to actress Rebecca Romijn.