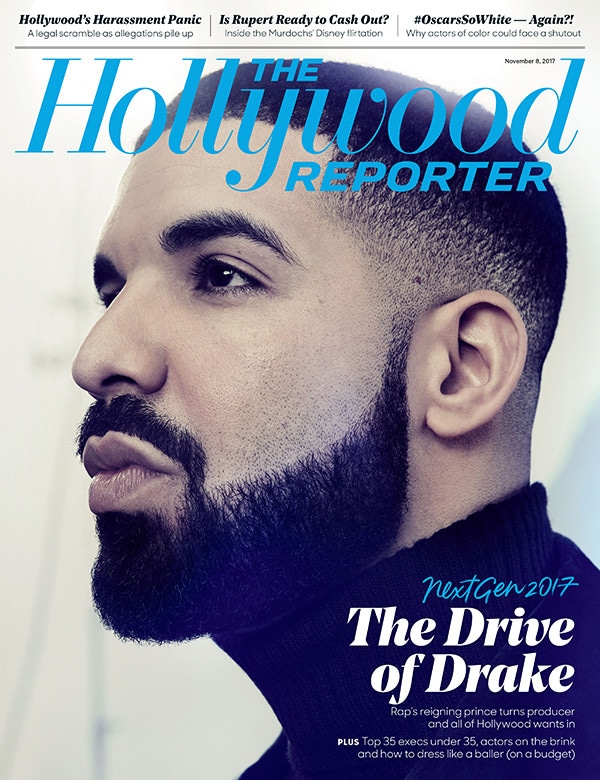 Ruven Afanador / The Hollywood Reporter
One of the top boys of rap is making a TV comeback, this time offscreen.
It was announced recently that Netflix is reviving the British crime series Top Boy and that Drake, who rose to fame 16 years ago as a teen star of Degrassi: The Next Generation, and his longtime manager, business and production partner Adel "Future" Nur, will serve as executive producers. The show is set to debut in 2019.
Drake, 31, and Nur, 32, talked toThe Hollywood Reporter about the project and the rapper's acting career, in interviews published in its November 8 "Next Gen" issue and carried out weeks ago. Drake also talked about his rap future and his love for Harry Potter.
Check out five revelations from the interviews:
1. "Incredible" Show: Drake said he watched the original Top Boy series on YouTube and was struck by the way it depicted London as simultaneously beautiful and malevolent.
"And that human element drew me in," said Drake, who appears on the magazine's cover. "I started just looking them up. Like, who are these people? Are these actors I should know? Are they just famous over there? I remember I hit Future, and I was just like, 'This show is incredible.'"
"Drake's passion for Top Boy was clear from the first conversation, and he really drove its resurrection," Netflix's Vice President of Original Content Cindy Holland told The Hollywood Reporter.
It is unclear if Drake will appear in the new series. The rapper has not acted onscreen since Degrassi, with the exception of music videos and shorts, hosting SNL and portraying a character in the animated film Ice Age: Continental Drift. Drake still receives a script a week for acting and has turned everything down, The Hollywood Reporter said.
2. He's Got it in the Bag: In the interview, the self-proclaimed "one-woman kind of guy" spilled that the (good) news that "for years" he's been collecting iconic Hermès Birkin bags for his future wife. "It was one of those things that I, you know, just started collecting as well for, I guess, the woman that I end up with one day," he said. "So, I have a fairly vast collection of Hermès to offer somebody at some point in life." 
3. What About The Handmaid's Tale?
In June, fellow Toronto native, The Handmaid's Tale author Margaret Atwood, told Boston Review, "Wouldn't it be fun for him to have a cameo in season two of The Handmaid's Tale?" Drake's colleague Future told The Hollywood Reporter that the rapper got a kick out of the suggestion, but that the two would rather option one of Atwood's available books and shepherd it to the screen. 
4. Speaking of British Series... From a financial perspective, suffice to say, Drake would be just fine concentrating on his music career. According to Forbes, the rapper is the fourth highest-paid celebrity of 2017 with around $94 million in annual earnings and was the most-streamed artist in the world. The website said he made the bulk of his money from his Boy Meets World tour and also receives compensation from Apple, Sprite and Nike endorsement deals.
So with money like that, he has no problem dropping the equivalent of more than 2 and 1/2 times the median household income in the United States on a...Harry Potter book. Specifically, a first edition of Harry Potter and the Sorcerer's Stone, the first installment of the series by J.K. Rowling (who is No. 3 on Forbes' list with $1 million more in annual earnings than Drake). The price tag? Only $160,000.
"Yeah, I read them all," Drake told The Hollywood Reporter. "I should get it. My birthday's coming up. Maybe I'll buy it for myself as a treat."
5. When Will Drake Give Up Making Music? After all, it's his rap career that has allowed him to contemplate such expensive purchases.
"I'm sure I'll stop one day," he told the Hollywood Reporter. "When it starts to feel like I'm making it up. Hopefully I'll catch it before I ever get there, right? But right now it feels like we just started, so I don't plan on stopping anytime soon. But I do plan on expanding — to take six months or a year to myself and do some great films. Music's always there."