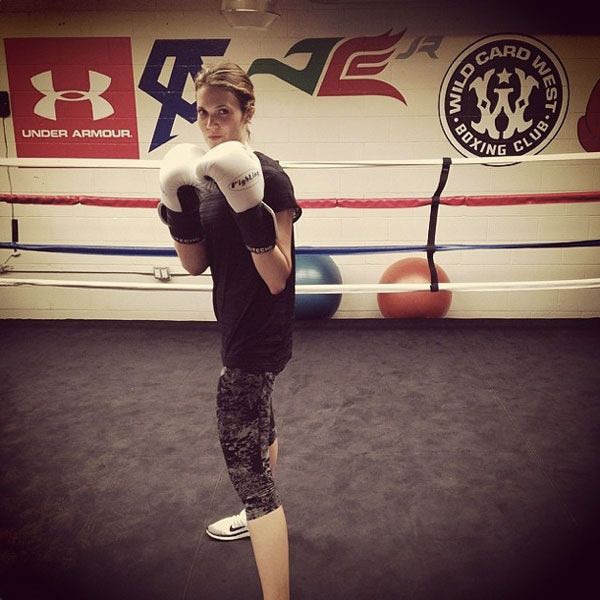 Instagram
There are two things we can certainly do without: anger and unwanted weight.
Luckily, there's a way to do away with both. Welcome to boxing 101. When you think of boxers, you probably think of super-swoll men and women that can take and give a nasty punch...and that's probably not you. But, don't count yourself out just yet. If Mandy Moore can do it, you can, too.
"I may be awkward and not entirely athletic but I'm working [on] it," the This Is Us star said in an Instagram post. "Thanks for being the ultimate teacher/coach, [Julian Chua]!"
Julian, the star's coach, is now training more than hot celebs. With the new fitness brand, Crubox, he's teaching other boxers how to lead fun, boxing classes that everyone can enjoy, no matter their skills. The LA-based gym offers wraps, gloves and a punching bag to participants, leading classes in a dark room, accented by a neon-lit stage. With high-energy music (similar to SoulCycle), the trainer stands on the stage, leading movements that will force you into shape and a good mood.
If you can't attend the classes, don't fret, the celeb-loved trainer and fitness model Kendall broke down three moves you can do from the comfort of your home to achieve a full-body (and mind) workout. 
WEAVE & ROLL
Beyond giving a powerful punch, you should know how to dodge your opponent's. That's where this exercise comes in. To do it right, you have to make sure "you're getting full range of motion. Drop under, come up, drop under, come up." After, you should feel it in your glutes and legs.
Step 1: Stand at an angle with one foot in front of the other.
Step 2: Drop down to a deep squat, moving to the alternate side, as if you were avoiding a punch.
Step 3: Repeat on the other side.
PLYOMETRIC PUSH-UP
"Boxing is all about the element of surprise," Julian revealed. "A punch you didn't see coming hurts a lot more than one you saw." For this reason, the trainer wants his clients to be fast, and this workout helps. "You're really trying to activate the fast-twitch muscle fibers to shock your muscle, which trains it to become faster," he said. In contrast to a regular push-up, this iteration is also a cardio workout as it raises your heart rate as you explode. And, "it gives you sexy arms," Kendall added.
Step 1: Get in the push-up position with your legs crossed at the knees.
Step 2: Bend your arms to go down to the floor softly.
Step 3: Push up explosively, so your hands are lifted off of the ground.
JAB CROSS
This exercise is fundamental to boxing. Although it seems like an upper-body workout, your shoulders and arms should be loose. By doing a jab cross, you're actually working your abs, chest and legs as you alternate sides. 
Step 1: Stand with your body at an angle "so you're a smaller target," he said.
Step 2: "Keep both hands up, with your fists just below your chin. Your elbows should be tucked, so you're squeezing your chest in."
Step 3: Bend your legs.
Step 4: Punch on the side that has your foot forward.
Step 5: Pivot your body to punch with the other hand. Then, repeat.
"If you do it right, psychologically, you're going to come out of here stress-free," he said.