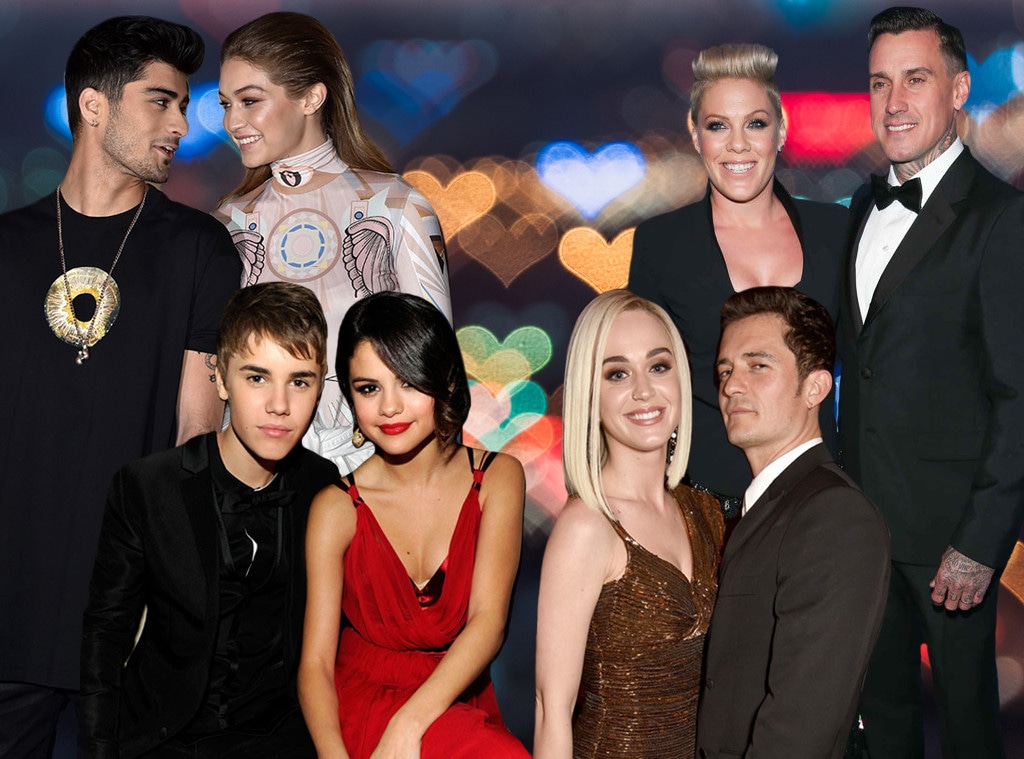 E! Illustration/Getty Images
Jelena back together?
While it may be a bit premature to say that one of Hollywood's most famous on-off couples are firmly back in the on position, the recent public reconnecting of Justin Bieber and Selena Gomez sure has us suspicious, considering the pair's tumultuous history that always seems to find them back in one another's arms.
The pair were first spotted together a little over a week ago, when Bieber's car was seen outside of Gomez's house, leaving us with many questions. Just what was going on here? And what would The Weeknd, Gomez's boyfriend in the midst of a world tour, think about it? At the time, we were told the hangouts (of which there had apparently been a few since Gomez underwent her life-saving kidney transplant) were purely friendly. "Nothing romantic is going on," a source told E! news, adding that The Weeknd was well aware and had no problem. "He trusts her," the insider said. "Once The Weeknd gets back from touring you will likely see them all out."
Noel Vasquez/Getty Images
Cut to a week later, Bieber and Gomez are spotted out spending yet another Sunday together and we learn the "Bad Liar" songstress and her beau have actually split up after 10 months of dating. Talk about things that make you go "Hmm..." While a source told us that Bieber's presence back in Gomez's life was "no factor" in the breakup, we learned that The Weeknd (real name Abel Tesfaye) wasn't exactly thrilled that they saw each other again right after the split. "Abel is upset about Selena hanging out with Justin, especially twice in the same week," our source said. 
However, everything we're hearing about the nature of Bieber and Gomez's current status if purely platonic—for now. Our insider tells us that things could "change at any moment." And when you consider their history, is that really much of a surprise?
Jelena began in earnest when the pair began dating in 2011, continuing in an on-off fashion for three solid years. During their first official split in 2012, it was because of demanding schedules. Between 2014 and now, they would be linked to plenty of other people, but they'd never fully let go of one another. "They have a rocky relationship," a source told us in 2016 after Gomez popped up in the comments section on Bieber's Instagram. "They were very in love at one point and went through a lot and so some feelings just don't go away. Justin's made a lot of mistake but he's matured and grown up."
So are we mere days away from Jelena version 6.0? Only time will tell, but if it does happen, at least they can rest easy knowing they're not the only couple in Hollywood to have been unable to shake one another for good. 
Rich Polk/Getty Images for Disney
On-off couples in Hollywood date as far back as the rocky and tormented relationship between Elizabeth Taylor and Richard Burton, who infamously wed in 1964, divorced a decade later, and then remarried only a year after that. And ever since Taylor introduced the world to scandalous celebrity love lives, we've been obsessed with dissecting them in our magazines and on our TV shows. Throughout the years, there have been a few that have piqued our interest (Pamela Anderson and Tommy Lee in the '90s, Jude Law & Sienna Miller in the early aughts, to name but a few), but recently, it's felt as if everyone's had a hard time breaking up for good in Hollywood.
Take Miley Cyrus and Liam Hemsworth. The couple met in 2009 on the set of their movie The Last Song and began dating on and off before getting engaged to one another in 2012. Just a year later, they surprised everyone by ending their engagement as they began living apart. And it seemed like things might stay that way. But nearly three years later, in 2016, they surprised the world yet again by confirming the engagement was back on. "She feels like they could pick up right where they left off," a source told E! News at the time. "Miley has never gotten over Liam and always hoped they would get back together. She doesn't know where it will go, but she definitely still loves him."
"People that break up and get back together, I think that's awesome because you know it's true, but also you get time to be yourself," Cyrus said during a visit to SiriusXM's Hits 1 in Hollywood earlier this year. "You get time to grow up."
They may seem like absolute #goals now, but Zayn Malik and Gigi Hadid had to overcome quite a bit of on-and-off to get to where they are now. The couple began dating at the end of 2015 and seven months later, they called it splits, with a source telling E! News that it wasn't the first time they'd done so. "During her birthday they were fighting," the insider said, adding that they had "broken up and got back together a few times." However, another source added that, like the other splits before it, this one probably wouldn't stick. "Zayn and Gigi did break up, but they can likely get back together tomorrow. It's all very unclear what's going on between them now. They been having some issues lately that involved communication and getting along."
And right they were! Roughly a week later, the couple stepped back out in public together, letting us all know they were back on. "Gigi and Zayn are back together. They spent part of this week together and spoke about some issues they had and decided they want to work it out with each other," a source told us. Since then they've managed to keep things firmly in the on position. (Or they've managed to keep their off times completely under wraps.)
Another recent couple to rebound from a breakup to find each other back in one another's arms is Katy Perry and Orlando Bloom, who returned to the infamous scene of the paddle boarding crime back in September to tell the world they were back in each other's orbit after a four month split. With Perry currently on her Witness World Tour as she simultaneously films auditions for the upcoming revival of American Idol, there haven't been any sightings of these two, so time will tell if they've managed to "[make] it right this time," as a source told us was their goal.
Of course, the gold standard for recent on-off couples has to be Pink and husband Carey Hart. The singer began dating the motocross hunk in 2001, briefly separated in 2003, got engaged in 2005 and were wed in 2006. Two years later, they were announcing their split. However, things seemed largely amicable, as Hart appeared in the video for her song "So What," which deals with their separation, that year. They entered into marriage counseling with the hopes of a reconciliation and by 2010, they were back together. During an appearance on The Ellen DeGeneres Show in 2016, the singer laughed when DeGeneres asked how they were doing following their 10th anniversary. "Today's a good day," she said. "We take breaks. We've had two breaks. The first one was about a year and the second one was 11 months." When DeGeneres pointed out the breaks occurred before their daughter Willow was born and that they couldn't do it anymore, Pink joked, "We're due."
Not all on-off relationships have a happy ending, however. And sometimes that's for the best. One only need look to the incestuous and dark love triangle between Rihanna, Chris Brown and Karrueche Tran for proof of that. When RiRi and Brown took their relationship public in 2008, they were one of pop music's royal couples. As we all know, that came crashing down brutally in 2009 when, on the way to the Grammys, Brown got violent with Rihanna, leaving her with several injuries. In 2009, Brown plead guilty to felony assault, was placed on five years probation, and ordered to stay 50 yards away from his ex-girlfriend, unless at a public event, where the distance would be reduced to 10 yards. Rihanna would go on to date Dodgers player Matt Kemp and Drake, while Brown would begin seeing Tran.
After a year, he ended things with Tran after he and Rihanna stunned everyone by rekindling their relationship. The rekindling appeared professional at first, with Brown appearing on a pair of RiRi's 2012 tracks, "Birthday Cake (Remix)" and "Nobody's Business" (the lyrics of which should have been a major clue that the pair didn't give a s--t what anyone thought about their questionable reunion), but by early 2013, Rihanna had publicly confirmed their romantic reconciliation. "I decided it was more important for me to be happy," she told Rolling Stone. "I wasn't going to let anybody's opinion get in the way of that. Even if it's a mistake, it's my mistake. After being tormented for so many years, being angry and dark, I'd rather just live my truth and take the backlash. I can handle it."
But by that May, it was over all over again. Brown confirmed the split during an Australian radio interview, returned to Tran to enter into their own tormented on-off relationship that lasted until he fathered a child with another woman in 2015, with the Claws star eventually securing a five-year restraining order against her ex amid claims that he threatened to kill her. And as for Rihanna? She's, as they say, moved on to greener pastures.
What is it that keeps these celebrities from ever truly cutting ties with one another, even when it might be in their best interest? Is it true love? The effects of a limited dating pool for major stars? Or something more unhealthy? Whatever the case may be, one thing we know for sure: Our obsession with their obsessions will never end.