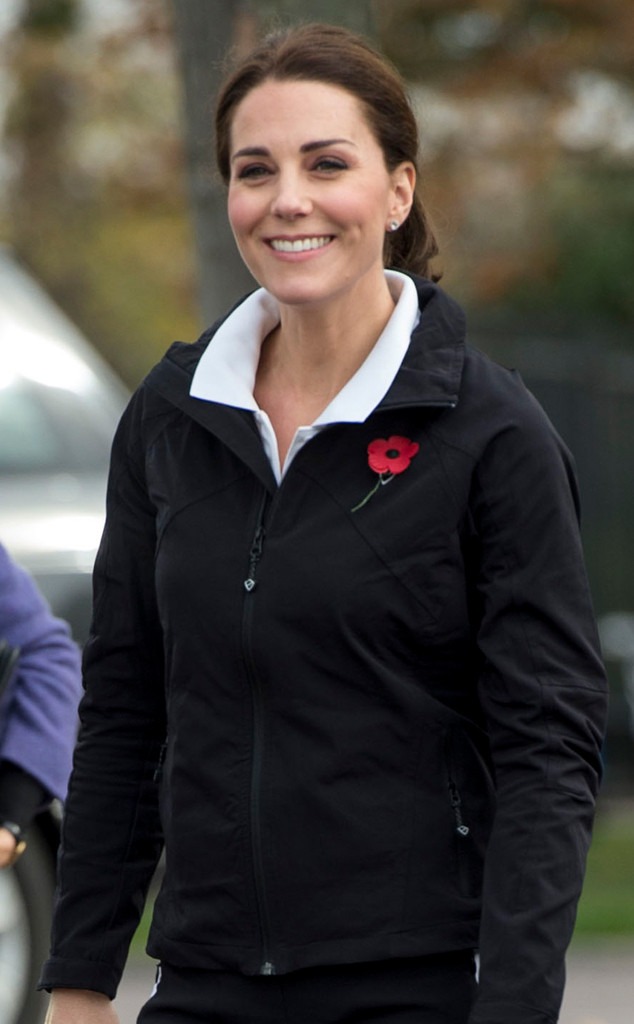 Mark Cuthbert/UK Press via Getty Images
Practice makes perfect!
At the National Tennis Centre in Roehampton Tuesday, Kate Middleton made her first solo appearance since announcing her third pregnancy in September. Wearing a sporty look—a black and white tracksuit, a poppy pin and a pair of Nikes—she pulled her hair back and played in a Tennis for Kids session, which encourages kids aged 5 to 8 to play her favorite sport.
Kate, who is expecting her third child with Prince William, arrived at the center at 11 a.m. She was greeted at the center's entrance, where she shook hands with officials, before hitting the court to play with the children. Kate also chatted up tennis pro Johanna Konta. "It was good and fun. She's lovely. It was great to see her passion for tennis and that she was here to learn about these great programs being run by the LTA," Konta said of the Duchess of Cambridge. "Every little girl and almost every boy wants to meet a princess, and it got them very excited."
DANIEL LEAL-OLIVAS/AFP/Getty Images
Eamonn M. McCormack/Getty Images
Lawn Tennis Association (LTA) coach Sam Richardson also spoke with Kate. "She asked what kind of stuff [Prince George] should be doing. He is interested in tennis, but being 4, he just wants to whack the ball. You have to wait for them to show interest," he said. Kate said she'd also "spoken to Judy Murray, who advised her to take the racket away and just focus on skills."
In addition to meeting Paralympian Alfie Hewett, Kate also led a few coaching drills, improved her form and shared a few laughs with the kids. The Duchess became a patron of the LTA last December, taking over from Queen Elizabeth II, who first assumed the position 64 years earlier.
Throughout 2017, the Tennis for Kids program will give 22,500 children the chance to play tennis, offering free coaching and rackets, according to a press release from Kensington Palace.
Kate, meanwhile, is due to give birth in April 2018.