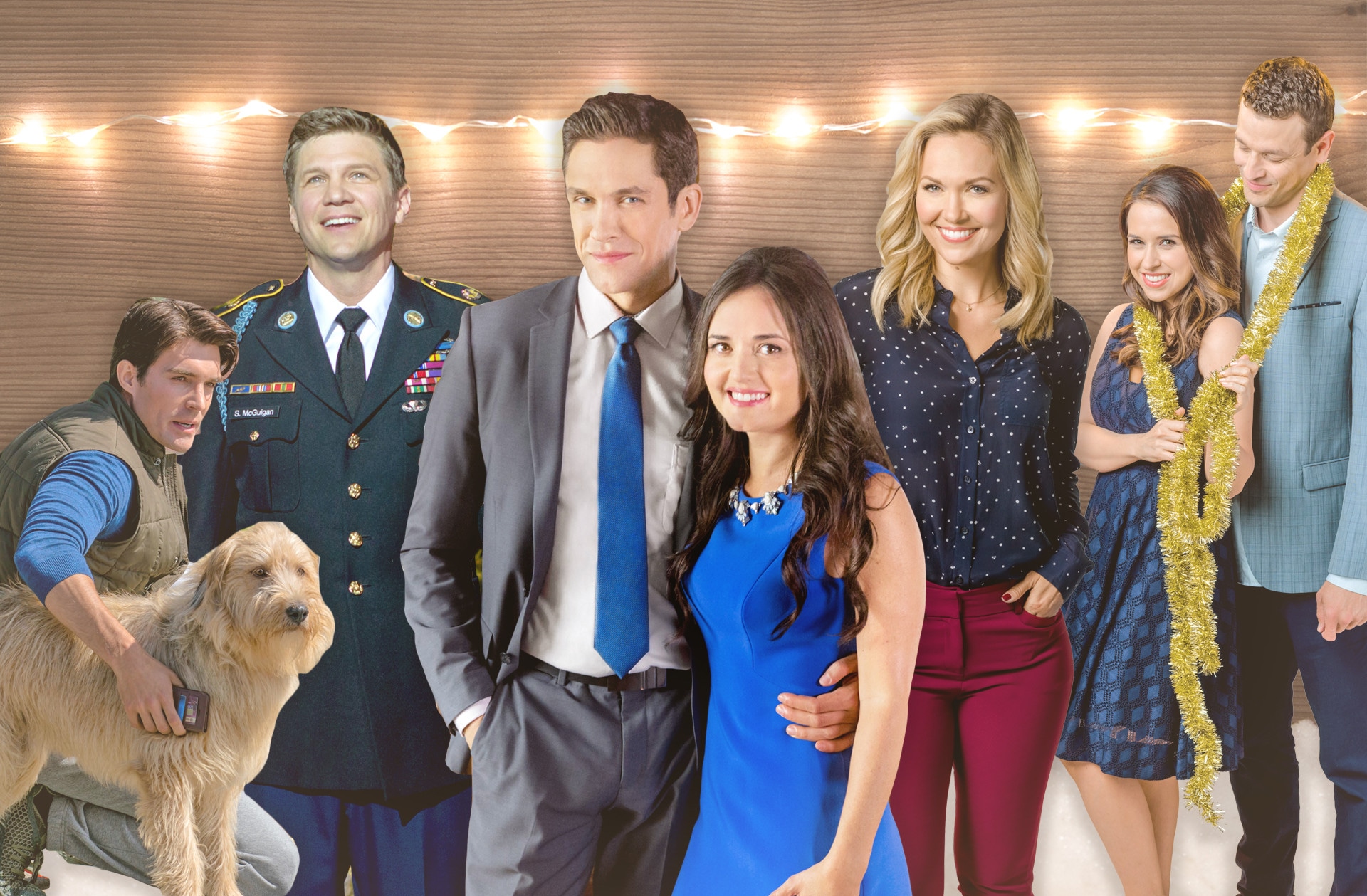 Hallmark; E! Illustration
It's beginning to look a lot like Christmas—on the Hallmark Channel, anyway.
The network kicks off "Countdown to Christmas," its annual round-the-clock holiday programming event, tonight with the premiere of Marry Me at Christmas, the first of 21 new original movies set to debut during 2017's festive line-up. When it comes to holiday programming, Hallmark gives and receives as it provides its tradition-loving audience an endless supply of Christmas cheer to enjoy from Halloween through New Year's Eve, all while consistently breaking their own ratings records in the process. Leaning into their seasonal programming made Hallmark Channel the highest-rated cable network among women ages 25 to 54 (aka the demo every advertiser wants to see underneath their tree) in the fourth quarter of 2016.
The Hallmark Channel's goal with "Countdown to Christmas," which officially launched in 2011 after the network aired its first original holiday movie in 2000, was "creating a destination and understanding this appetite" for seasonal fare, Bill Abbott, CEO of Hallmark Channel, said, noting the channel acts as a "safe space, a feel-good space" in a marketplace that has gone "past the point of edgy."
Michelle Vicary, the executive vice president of programming, simply said, "We own Christmas and we are going to do it in a bigger way and a better way and really speak to the spirit of the season that I don't think any of our competitors do."
And own it they seem to. The 2016 "Countdown to Christmas" line-up reached 70.2 million viewers, according to Hallmark, which is a 22 percent increase from 2015, a then record-breaking year. And you're looking at 110 million total viewers between two channels if you factor in Hallmark Movies & Mysteries' "The Most Wonderful Movies of Christmas."
Watch:
Candace Cameron Bure Gets Advice From Her Daughter
Cue even more (often fake) snow, a seemingly endless supply of twinkle lights and good old-fashioned love stories, the kind in which holding hands is an OMG moment and couples often don't kiss until the final scene of a two-hour movie.
Speaking to the appeal of their movies' chaste approach to romance (with no hints at sex aside from the occasional child-with-one-parent trope), Abbott credited viewers' desire for "innocence…people are longing for that in a lot of ways."
The old-fashioned love stories about star-crossed pairs they swoon over and the small town traditions put on by the communities in their movies depict an unattainable yet irresistible safe place for the network's viewership. 
"It's all I watch just about," Becky Gay, a stay-at-mom grandmother from Athens, Georgia, said of her dedication to the Hallmark Channel. "It's clean and I just don't enjoy cussing…naked movies."
For Vicary, she highlighted a few factors to explain Hallmark's success during the holidays, starting with the brand itself. Founded in 1910, the American brand has been "a celebration destination" for over 100 years, focusing on "emotional connections." Mix that with the anticipation ahead of the holiday season and you have a simple but potent recipe for success.
While The Walking Dead and Game of Thrones are killing characters faster than you can say "Bah humbug" and the teens on Riverdale are steaming up car windows with taboo sex scenes, the biggest cause for concern on Hallmark is often whether or not the Christmas parade will go off without a hitch. What the movies can sometimes lack in stakes they make up for in sentiment. 
"It's a behavior that resonates in a time where entertainment and reality is a lot harsher," Abbott said. Who wouldn't want to retreat to the idyllic escape provided by Hallmark for two hours?
"I watch the holiday movies year-round. When I turn on the Hallmark Channel and watch their movies I know I can escape the rest of the world," Kris Bruns, 50, a retail sales associate, a Stampin' Up! demonstrator, and a Young Living Essential Oils distributor from Minnesota, said. "There are no politics, there is no crime, no hate, no war."
Leslie, who is 45 and lives in Wisconsin, also highlighted the family-friendliness of the channel's offerings. "Other channels such as Showtime, Starz and many more do not produce the Christmas movies, they run the movies that were previously in the theaters and...shows that are too mature."
Ann, a retired senior from North Carolina who has been watching the Christmas movies since they began airing, echoed her fellow viewer's sentiment. "There is no profanity nor any sex offensive acts in any movie I have ever seen," she said. "It is different from all other networks; there is no violence, no profanity, and no needed sexual behavior with the exception of a couple of sitcoms which are not Hallmark productions and are on late night."
But it's not just about the family-friendly movies they make, as Abbott stressed the importance of spending their licensing budget wisely, paying more to use music and graphics to elevate the overall experience. Consider it the bow that is the perfect finishing touch on an already impressively wrapped present.
"It's Beginning to Look a Lot Like Christmas" is a "key" annual favorite that makes its debut each November because it "builds the anticipation" during interstitials. More recently, the network also has a relationship with the Trans-Siberian Orchestra, a "thoughtful" addition, and, of course, there's Mariah Carey's "All I Want For Christmas," which Abbott said they "utilize for a lot of what we do."
Simply put, Hallmark is creating the coziest atmosphere to entice viewers, where even the interstitials cause a case of the warm and fuzzies and can persuade a viewer to hold off fast-forwarding through a commercial break.
"Internally, it was a natural for us to create this spirit of the holiday season in every graphic and every treatment and every promo and every interstitial and every movie and the traditions of the season," said Vicary. "It really is about creating an entire experience. When [viewers] come to Hallmark, it's not just coming to watch a show, but it's coming for an experience.
"It just adds that additional emotional connection that says, 'I hear you and I know how you're feeling and I want you to spend time with us as a network,'" she continued.
And it is working, as Bruns, who owns about 60 of the Hallmark Christmas movies on DVD, said, "One of the things I love most about the Hallmark movies are that they always leave you wanting more."
While most networks deliver one or two original holiday-themed events (this December, Fox is putting on A Christmas Story Live!, while NBC has teamed with Blake Shelton and Kelly Clarkson for past holiday specials, to highlight a few), Hallmark owns the season. 
Though "Countdown to Christmas" began in 2011, the network really started leaning into the Christmas spirit in 2013, when it aired 12 original movies, one on Saturday and one on Sunday for six weeks. In 2016, 21 original movies aired, and in 2017, 33 originals will air between Hallmark Channel and Hallmark Movies & Mysteries Channel.
For Abbott, it's all about "creating a destination and understanding this appetite at Christmas," with Vicary explaining the expanded line-up being due to the "audience is asking for it," noting the 2016 "Countdown to Christmas"' ratings went beyond their projected expectations—and so did the ad sales revenue.
But Christmas isn't the only seasonal programming the network is experiencing huge success with its "Fall Harvest" programming event, which wrapped its 2017 run last weekend. The highest rated offering, All Of My Heart: Inn Love, starring Lacey Chabert, reached 3.9 million unduplicated viewers.
The push for more year-round seasonal programming began three years ago, with "Fall Harvest" really taking off. While the network always centered programming around Valentine's Day and Mother's Day, Abbott said they wanted to recreate "the retail experience at Hallmark," where walking into the store at fall was a completely different experience than at spring or summer.
"Ratings are through the roof," Abbott said of the network's recent six-week fall programming run, explaining it's "much easier to capture" the essence of fall as opposed to its sunnier siblings. In addition to the strong ratings, the official website's digital views have tripled this fall because of the imagery of the season and the sense of feelings, according to Abbott.
"Fall has a defined period of time for everybody" as opposed to spring, where the weather can be unpredictable, or summer, a time when people's activities and time off varies, Abbott theorized.
Now, Hallmark is challenging its team to create year-long programming to entice its viewers to keep the TV on Hallmark as they tear the calendar pages, a welcome reliability in an uncertain time, both socially and on television. Vicary said they "lean" into providing an escape because viewers "thank" them for it.
"We're doing it all year-long, and we did it really consciously because I think it's really hard to feel like you're being related to or someone cares about what you think or someone cares about what you think," Vicary said. "The Hallmark brand is all about that."
So all they want for Christmas is you...every season of the year.
"Countdown to Christmas" begins Saturday, Oct. 28 with Marry Me at Christmas, airing at 8 p.m. ET on Hallmark Channel.