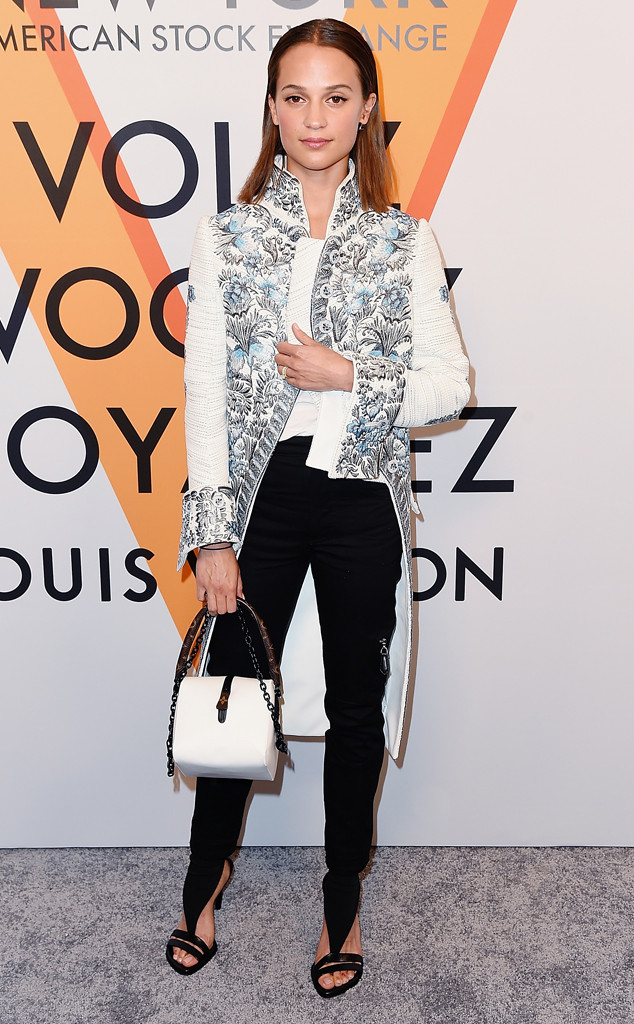 Nicholas Hunt/Getty Images
Alicia Vikander has that newlywed glow!
Twelve days after she quietly married Michael Fassbender in Ibiza, the actress made her first official appearance as a married woman in New York City Thursday. Vikander stopped by the American Stock Exchange Building in New York City to attend Louis Vuitton's exhibition opening of Volez, Voguez, Voyagez, which retraces the fashion house's 163-year old history. Victoria Sekrier styled Vikander, a brand ambassador, in a look from the 2018 Spring ready-to-wear line.
The Tomb Raider actress, who chatted up with the fashion label's creative director Nicolas Ghesquière, also flashed her wedding ring as she posed for photographers on the red carpet. Other famous guests included Paul Bettany, Jennifer Connelly, Laura Harrier, Martha Hunt, Riley Keough, Ruth Negga, Alexander Skarsgard, Justin Theroux, Michelle Williams and Zendaya. Curated by Olivier Saillard, the exhibition will be open to the public until Jan. 7, 2018.