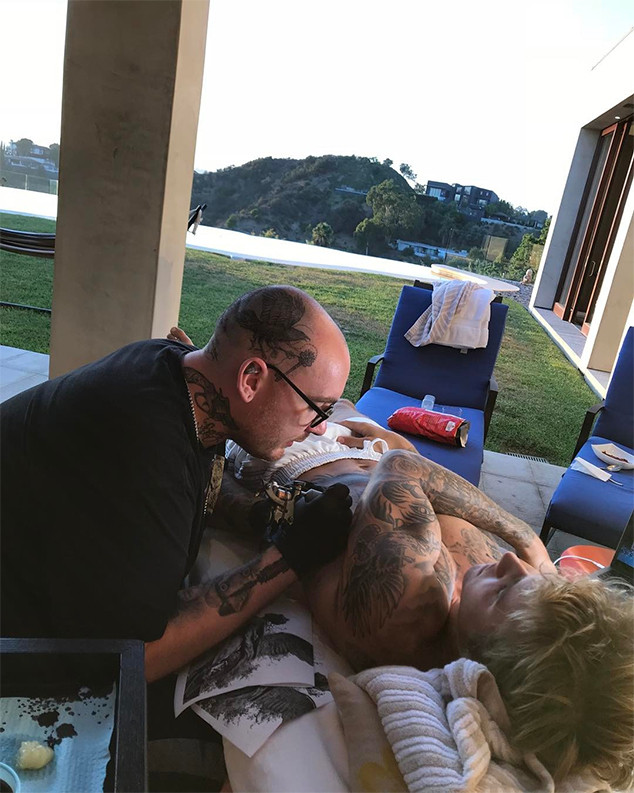 Instagram
Justin Bieber shocked fans on Saturday when he debuted a massive torso tattoo that incorporated existing smaller designs.
Bang Bang, the tattoo artist who gave the singer his new ink, talked to E! News exclusively about the meaning behind it. The tattoo took three days to create and was done in Beverly Hills.
"We added two angels, one on each side," he said. "Below each one, they're dominating the evil. Whenever I do an epic piece, there needs to be the positive and negative. There needs to be a balance...visually there needs to be contrast. Below each of the angels, there is a demon that needs to be defeated. The skeleton on one side and the serpent on the other."
"It's symbolic of Gothic art and the struggle between the light and dark, the good and the evil, Yin and Yang," he said. "I wanted to make sure we had contrast in subject matter and imagery. The thing that made the most sense to me was a tattoo describing his spirituality. The animals he has, his spirit animals as well as the angels, his guardians. I was trying to make it super meaningful and not scattered."