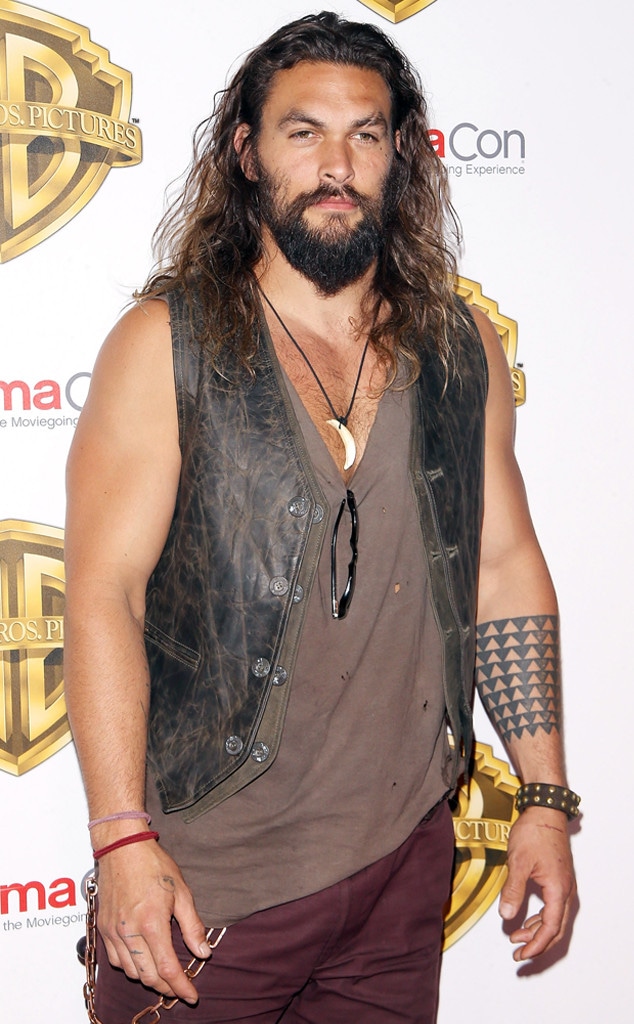 Michael Tran/FilmMagic
UPDATE: Jason Momoa released the following statement in response to the controversy surrounding comments he made in 2011. 
"I awoke in Australia to the justified reactions by many people to a distasteful joke I made years ago in Hall H for which I am sorry," he penned on Instagram. "I am still severely disappointed in myself at the insensitivity of my remarks that day. I know my sincerest apology now won't take away those hurtful words. Rape and sexual harassment can reach anyone and I have seen first hand its painful torment among members of my own family and friends."
He concluded, "I made a truly tasteless comment. It is unacceptable and I sincerely apologize with a heavy heart for the words I said. Apologies, Jason"
______
Jason Momoa came under fire Thursday for an inappropriate joke made in respect to his time on Game of Thrones. 
The resurfaced video is from a 2011 Comic-Con panel the actor participated in, where he mentions the extreme lengths playing Khal Drago on the HBO fantasy series allowed him to go without repercussion. 
"But as far as sci-fi and fantasy," Momoa says in the clip, "I love that there's so many things you can do, like rip someone's tongue out of their throat and get away with it and rape beautiful women." 
His remark is immediately met with widespread applause from the audience, while co-stars seated next to him (including Emilia Clarke, Peter Dinklage and Kit Harington) put their hands over their faces in assumed embarrassment. 
"Next question," Momoa adds. 
Momoa has not responded publicly to the attention his remark is suddenly receiving, but E! News has reached out to his rep for comment. 
In a 2011 interview with the New York Post, the Justice League star spoke at greater lengths to the prevalence of sexual violence on Game of Thrones. 
In reference to a scene where Momoa's character assaults Clarke's character Daenerys, he said, "Yeah, I'm raping Emilia. I love her, but I'm hurting her and she's crying. We could have made it longer, but you get the idea. I'm not a rapist! I prefer my women to enjoy sex."
The footage of Jason come in the midst of an ongoing scandal involving Harvey Weinstein and the explosive misconduct allegations leveled against him. Additionally, multiple women have recently accused Ben Affleck of past assaults, while a controversial video of the Oscar winner being interviewed in 2004 by a French TV host made the rounds yesterday. 
Affleck apologized to Hilarie Burton for his actions during the 2003 TRL interview, and Anne-Marie Losique defended the actor's actions as "all fun and games." Meanwhile, Weinstein reportedly flew from Los Angeles to Arizona Wednesday evening to get treatment at an inpatient program. 
(This story was originally published Thursday, October 12, 2017 at 1:15 p.m. PST)