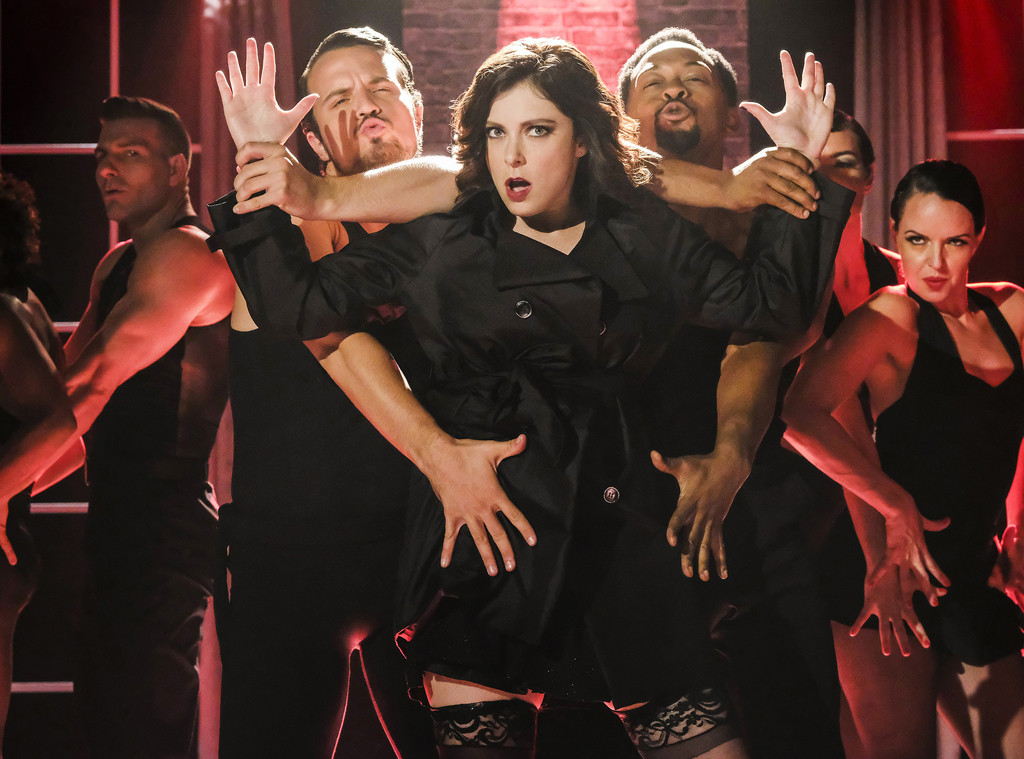 CW
Saying your TV show is "funny Fatal Attraction" paints quiet the image, but that's what Crazy Ex-Girlfriend season three has been dubbed. The new season picks up with a jilted Rebecca Bunch, played by series co-creator Rachel Bloom, on a quest for revenge.
"Rebecca, for the whole show, has tried to be people she's seen in movies and TV shows because she has no sense of who she is internally. And so she has tried to—every time she takes on another persona it's like trying on a new costume. The same goes for this Fatal Attraction," Bloom told E! News. "She says, 'OK, you left me at the altar, you called me crazy, great. I'm crazy. I'm crazy and I'm f—king sexy and I'm a dynamo.' She's going to come in with this persona, but again, it's the same mistake she keeps making, which is like, Rebecca, what do you really want? Who are you really?"
Aline Brosh McKenna, the show's co-creator, said Rebecca Bunch will try to be the femme fatale she always saw herself as after Josh Chan (Vincent Rodriguez III) left her at the altar. "It's not really her area of expertise, as we know from previous seasons she really cares tremendously about being a good person, so it's a struggle for her. We wanted to sort of get inside the human aspects of what happens if you actually try to do something like that," Brosh McKenna said about Rebecca's quest for revenge.
Some of the revenge Rebecca embarks on borders on the absurd, as one is to expect from Crazy Ex-Girlfriend. Sex tapes and poop are involved.
"Yes, these are revenge fantasies that I've had and never done," Bloom admitted. "And I think what's interesting is, the thrill of living them out is fun, but also the imagining of what happens. It's like, 'OK, I'm glad I never did these things because this ends in disaster.'"
A woman scorned…and then everything changes, Bloom said, "we're going to shatter that later in the season."
"You can't. You absolutely can't," Bloom said about coming back from some of the revenge actions. "And I'm really excited to talk to you around episode seven. Like, really excited."
Midway through the season is when Crazy Ex-Girlfriend tends to turn everything on its head. Is this her rock bottom? "Tentatively, yes," Bloom said. Is there redemption? "Well…I will say that when you see your life as a movie…and you see yourself as a character in a genre of a movie, things are not going to go well," she said with a laugh.
Bloom has been vocal about her and Brosh McKenna's four-year plan for Crazy Ex-Girlfriend. The arc for Rebecca Bunch that was planned out before the series began remains generally intact, Bloom said, aside from an extended first season that featured some more story exploration, like with Greg (Santino Fontana, who has since left the show).
"It's generally the same. I think what's been very interesting—as you know, we're diagnosing her this season and talking to therapists and looking into, 'OK, what's really going on with her? What's really wrong?' And realizing that actually we've been building to this kind of treatment that she needs to follow pretty organically, in ways that we kind of knew and kind of didn't…The idea of just someone who has not explored their inner life," Bloom said. "It was interesting because the year that we made the pilot and started writing the pilot was also the year I got engaged and also the year this anxiety I had at the age 11 came back in full force."
"It was like, 'It's yours to f—k up,'" she continued. "So simultaneously while writing the pilot I began to see a psychiatrist for the first time in my life and I got into meditating and I, in a way, did somewhat of what Rebecca needs to do, which is this idea of being alone with your thoughts and getting into those really uncomfortable nooks and crannies and wanting to genuinely feel better. I was never at the lows that Rebecca's been at, we're different people, but that was very interesting. Those things still hold water and they teach me. Playing Rebecca now and dealing with all the mistakes she makes reminds me, 'OK, these are the things I still need to be doing to make sure I don't turn into her.'"
Bloom's frankness about her own struggles with anxiety extends to the way the show deals with mental illness, sexuality and everything in between. Brosh McKenna said they take great care in researching and consulting outside experts when tackling subjects. The fact that Crazy Ex-Girlfriend was created by two women and raises awareness, usually through comedy and song, will be its legacy.
"It's pretty cool. I see it most in my live shows when people come up to me and want to tell me about their lives and how the show's affected them. I took Twitter and Facebook off my phone just because I was spending way too much time—it fries my brain. And I can't take Instagram off my phone because Instagram doesn't work on the computer, but I was sitting for 20 minutes on the toilet answering tweets, rather than being on set and making my show," she said.
"The other reason I took Twitter and Facebook off is because on the occasion you get a mean comment—I want to be able to choose when I'm going to expose myself to that rather than casually being on the s--tter and being like, 'Oh! Someone just called me fat and stupid. F—k. Well, got to go shoot a scene!' That kind of sucks, but I am aware of the affect. It's very weird because I feel when you love the show, you love the show. Our fans are so loyal and they're diehard fans. Then you see our ratings and we're the lowest-rated show on network television. But when I'm in places like, San Francisco, Los Angeles, New York…I think we're having an impact and I definitely see the impact, I've heard from other show creators and writers who are like, 'Can you read my Crazy Ex spec script?' and I'm like, 'Actually, legally, I can't.'"
Crazy Ex-Girlfriend is still on, but its legacy is clear. "Yeah, that's what's really cool for me," Bloom said. "The idea that you can always go back and watch this, until the world is inevitably destroyed by global warming…"
Yet with all the attention and acclaim the show gets, there must be pressure for Bloom to be a role model, right? "All I can do really is keep doing what I'm doing. I think that there's the standard I place on myself, which is to put out good work, but all I can do is keep being myself. I mean, luckily I'm not seen as like…I don't know. All I can do is be honest and be myself," she said.
Crazy Ex-Girlfriend season three premieres Friday, Oct. 13 at 8 p.m. on The CW.