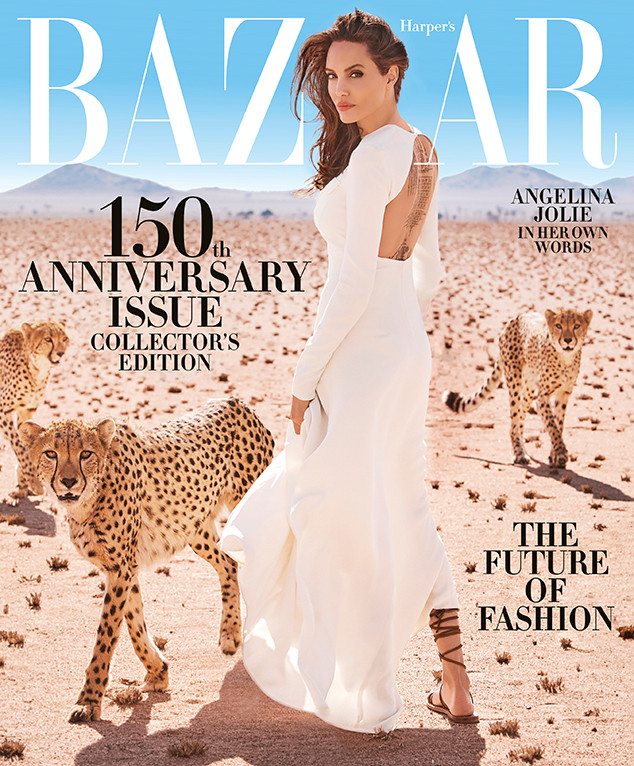 Alexi Lubomirski/Harper's Bazaar
Angelina Jolie takes a walk on the wild side in the November issue of Harper's Bazaar.
In an essay in celebration of the magazine's 150 anniversary (on newsstands Oct. 24), the 42-year-old actress and director champions environmental and women's rights. She also models clothing from Atelier Versace, Rag & Bone, Ralph Lauren Collection and other labels while posing with cheetahs and locals at a nature reserve in Namibia's Namib desert. "There is a lot we can't predict about the world 150 years from now," Jolie writes. "But we do know that our great-grandchildren will be living with the consequences of decisions we make now, just as we can trace the origin of problems we are dealing with today to their roots in earlier centuries."
The reserve is run by the N/a'an ku sê Foundation, led by Jolie's friends, Marlice van Vuuren and Rudie van Vuuren. Jolie's daughter, Shiloh Jolie-Pitt, was born in the country, and the family "has worked with Rudie and Marlice on conservation in that country over the past decade," the actress says. "For me, Namibia represents not only ties of family and friendship but also the effort to find the balance between humans and the environment so crucial to our future. The N/a'an ku sê Foundation works with Namibia's San people, who are considered to be the world's oldest culture. They represent thousands of years of man and wildlife coexisting in harmony, but they have suffered, like other indigenous peoples, from being forced off their lands by farming, unchecked development, and the depletion of wildlife. The destruction of natural habitat and wildlife has left the San people unable to hunt and support their families."