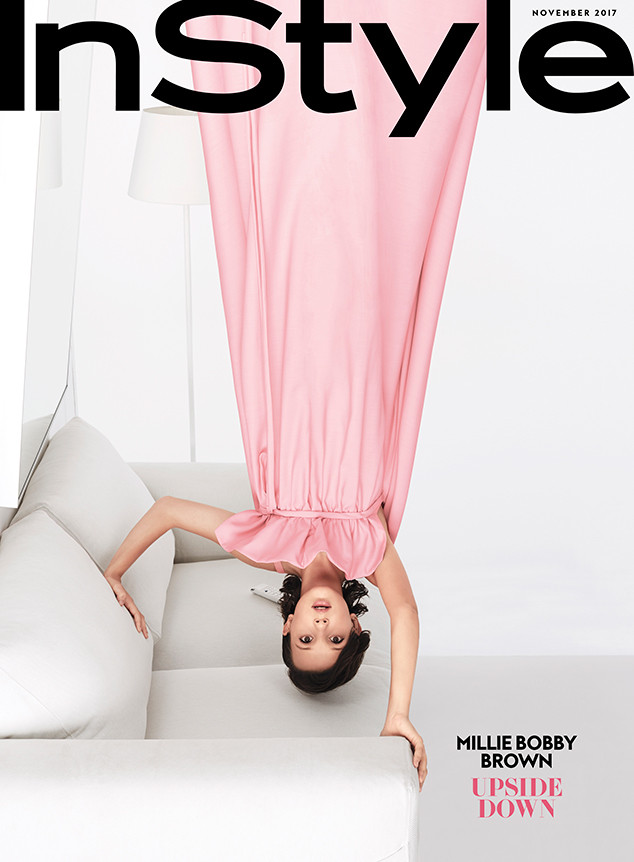 Anthony Maule/InStyle
Oh, the places Millie Bobby Brown will go.
The breakout star of Stranger Things (returning Oct. 27) graces the subscriber cover of InStyle's November issue and reflects on her rapid rise to fame—all before she was even a teen. "You know, I'm just a 13-year-old like any other 13-year-old, so I just plan on living my life and take it step-by-step," Brown says matter-of-factly. "Hopefully, in five years' time I will be in college. No, let's say eight years...unless I get a really good movie. Then it's, 'See ya, college!'"
Ha. But unlike some child stars, Brown is in no rush to grow up. For example, the young Brit currently works with stylist Thomas Carter Phillips (whose clients include Danai Gurira, Abbi Jacobson and Emmy Rossum) to find "age-appropriate" looks for red carpet events and TV appearances. "Everything I wear has to go through every person on my team," Brown explains. "It has to go through my mum first. If she approves, it'll go to my agents, and then, obviously, the last stop is my dad—and if he doesn't like it, then I'm not wearing it. It's as simple as that." While that process may not sound "simple" to some people, for Brown, it's a system that works.