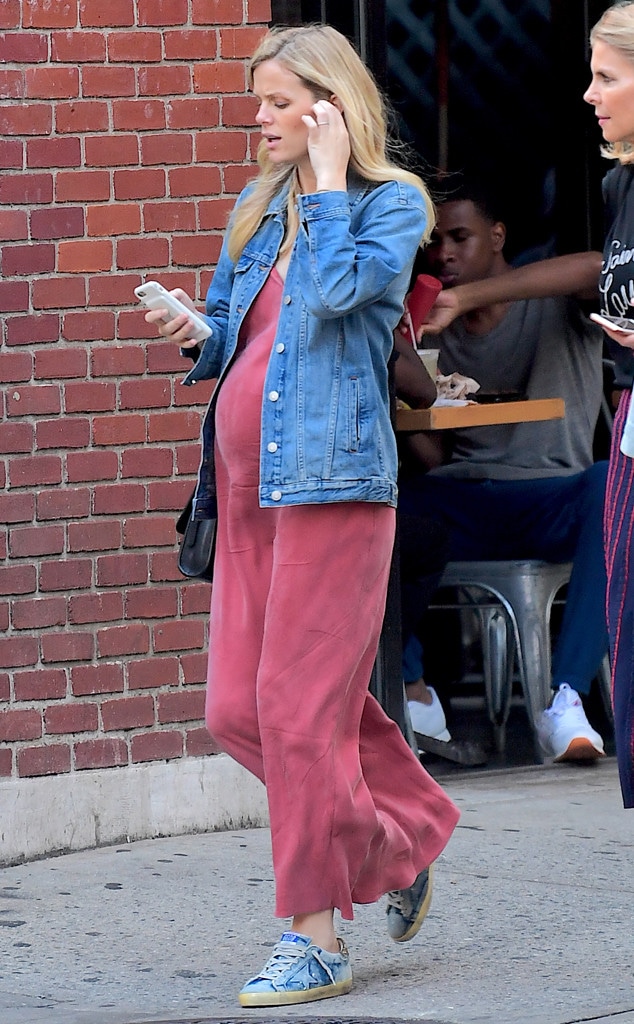 247PAPS.TV / Splash News
The countdown to baby No. 2 is on!
Just two months after Andy Roddick revealed his wife is pregnant with baby No. 2, Brooklyn Decker was spotted around town with a visible baby bump.
The actress was seen wearing a salmon colored maxi dress with a denim jacket and comfy sneakers.
An eyewitness spotted Brooklyn texting on her phone before hailing a yellow cab to the airport.
Back in July, fans knew Andy was being inducted into the International Tennis Hall of Fame. What they didn't expect, however, was some big family news to be revealed during his heartfelt acceptance speech.
"Brook, I don't know how you juggle it all... You hear a lot of guys find it very tough to walk away from professional sports, but you are the reason my personal transition into a quasi-everyday life has been gratifying and full," he shared. "[Our son] Hank will someday realize how lucky he is, and our daughter that's coming will also realize she has the best mother on Earth."
Ever since the news broke, Brooklyn has been keeping much of her pregnancy journey private. At the same time, the proud mom has also taken part in events important to her.
Recently, Brooklyn joined Whitney Casey of The Finery at Create & Cultivate on the Microsoft Campus in Seattle.
She also joined Andy to support hurricane relief at the "Texas Strong: Hurricane Harvey Can't Mess With Texas" benefit at The Frank Erwin Center.
As the couple eagerly waits for the arrival of their second child, both parents are loving life with their son Hank Roddick. In fact, Brooklyn recently documented her first-born's first day of daycare.
"Hank's first day of daycare was the WORST For me. It was the worst for me," she wrote on Instagram. "He was completely thrilled. He didn't even turn to say bye. 'Peace out, mom.'" Gotta love the parenthood journey!