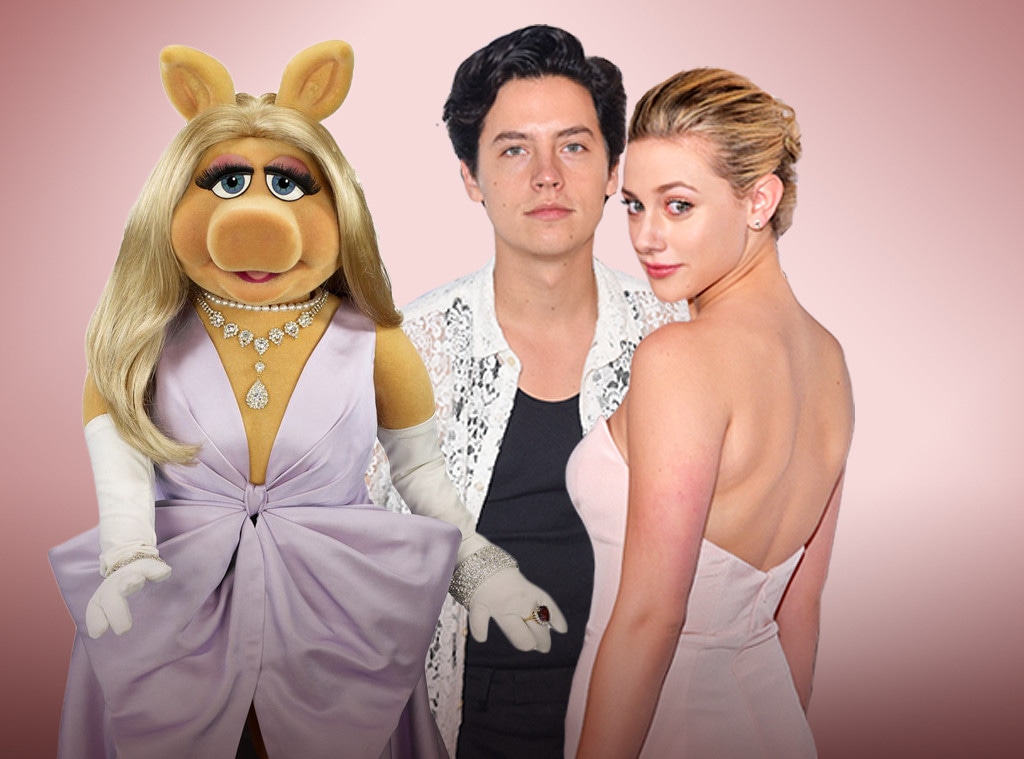 Getty Images
The new season of Riverdale hasn't even started yet, but the show's stars Cole Sprouse and Lili Reinhart are already deep in drama—this time with a famous pig.
It all started on Sept. 26 when the Betty Cooper character tweeted the following: 
"9/26/2017, 9 pm: Dear diary, I'm still thinking about how Miss Piggy walks all over Kermit. And he lets her!" she wrote. "It's so messed up, diary."
Of course, she was referencing the legendary Kermit the Frog.
Miss Piggy fired back with a tweet of her own and asked Reinhart for Sprouse's number. 
".@lilireinhart Tell your diary that moi has moved on from walking over the frog. I'm looking for someone new. You got @colesprouse's number?" Piggy tweeted.
Reinhart actually seemed flattered that Piggy would take the time to respond. The actress shared a picture of their Twitter feud on Instagram Stories and wrote "Honored that Miss Piggy is throwing shade at me."
Sprouse, trying to keep the peace, tweeted "Ladies please."
After tying the knot in the 1984 film The Muppets Take Manhattan, Piggy and Kermit broke up in the summer of 2015. Kermit had a relationship with his co-worker Denise on season one of The Muppets; although, there seemed to be a chance for reconciliation between Kermit and Piggy on the duo's final episode.
Even though Kermit and Piggy are no longer together, the famous frog once told E! News that they have a "great" working relationship.
"You know professionally, our relationship is great," he said at the time. "You know, personally, Miss Piggy and I—we have our own lives. I am seeing people and she is seeing people—of course, she sees a lot more people than me."
"And he sees the people he sees through his window walking on the street below," she quipped.
Watch:
Kermit the Frog & Miss Piggy Are No Longer Dating
Reinhart and Sprouse's relationship has also been an interesting one. When Entertainment Weekly asked the Jughead Jones actor if there was any truth to whether he and Reinhart were dating outside of the show, Sprouse played it coy.
"Since the show began, people have wanted Lili and I to be together. People have wanted Lili and Cami[Mendes] to be together. People have wanted KJ [Apa] and I to be together. People have wanted every actor on this show to be in a union that they could make real and talk about. So I think that kind of discussion, especially because it's based so much on rumor and hearsay, needs to be taken with a grain of salt."
The Disney star continued, "We're all still human lives that are interacting with the source material. But, truthfully, it's very pleasing that people talk about Lili and I in that way because it means that we're resonating so strongly from our character perspective that people really want that to be true."
Piggy is certainly a catch. She starred in the TV programs The Muppet Show and The Muppets and had leading roles in a number of films, including The Muppet Movie, The Great Muppet Caper and The Muppet Christmas Carol. She also collaborated with the brand Kate Spade and was recently photographed with Blake Lively for Love Magazine. 
But if Piggy doesn't end up catching Sprouse's eye, she could perhaps take some relationship advice from her ex. Kermit recently tweeted the following words of wisdom from his fellow Muppet Rowlf the Dog.
It looks like we'll have to wait and see who will win Sprouse's heart. 
Don't miss E! News every weekday at 7 and 11 p.m.