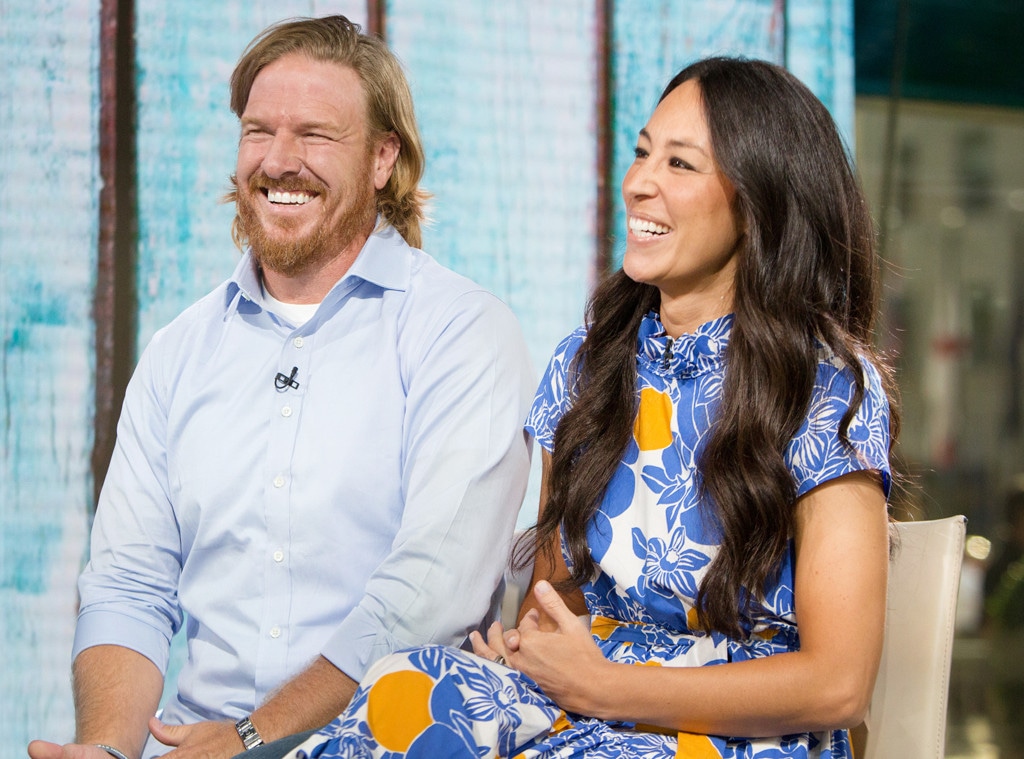 Nathan Congleton/NBC/NBCU Photo Bank via Getty Images
At the height of their success, Chip and Joanna Gaines are backing away from the mountaintop. 
The Fixer Upper stars, who turned their Waco real estate business and home decor boutique into a sprawling lifestyle empire, announced Tuesday that the upcoming fifth season of their hit HGTV series will be their last.
"While we are confident that this is the right choice for us, it has for sure not been an easy one to come to terms with," the Gaineses said in a statement on their Magnolia Market site. "Our family has grown up alongside yours, and we have felt you rooting us on from the other side of the screen. How bittersweet to say goodbye to the very thing that introduced us all in the first place."
In fact, it seems as though Fixer Upper—HGTV's No. 1-rated show—has been on for much longer than four seasons. Perhaps having repeat viewings on the schedule will do that to a show, but that level of lived-in familiarity also has to do with Chip and Joanna themselves.
The world first met the couple in 2013, months after a production company got wind of Joanna's interior design prowess online and sent a crew out to shoot some footage for a potential reality show. At first, there wasn't much for the cameras to capture. The Gaineses were barely keeping afloat, financially, flipping houses.
But it so happened that Chip had just bought a dilapidated houseboat (a real fixer-upper, if you will), sight unseen, and the cameras were there to capture what was at first Jojo's dismay, and then the couple's resilience as they sought out to make something out of nothing.
The producers at High Noon Entertainment felt they had a hit on their hands, and they returned to shoot a pilot in 2012, just as Chip and Joanna were embarking on renovating what is now the 40-acre farm they live on with their four children. The residential centerpiece is the immaculately refurbished 100-year-old farmhouse awash in Joannafied style.
In the meantime, the Gaineses had doubled down on Magnolia Homes, their multi-tentacled company that started with real estate, renovation and a small boutique and now encompasses all of that, plus a housing development, their Magnolia Market at the Silos (which now has a bakery and café as well as home goods), online retail, paint, wallpaper, home accessories such as rugs and pillows, the quarterly magazine Magnolia Journal, their Magnolia House vacation rental in nearby Fredericksburg and a recently announced exclusive collaboration with Target.
"That evolving business model was just the thing that pushed the concept of a Chip-and-Joanna TV show over the top," Joanna recalled in their 2016 book The Magnolia Story. "The folks at HGTV loved the idea of following home buyers through the process from start to finish, from selection through renovation, with a big reveal at the end when they finally saw the finished product."
That they do. 
The Fixer Upper pilot premiered on May 23, 2013, eight days before their 10th wedding anniversary, and when first whole season started airing in April 2014, it was an instant success. It "took off like wildfire," Joanna recalled. Viewers were charmed by Chip's dad jokes and relentless cheerfulness, tempered by Joanna's amiable eye-rolls, approachable personal style and endearing obsession with shiplap, the rustic element that often ties her chic farmhouse interiors together and subsequently became the design trend du jour.
And, of course, there was the love story.
The Gaineses have also managed to be an adorable couple that isn't ragingly annoying about it. Their earliest anecdotes alone are priceless (and who knows whether they're supposed to breed hope or unrealistic expectations). As the story goes, in late October 2001, Chip was smitten from the start when he saw Joanna, a fellow Baylor University grad, behind the counter at her dad's tire shop, also recognizing her from the store's local commercials. He called the next day to ask her out—and then proceeded to show up an hour and a half late for their date (he insists it was only 20 minutes) and with no plans. (His fresh buzz cut, Joanna learned, was due to having shaved his head to support a buddy who had cancer.) They ended up having a lovely dinner and great conversation, but then...it would be months before their next date.
They had a coffee date planned, but Joanna had to cancel because she hurt her back and was going into the hospital for surgery. Chip never called, never sent flowers, nothing! (He maintained he thought that would've been weird after one date.) In fact, he didn't call until early January because he had made a $50 bet with a friend as to who could refrain from calling their dates back the longest. (Chip also admitted he may have still been seeing a few other girls off and on at the time.)
Their second date was a basketball game and that was that. Four months later, Chip told Joanna he loved her and she said, "Thank you." Two weeks after that, he tried it again and she said, "I love you, too."
They married on May 31, 2003, at the Earle Harrison House, a historic mansion with gardens full of roses. The bride wore a $500 off-the-rack dress and the groom and his buddies rented tuxes from the mall. Joanna arrived with her dad via horse-drawn carriage and Chip's dad was also his best man. The newlyweds honeymooned in New York City.
When one half of a duo almost always gets the shaft in the editing room, Chip and Joanna are somehow both likable. It helps that, off-camera they haven't tried to pretend everything's easy, all the time. "It is not for everybody," Chip has admitted about their lifestyle, in which their business follows them around 24/7, and the cameras are there almost as much.
"Nobody could ever script Chip Carter Gaines, even if they tried," Joanna wrote. "And I would never have signed on if I couldn't be myself. I've come way too far in my life and career to compromise now, and for HGTV to allow us to be faithful to who we are and to showcase our business and our expertise has been an absolute honor."
By their own account, the couple just cannot believe how far they've come and couldn't be more humbled and grateful for their success. (In The Magnolia Story, they talk about the emotional moment when they paid back a $100,000 loan, with interest, to a friend who had helped them out when they were in the direst of straits.) The couple have also talked openly about the role they feel God has played in their good fortune.
A religious, famous, longtime couple with gobs of money. What could go wrong?
So far, nothing that doesn't inevitably plague most successful people. Chip's been sued by former business partners who felt they got pushed out of their company on purpose before the big money rolled in. Some of the homes they've renovated are for rent instead of being lived in and loved by the families who were seen picking them out on TV (and, staging alert, the buyers had usually already picked out a home before the cameras started rolling). Tourists are coming to Waco to check out Magnolia Market at the Silos and Fixer Upper has helped revamp the city's whole image...but now it's crowded. Wah.
All of which can be written off as the cost of doing business on TV. But the personal attacks are another matter, although they can also usually be expected when you dare to live, love and work in the public eye.
They've gotten backlash for their affiliation with a church where the pastor preached against same-sex marriage. And more recently, like clockwork, came the divorce rumors. Chip decried that type of story as nonsense, but perhaps it's the negativity being directed at the very root of everything that they've built—their partnership— that prompted Chip and Joanna to put TV stardom on the back burner for now in order to focus on their family. (And their zillion other businesses, so it's not as if they're going on vacation.)
"This has been an amazing adventure!" the couples stated today. "We have poured our blood, sweat and tears into this show. We would be foolish to think we can go and go and fire on all cylinders and never stop to pause.
"Our family is healthy and our marriage has honestly never been stronger. This has nothing to do with a fraudulent skincare line or anything else you'll inevitably read." (In April Joanna denied a rumor she was leaving Fixer Upper to focus on face cream.) "This is just us recognizing that we need to catch our breath for a moment. Our plan is to take this time to shore up and strengthen the spots that are weak, rest the places that are tired and give lots of love and attention to both our family and our businesses."
Hardly a "goodbye forever." But nor is it a "everything is just great, this decision has nothing to do with anything personal." Their online statement was accompanied by a video in which Chip presents as his ever-chipper self, but Joanna has moments where she doesn't look quite as upbeat as her husband.
But overall, this is good for the Gaineses, if what their family needs more than anything right now is simply each other.
"We carved out certain hours each day that we needed to set aside for family and business and insisted we would never travel more than thirty minutes outside of the Waco area for our renovation projects," Joanna wrote about the ground rules she and Chip set early on. "We needed to be home for our kids, and their needs were going to come first as much as humanly possible."
"What we do on camera is what we do in real life," Joanna said. But though The Magnolia Story just came out last October, their world may look entirely different than it did in 2014, let alone 2012 when High Noon Entertainment first thought these two had potential. As their kids—Drake, 12, Ella Rose, 10; Duke, 9, and Emmie Kay, 7—have gotten older and millions of people want to know more about Chip and Joanna, what once seemed like a natural thing—to keep Fixer Upper close to home and involve the whole family—has become more of a to-do. 
"They're so young and we want to give them the chance to have a normal childhood," Joanna told People a year ago about their increased effort to keep the children's lives private, despite their appearances on Fixer Upper during family activities and when Chip inevitably brings them to the house they're re-doing for dinner before their mom pulls an all-nighter to add all the finishing touches.
Joanna also wrote last year, "Our marriage never suffered in all we've gone through because Chip and I were drawn even closer together, knowing down deep in our hearts that we had to hold on to each other if we were ever going to make it out alive."
And while the Gaineses may not own a TV, they've surely heard of the downfalls of certain other famous TV couples, including one on their own network.
Continuing to work on Flip or Flop together may be something that Tarek and Christina El Moussa, parents of two who are in the middle of divorce proceedings, can do for now, but Fixer Upper—and maybe even the overall charm of the Magnolia brand—would cease to exist if the couple at the heart of it ever broke up.
We obviously haven't seen the last of Chip and Joanna Gaines—as they just said, they're "excited for whatever is around the bend" and "will definitely be staying in touch," and Joanna said that they had thought for awhile that season five would be it for "this chapter"—yet think of how much of a bummer it would be to only see Chip or Joanna Gaines. May as well take a break from the most demanding part of their work schedule when it won't even look as though they're taking a break.
Indeed, it won't feel like the Gainses have gone anywhere. Chip's humorous guide to success, Capital Gaines: Smart Things I Learned Doing Stupid Stuff, about "what it's like to be plucked out of almost complete obscurity," is due out Oct. 17. A whole new season of Fixer Upper will be on in November. Also starting in November, you can blow all the money you want on Hearth & Hand with Magnolia items from Target. And then, by the time the series finale airs on HGTV, we'll probably know what Chip and Joanna are going to do next. (There's a method to all this madness, surely.)
But in the meantime, it's time for Chip and Joanna Gaines to recommit to doing what it takes to make it out alive.