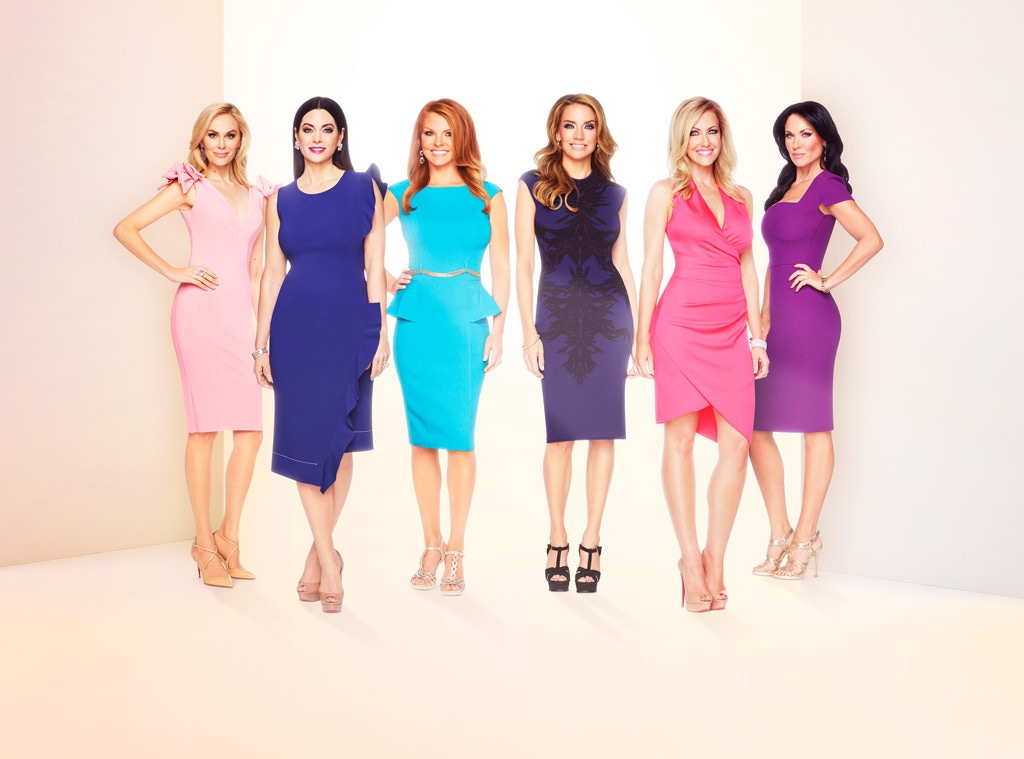 Bravo
The Real Housewives of Dallas had perhaps one of the most shocking hot mic moments ever. Yes, even more shocking than all of Tom D'Agostino's hot mic moments on The Real Housewives of New York City.
In the Monday, Sept. 25 episode of RHOD, LeeAnne Locken was heard saying this to Brandi Redmond about fellow cast member Cary Deuber:
"You really think I want to get naked like this around Cary? How much fun do you think she's going to make of me then? Why is it so f—king important to Cary to come for me all the time? Because I'm gonna do something. She's gonna come for me one day and it isn't going to be pretty. Her husband gets his d--k sucked at The Round-Up. I know the boys who did it. I didn't grow up with a silver spoon in my mouth…I grew up with a lot of things in my hands and they're not knives, they're just hands. But they work quite well."
A little backstory: Cary and LeeAnne haven't been on the same page in some time. When LeeAnne told the ladies she was getting her boobs done, Cary, a registered nurse and wife to a plastic surgeon, voiced concern with LeeAnne's choice of doctor. They seemed to put it all behind them…until now.
LeeAnne addressed the comments in her Bravo blog.
"My 'conversation' with Brandi at the surgery center seemed very one-sided. What I mean by that is, in a normal conversation there is give and take. I truly only heard the take! Where were the questions that led to those answers? I feel like I was completely baited in an altered state into speaking about something that should not have been discussed considering I was under the influence," she wrote.
"I honestly can't recall this conversation. It's horrible to watch it back on TV. If you feel disappointed in me while watching this, let me tell you, I feel it 1,000 times harder," LeeAnne continued, previously noting surgery stresses her out. "This is not who I want to be and not how I want to be. When people push my buttons, I want to be calm and respond in a calm manner. My heightened fear took all of that away from me. I own it, but I am not proud of it!"
Brandi also addressed the moment.
"After the medical team left the prep room, LeeAnne stormed over in my face, butt ass naked with spit flying in my face and said what she said as I held my breath. I was uncomfortable, nervous, and speechless. It was the most uncomfortable private moment with anyone I've ever had," she wrote. "She seemed so cold and desperate for me to feel her anger. I honestly am put in a horrible situation over this and I have no idea why LeeAnne has to take things so far to the point that she becomes unpredictable and unrelatable. I mean, how many times do most people have to tell another friend that another wants to harm them? #notnormal."
As for the woman who the comments were about, Cary said the moments were "pretty alarming and really scary."
"My life is getting threatened now?! I can hardly believe it. AND THAT'S EXACTLY WHY I can believe it…'Little LeeAnne' is making grown-up LeeAnne into a security risk! AND more of the gay bashing rumors! She doesn't like that I tell the truth about her doctor; so she bashes my surgeon husband and says he's gay to get back at me? Really? It's going to be so hard to give her the benefit of the doubt as far as what she is spewing. I finally get her whole two-face thing—IT COMES NATURALLY—the face she shows on the speaker's podium and the real one she has behind closed doors," Cary wrote.
The drama continues on The Real Housewives of Dallas on Mondays at 10 p.m. on Bravo.
(E! and Bravo are both part of the NBCUniversal family.)