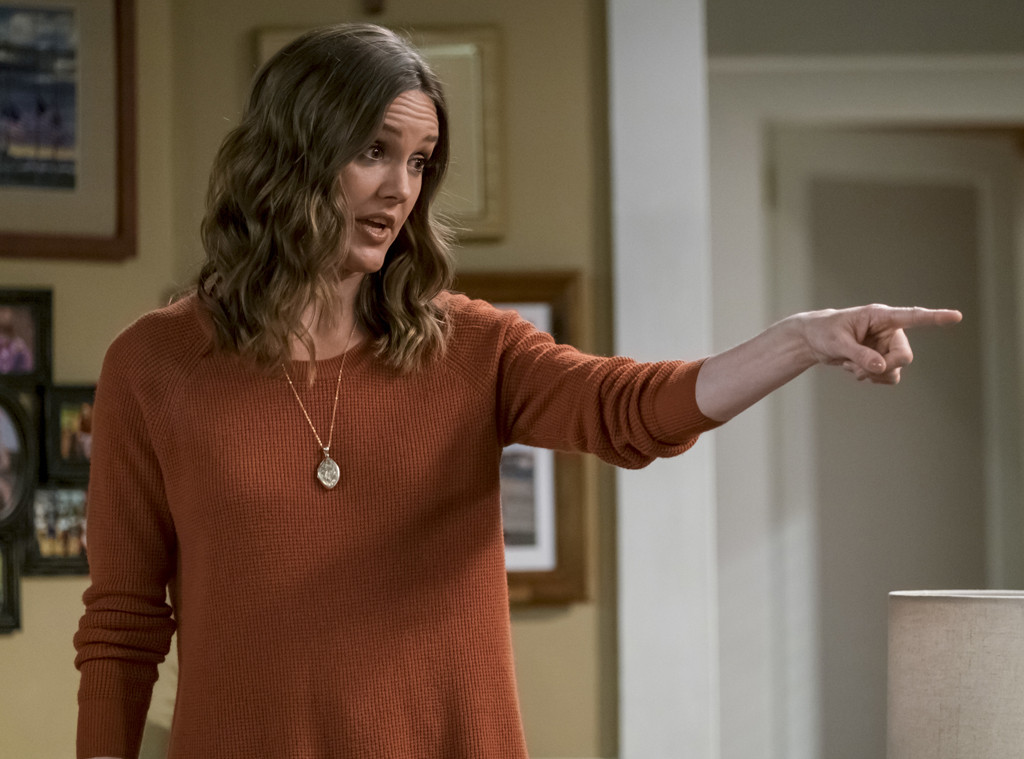 CBS
RIP Donna (2016-2017).
Kevin no longer has to wait, as the Kevin Can Wait season two premiere, which will address the abrupt exit of Erinn Hayes, who played Kevin James' character's wife in season one, finally airs tonight. The CBS sitcom will feel considerably different as James' King of Queens' co-star Leah Remini is set to join the show full-time...after Hayes' character Donna's death is revealed.
"True, I've been let go from the show. Very sad, I had a great experience season 1," Hayes tweeted after the news of er exit broke. "Thank you for all the support from our wonderful fans."
So how will a TV sitcom handle the death of the family's matriarch? 
What we know: Um...not much? In the season one finale, Donna left her job as a school nurse, leaving her and Kevin unemployed.
Kelly Kahl, CBS Entertainment president, said in July that Hayes was not involved with decision to kill off her character (Duh?) and "it will be addressed on the show, it will be be addressed tastefully and set up as a way to move forward....it will be treated with dignity and respect and the show will go forward."
CBS boss Thom Sherman, senior executive vice president of programming, added the show "will be moving forward in time, catching up at later date." (Because mourning a family member immediately after isn't exactly ripe comedy material, one would assume?) 
Donna's death will be used to drive Kevin's story in season two, executive producer Rob Long told TV Line. "The goal was to give Kevin's character a real drive and a real predicament [involving] how a family comes back together [after tragedy]. Also, out of respect for the character of Donna — and certainly the way that Erinn Hayes portrayed her — it seemed like the only right and fair way to treat her character."
So with all of that overwhelming information, here's our TV Team's predictions for how Kevin Can Wait will handle Donna's exit...
Tierney Bricker: Maybe I have just been reading too much about Full House since it just celebrated its 30th anniversary, but I learned the Tanner matriarch died in a car crash before the show started, and that seems like a very sitcom way to handle a death?
Chris Harnick: So Donna is a nurse, right? They could send her off being a hero. Donna joins a group, like Doctors Without Borders, over the summer and goes to treat sick kids in impoverished nations. While there, her envoy is attacked and she dies helping a patient. Maybe? Who knows.
Lauren Piester: Since she's a school nurse, I think they should have the school catch on fire, and she heroically saves every single kid in the school before it explodes and she's screaming, "F--k you, King of Queens!" as she goes out in a blaze of glory. But she's probably just going to die in a car accident. 
Billy Nilles: With all this talk about handling Donna's death with respect and dignity, there's no way they'd make the events surrounding her demise a joke themselves, right? This won't be a "licking tainted envelopes" situation a la Seinfeld. No, I think it'll be something as simple and tragic as a car crash. RIP, Donna. We hardly knew ye.
Kevin Can Wait returns tonight at 9 p.m. on CBS.