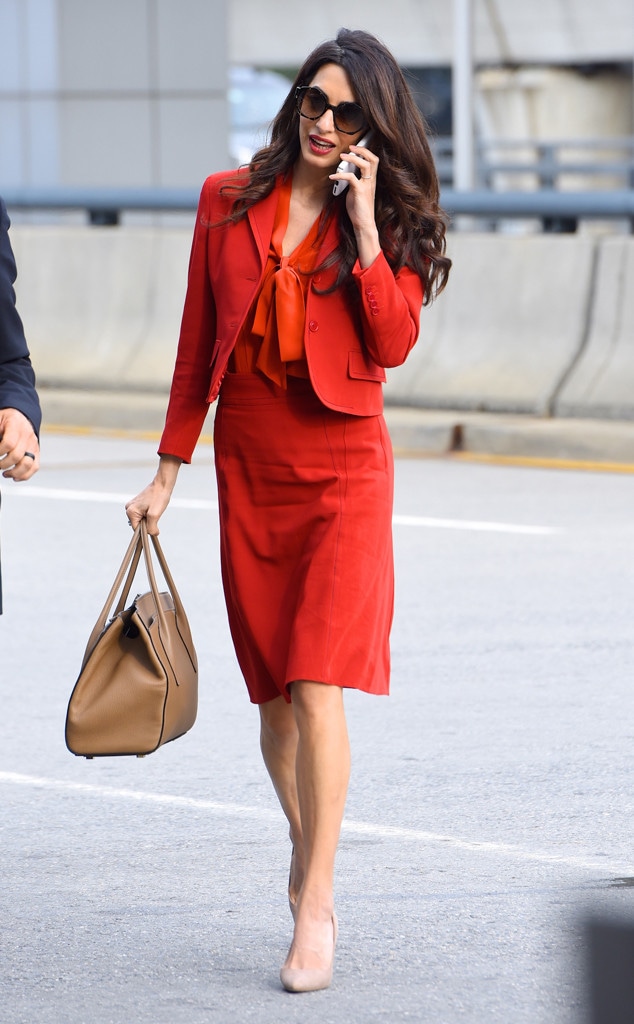 Robert Kamau/GC Images
This new mama is on a mission!
After giving birth to twins Ella and Alexander in early June with husband George Clooney, Amal Clooney has officially headed back to work.
The British barrister was snapped making a stop in New York City Thursday as she headed to a Security Council meeting at the United Nations. The renowned human rights lawyer put her most stylish foot forward in a ruby red jacket, skirt and blouse from Bottega Veneta's 2017 pre-Fall collection for the important afternoon. 
Inside the building, Clooney sat beside Nadia Murad, a human rights activist, former ISIS slave and her client, as the council unanimously voted to develop a team to help Iraq collect evidence and build cases against the terrorist group and hold ISIS accountable for any crimes against humanity.
PETER FOLEY/EPA-EFE/REX/Shutterstock
DON EMMERT/AFP/Getty Images
Reacting to the pivotal moment in her fight against ISIS, Clooney, who has represented Yazidi victims of the terrorist group for the last year, said partly, "For the first time, the most important states in the world have come together through the Security Council to say to ISIS terrorists, if you commit genocide, if you commit crimes against humanity or war crimes, you will be put on trial."
As she continued, "We hope that people like Nadia who suffered so greatly at the hands of ISIS...they are one step closer to justice today."
It was a particularly special day considering Clooney only recently resumed her legal work in early September after her maternity leave this summer. As a source told E! News a few weeks ago, "She has loved every minute of the summer with the twins and will miss them immensely, but she is also is looking forward to resuming her career work and getting back to it."
What a perfect welcome back!