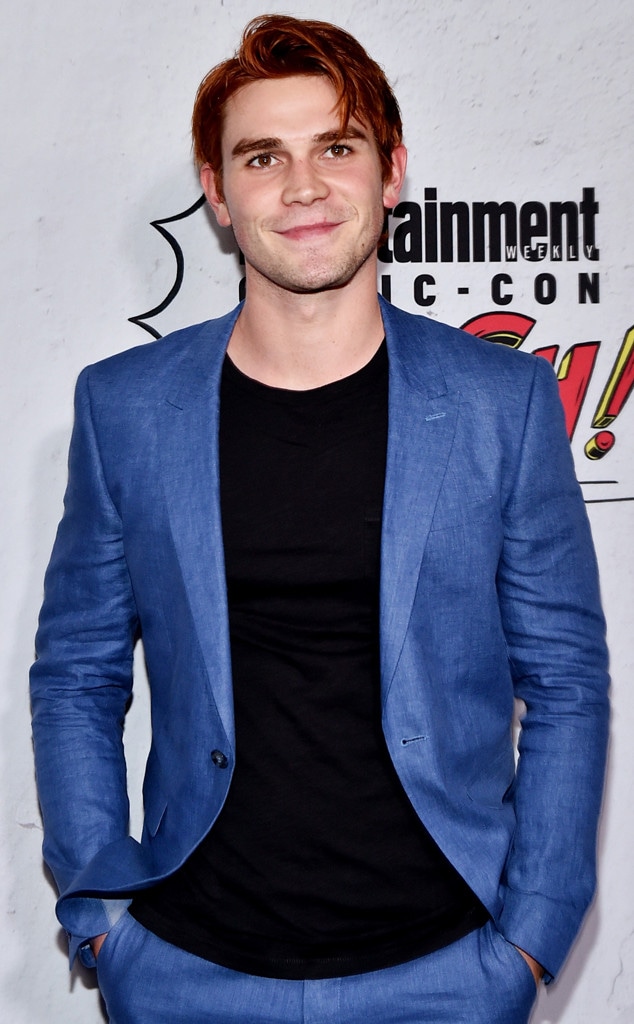 Mike Coppola/Getty Images for Entertainment Weekly
UPDATE: Warner Bros. Television, who produces Riverdale, has responded to the report. See their statement below.
_______________________________
Riverdale star K.J. Apa is OK after being involved in a car crash near Vancouver last week following a very long workday, a report says.
The accident took place late at night after the New Zealand actor spent 16 hours shooting scenes for the show, The Hollywood Reporter said on Thursday. The 20-year-old actor apparently fell asleep at the wheel while driving a 45-minute trip to his hotel after midnight and crashed into a light pole. He was taken to a hospital and discharged without serious injuries, while the vehicle was rendered inoperable, the outlet reported.
Warner Bros. Television disputes some of the details and said in a statement that "we are extremely grateful that K.J. Apa was uninjured during his recent accident."
Apa, who plays Archie on the CW series, has not commented.
His co-star Cole Sprouse had planned to travel with him in the car but ultimately changed plans, THR said, adding that after the crash, the actor asked that Riverdale stars working late hours be provided transportation. Sprouse has not commented.
"We want to specifically address the characterization that conditions on the set of Riverdale are of concern," Warner Bros. Television said in the statement. "We have a large cast of series regulars, and our actors do not work every day. On the day of the accident, KJ worked 14.2 hours. The previous day he worked 2.5 hours, and the day before that he worked 7.7 hours. K.J. has repeatedly been informed about making production aware if he is tired or feels unsafe, and if so, either a ride or hotel room will be provided for him. The accident occurred last Thursday. Additionally, it is untrue that K.J. was taken to the hospital. He was treated by first responders on the scene and released by them. We also sent a doctor to his home later that same day for a follow-up to confirm his well-being."
"The safety of the cast and crew on all of our productions is of paramount importance to the studio," the company said. "Productions adhere to the Screen Actors Guild—mandated turnaround time of 12 hours from wrap time to next day call time for cast members. In accordance with industry standard policy, if any cast or crew member feels tired or unsafe at any time after working, the studio will provide a taxi, a driver or a hotel room upon request. This is communicated to all cast and crew, both in writing and verbally, at the beginning of production and is reiterated continuously throughout the duration of production."
Watch:
Cole Sprouse & K.J. Apa on Shocking "Riverdale" Finale
Apa's social accounts have been active in recent days. Apa reposted on Twitter and Instagram a video in which he trolls Sprouse by mocking his interview comments.
"My new main concern. @kj_apa," Sprouse replied on Twitter.
Two days prior, he posted on Instagram a photo of him with his family.
"Mum and Dad came to visit us, my sister is so annoying omg lol smh," he wrote.
—Reporting by Tierney Bricker