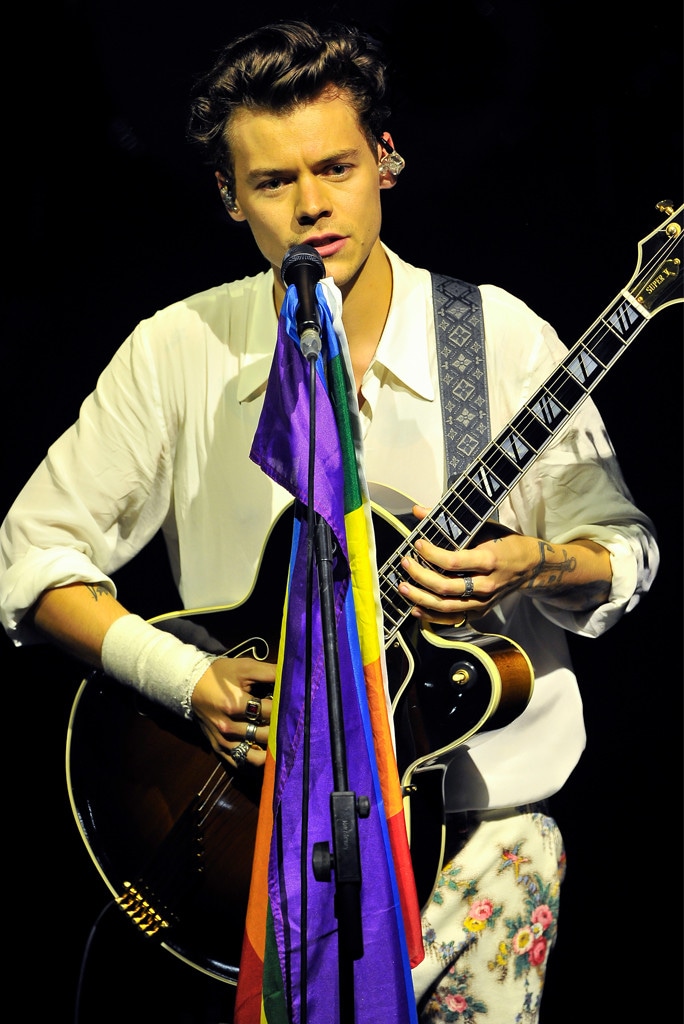 Steve Jennings/Getty Images for Sony Music
Harry Styles kicked off his first solo tour with a message of love and equality.
The singer, who rose to fame with One Direction, performed at the Masonic auditorium in San Francisco on Tuesday. A fan threw onstage a rainbow Pride flag, which Styles waved around before attaching it to his mic stand while performing his song "Woman."
"Cried in the arms of a gay man standing by me when this happened. It was a beautiful moment and a wonderful show," wrote Twitter user @MarissaRachay. "Thank you @Harry_Styles."
"Harry dancing on stage with an LGBTQ pride flag makes me feel safe. What a human being," tweeted user @harryfanboyz. "Thank you. I love you so much @Harry_Styles."
Styles has long been a supporter of equal rights for women and the LGBTQ community.
"That doesn't feel like politics to me," he said on the French talk show Quotidien in April. "Stuff like equality feels much more fundamental. I feel like everyone is equal. That doesn't feel like politics to me."
In 2013, members of the anti-gay religious group the Westboro Baptist Church picketed a One Direction concert in Kansas City, Missouri.
"Despite the company outside, I believe in equal rights for everyone. I think God loves all," Styles tweeted at the time. "Thanks for coming to the show though."
Styles is set to perform in Los Angeles Wednesday, after which he will head to cities such as Nashville, Chicago, New York City, Boston and Atlanta. The first U.S. leg of his tour ends on October 14, after which he will take a short break before heading to Europe for more shows on October 25. Styles is scheduled to perform around the world on and off until July 2018.