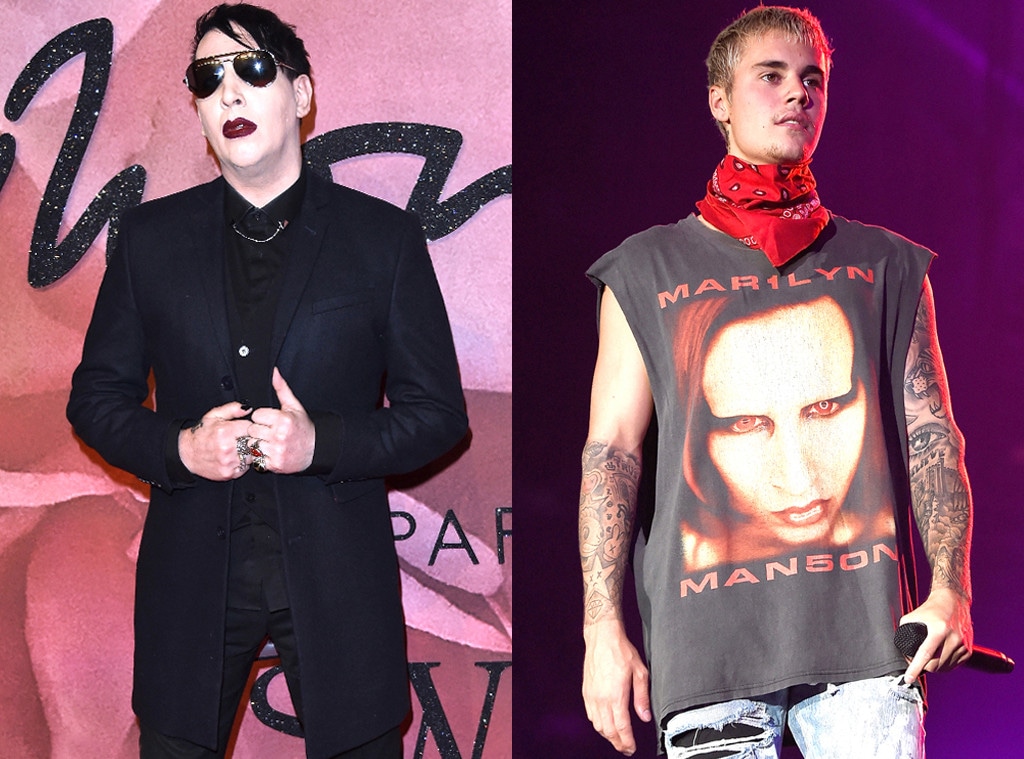 Kevin Mazur/Getty Images, Stuart C. Wilson/Getty Images
Would you let Howard Stern read your text messages on air? Marilyn Manson did. 
During an interview for The Howard Stern Show, Manson allowed Stern to read a text message exchange between him and Justin Bieber about the two performers' T-shirt drama.
For context, here's a rundown of what happened: Bieber featured an image of Manson on a T-shirt that was part of his Purpose World Tour merchandise. The T-shirt featured Manson's face on the front, as well as Bieber's name and the words "Bigger than God" on the back.
Designer Jerry Lorenzo posted a picture of Bieber standing in front of the tour merchandise on Instagram back in July 2016 and thanked Manson for "signing off" on the shirt in the caption.
There was just one problem: Manson didn't agree to have his face appear on the T-shirt.
"I ran into him in some fancy bar where a lot of celebrities—a word that I despise—go. I saw a little girl in a pink hoodie with blond hair, and it turns out to be Bieber," Manson told Billboard. "I sit down, and I say, 'Hey, so you wore my shirt and everything onstage.' He was one of those touchy people that hit you when they talk, and he comes up to about dick height. Then he goes, 'I made you relevant again.'"
Manson also told Consequence of Sound that Bieber "was a real piece of s--t in the way he had the arrogance to say that."
However, he said the situation didn't end up being a legal battle.
"It was nice though that I didn't have to sue his company for making the shirts that he wore with his name and my face on it," he told Billboard. "They were very much like, 'We know we're wrong here; just take as many dollars as you want.''"
Going back to The Howard Stern Show, Stern read a text from Bieber asking Manson about a recent article.
"I thought we had a pretty pleasant interaction," Stern said, reading part of a text from Bieber. "Also, if anything wasn't squared away with the T-shirts, I'm so sorry. Anyway, regardless, it kind of stung seeing that I came off as an a--hole or even just was an a--hole, I'm sorry?" 
According to Stern's reading of the messages, Manson later texted Bieber "You were just being you. No beef here."
"I said, 'You were just you,'" Manson told Stern, "which could mean he was just being an a--hole or whatever."
"Honestly, I totally thought we hit it off," Stern said reading one of Bieber's texts. "Again, my bad. If I was an a--hole, that wasn't my intention. Just want you to know that."
"We are cool," Stern said reading Manson's text. "People just made that shirt stuff into a fake feud. Let's turn it upside down and f--k the press and do something together. It will be the best. And don't apologize. You weren't an a--hole. They asked if you were and I sort of agreed. I wasn't out to get you. If not, I'll try to avoid more questions today on Stern."
When Stern later asked Manson whether he was actually calling Bieber an a--hole in that moment, Manson responded, "It's up for him to decide. I don't know."
Still, things seemed to end on a somewhat amicable note.
"I didn't really care about the media," Stern said reading another text from Bieber. "I just wanted to make sure you and I were good 'cause I like you."
Manson also agreed not to "s--t talk" Bieber on Stern's show, to which Stern said Bieber replied, "Well, thanks. LOL"
"He sassed me and he apologized, and I said I wouldn't s--t talk him, so I'm not going to s--t talk him," Manson told Stern.
To hear the whole text message exchange, listen to the interview. 
What do you think? "Is it too late now to say sorry?" as Bieber would sing. Let us know in the comments below.