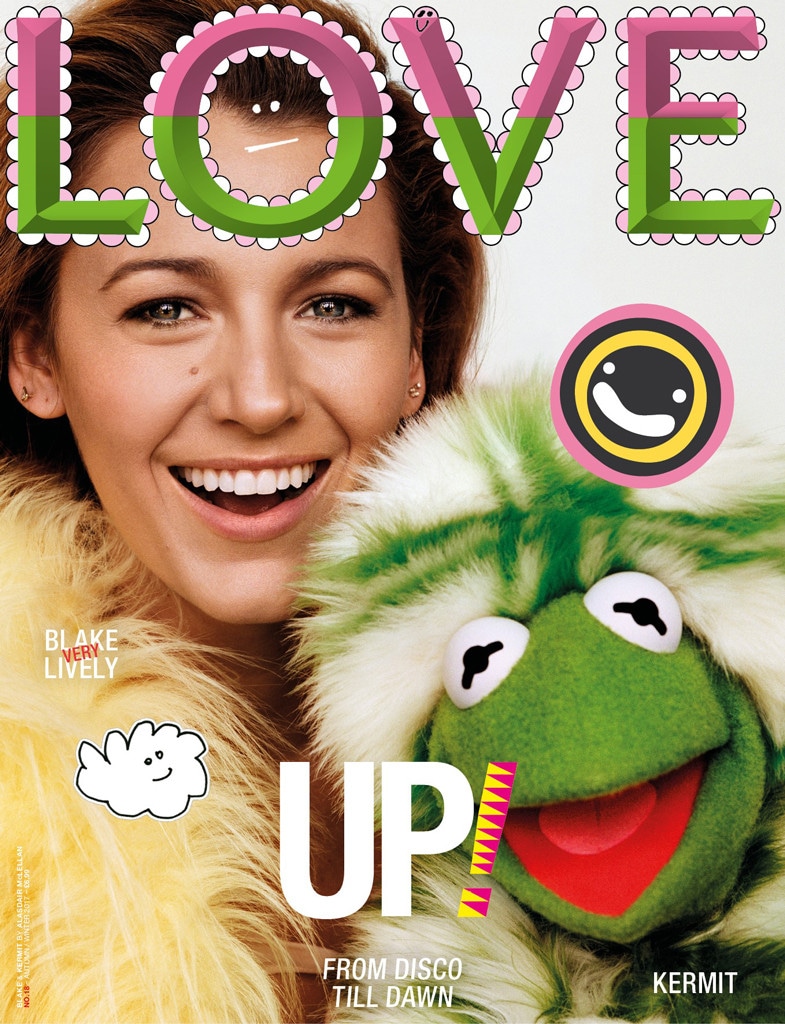 Alasdair McLellan/LOVE Magazine
Blake Lively may be married to Ryan Reynolds, but it looks like she also has love for a famous frog.
The former Gossip Girl star posed with Kermit the Frog for the cover of Love Magazine, which showcased the latest fashion from Miu Miu. Kermit wore a green and white coat for the shoot—accentuating his gorgeous green complexion  and bright white eyeballs—while Lively wore a yellow coat. 
But he wasn't the only Muppet Lively was photographed with. She also posed with Kermit's leading lady Miss Piggy. Lively and Piggy held hands for the photo and rested their heads against each other. Piggy donned a light purple coat and hat, which matched her purple eyeshadow, and accessorized the look with white gloves and a classic string of pearls. Lively wore the same yellow coat—we wonder what Serena van der Woodsen would have thought of the look. Both models also wore their hair down.
The photos were taken by British photographer Alasdair McLellan.
Alasdair McLellan/LOVE Magazine
Lively shared both of the photos on Instagram. For her photo with Kermit, Lively wrote "The lovers, the dreamers and me" in the caption—referencing a lyric from the famous song "Rainbow Connection," which Kermit sings in The Muppet Movie. As for her photo with Piggy, Lively decided to throw a little shade in the caption. "Eat it, Peppa," she wrote, referencing the British cartoon character Peppa Pig.
Piggy and Lively seem to have a close bond.
"I love dropping in on Blake," Piggy said. "She's funny, lovely and talented...and of course it doesn't hurt that her hunky husband Ryan likes to walk around the house with his shirt off."
Piggy and Kermit have also had a long-term relationship. Piggy and Kermit tied the knot in their 1984 movie The Muppets Take Manhattan; however, the couple broke up in the summer of 2015; although, the two seemed to be working through their challenges on the final episode of season one of The Muppets.
All three of the models have seen great success on both the big screen and TV screen. In addition to starring in the hit TV series Gossip Girl, Lively has appeared in a number of films, including The Shallows, Café Society, The Age of Adaline and The Green Lantern, where she acted alongside her now husband Reynolds. Kermit and Piggy starred in the weekly variety show The Muppet Show in the '70s and '80s, as well as their ABC show The Muppets. They also had lead roles in a number of films, including The Great Muppet Caper, Muppets From Space and Muppet Treasure Island.
According to McLellan's Instagram, Kendall Jenner also posed with Kermit and Piggy for the magazine, and Jean Campbell posed with Janice, a character in the Muppets' band Electric Mayhem. Models Lexi Boling, Stella Tennant and Julia Nobis were also photographed.