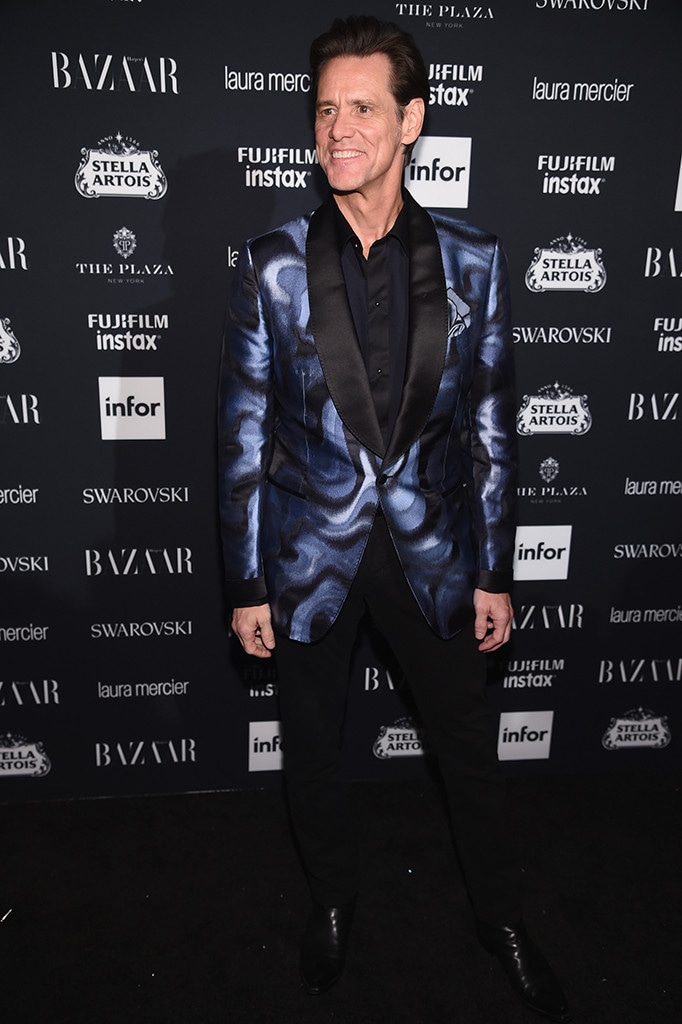 Getty Images for Harper's BAZAAR
23 years after In Living Color signed off the air, Jim Carrey is finally ready to make his return to TV.
The comedian, who's more recently been making headlines for his truly one-of-a-kind interview with E! News' very own Catt Sadler at New York Fashion Week, is set to star in Showtime's upcoming half-hour comedy Kidding. As if his first series regular role in over two decades wasn't exciting enough, the series will reunite Carrey with his Eternal Sunshine of the Spotless Mind director Michel Gondry, who will direct the new project. And if you know anything about Carrey's film oeuvre, you know that Eternal Sunshine is perhaps his best role ever, one that he was cruelly robbed of an Oscar for. So this is very exciting news indeed.
So, what's Kidding all about? Here's the official logline from Showtime: "Carrey plays Jeff, aka Mr. Pickles, an icon of children's television, a beacon of kindness and wisdom to America's impressionable young minds and the parents who grew up with him – who also anchors a multimillion dollar branding empire. But when this beloved personality's family – wife, two sons, sister and father – begins to implode, Jeff finds no fairy tale or fable or puppet will guide him through this crisis, which advances faster than his means to cope. The result: a kind man in a cruel world faces a slow leak of sanity as hilarious as it is heartbreaking."
"No one inhabits a character like Jim Carrey, and this role – which is like watching Humpty Dumpty after the fall – is going to leave television audiences wondering how they went so long without him," Showtime president David Nevins said in a statement announcing the series. "With his Eternal Sunshine partner Michel Gondry on board to direct, we are on our way to a magnetic, volcanic and emotional viewing experience."
The 10-episode first season will count Carrey and Gondry, as well as Jason Bateman, as executive producers. Kidding was created by Weeds alum Dave Holstein, who will act as showrunner. The series expands Carrey's relationship with the premium cable network, as he is currently an executive producer on I'm Dying Up Here.
Are you looking forward to Carrey's return to TV, especially considering the project is a reunion with Gondry? Sound off in the comments below!