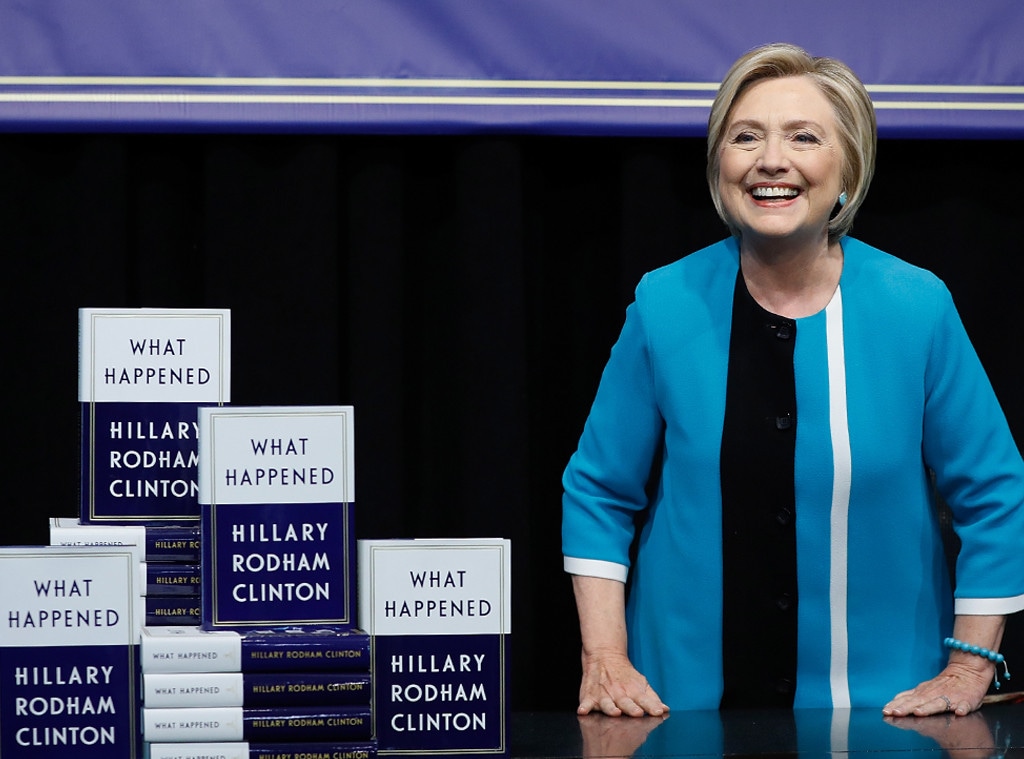 John Lamparski/WireImage
Hillary Clinton has moved onto a new chapter in her life...quite literally.
After losing the 2016 election to President Donald Trump, the 69-year-old politician decided to take a step back, focus on herself and her family and write a book about everything that led up to that fateful night and everything that's happened since.
Her memoir, What Happened, hit shelves this week, making waves among her avid supporters, followers and, of course, those who rallied against her in the election last year.
The book is especially insightful as Hillary gives her readers a look into her life behind closed doors and beyond what the public saw of her as a presidential nominee.
Here are the 15 juiciest bits:
Drew Angerer/Getty Images
1. She Bought a House in Anticipation of Winning the Election: In August 2016, Hillary admitted she was so confident about the election that jumped the gun and bought a $1.6 million house next door to the one she owns with husband Bill Clinton. The purchase was to make more room for secret service and her family.
2. She Didn't Shake Trump's Hand After the Access Hollywood Tape Leaked: As you likely recall, a 2005 tape of Trump graphically objectifying women was leaked last October. Following the debate shortly thereafter, Hillary said,  "I was not going to shake that man's hand."
3. She Will Always Struggle to Comprehend That Email Scandal: "At times, I thought I must be going crazy. Other times, I was sure it was the world that had gone nuts," she recalled. "Sometimes I snapped at my staff. I was tempted to make voodoo dolls of certain members of the press and Congress and stick them full of pins. Mostly, I was furious at myself."
4. She Denied Bill's Marriage Proposal...Twice: "My marriage to Bill Clinton was the most consequential decision of my life," she wrote. "I said no the first two times he asked me. But the third time, I said yes. And I'd do it again."
5. She's Stayed With Him for Very Good Reason: "There were times that I was deeply unsure about whether our marriage could or should survive," she recalled. "But on those days, I asked myself the questions that mattered most to me: Do I still love him? And can I still be in this marriage without becoming unrecognizable to myself- twisted by anger, resentment, or remoteness? The answers were always yes. So I kept going."
AP Photo/J. Scott Applewhite
6. She Loves Goldfish Crackers: "I have a weakness for Pepperidge Farm Goldfish crackers and was delighted to find out that 55 goldfish were only 150 calories—not bad!"
7. She Fears Artificial Intelligence: After spending spent a lot of time in Silicon Valley talking to people like Elon Musk, Stephen Hawking and Bill Gates, she admitted to becoming more and more concerned about the rise in smart technology and it posing an existential security threat one day. In fact, her election team feared she'd start talking about "the rise of robots" at an Iowa town hall, about which she joked, "Maybe I should have."  
8. She Took a Nap During the Election: "The waiting was excruciating," she wrote, "I decided to do the least likely thing in the world and take a nap. Hopefully, when I woke up, the picture would have improved."
9. She Handled the Defeat Similar to How We Handle a Breakup: She awoke from her nap to the realization that she would probably lose, and in that moment, someone from her team was sent out for whiskey and every flavor of ice cream the hotel had available.
10. She Called Trump and It Was Weird: After Trump won the election, Hillary did as all candidates do and called Trump. Describing the conversation as one of "the strangest moments" of her life, Hillary recalled, "It was all perfectly nice and weirdly ordinary, like calling a neighbor to say you can't make his barbecue. It was mercilessly brief."
AP Photo/J. Scott Applewhite
11. Bill Didn't Leave Her Side the Night of the Election: After her loss, the political couple drank wine and ate Thai food and held hands in bed until they finally fell asleep. "I thought for the ten millionth time how glad I was that I had married my best friend and biggest cheerleader," she wrote.
12. And He Didn't Leave Her Side in the Months After Either: They hiked and talked a lot about the election, and they caught up on all the television shows they'd been missing. "We raced through old episodes of The Good Wife, Madam Secretary, Blue Bloods, and NCIS: Los Angeles, which Bill insists is the best franchise," Hillary revealed.
13. Her Friends Suggested She Take Xanax: With her anxiety at an all-time high following the election, many of her friends suggested she try Xanax. Hillary admitted it wasn't for her and opted for Yoga and chardonnay instead. "It wasn't all yoga and breathing," she said. "I also drank my share of Chardonnay."
14. She Still Can't Listen to Some Katy Perry Songs: Hillary revealed how she specifically chose empowering female artists to play during her rallies. "To this day, I can't hear 'Fight Song,' 'Roar,' or 'Rise Up' without getting emotional."
15. She Hopes to See Another Female Candidate in the Future: "I hope I'll be around to vote for her—assuming I agree with her agenda," Hillary wrote. "She'll have to earn my vote based on her qualifications and ideas, just like anyone else."