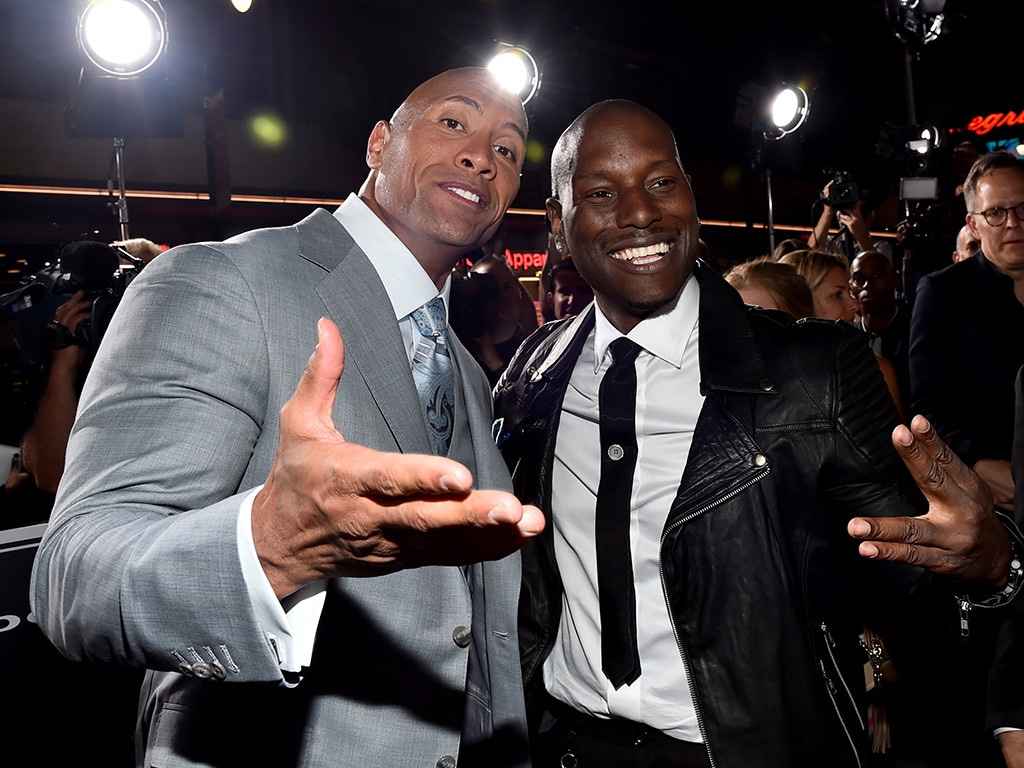 Alberto E. Rodriguez/Getty Images
It sounds like there's trouble brewing between Tyrese Gibson and Dwayne "The Rock" Johnson. 
Signs that the Fast and the Furious co-stars are embroiled in a bit of drama popped up on the Internet after Gibson left a few strong words for his fellow actor on his Instagram account. According to Gibson's comments, his colleague is in talks for a film centered on his longtime Furious character, Luke Hobbs. In April, E! News reported Universal Pictures was looking into doing a spinoff featuring Charlize Theron, Jason Statham and Johnson. However, there has been no confirmation that that film has been green lit or that the stars have signed on.
A few days before Gibson's comments, Johnson shared a photo of himself sitting at a table looking at paperwork, alluding to new projects ahead. 
"If you move forward with that #Hobbs Movie you will have purposely ignored the heart to heart moment we had in my sprinter," Gibson wrote in a since-deleted comment on the picture. "I don't wanna hear from you until you remember what we talked about. I'm on your timeline cause you're not responding to my text messages – #FastFamily is just that a family…….. We don't fly solo."
Gibson clearly wanted to reach his co-star because he continued in another lengthy comment, clarifying that his issue is not with the movie itself, but with when it may come out as he does not want it to compete with the ninth Furious installment due out in April 2019. 
"I have never and will never have a problem with this major movie star he's my brother," Gibson continued. "I'm simply trying to reach him cause he won't call me back about this solo #HobbsMovie  I want you to shoot it just not right now cause the #Fast9 release date has already been announced and we can't let our loyal fans #FastFamily or our loyal fast and furious FANS down on any level from pushing the date…….. Didn't you see how HUGE #Fast8 was? It's because we announced and KEPT our release date bro."
Watch:
Have Dwayne Johnson & Vin Diesel Settled Their Feud?
"We do this on behalf of the families, the cast, the crew member who have been down and loyal to us for 15 years…… Everyone matters," he concluded. "When we shoot we all eat, we we show up as a FAMILY display our love, our funny stuff, our story lines and HEARTS in every frame…… Me and the cast laugh because it seems like #Fast is like a HOLIDAY at this point….. You [can't] push the release date of a holiday bro... it's tradition it's fans that are LOYAL."
Gibson noted that he would delete all of his posts once Johnson contacted him, so that may have ultimately happened considering the actor has taken down his words, except for a photo of the two men together that he posted on his Instagram account. "I don't do email bruh You got my cell same San Diego # hit me," Gibson captioned a shot of the two smiling on a red carpet. Despite his urgings, Gibson also reiterated the love he has for the action star. 
This is not the first time drama has struck the Fast and the Furious cast. Last fall, Johnson took verbal aim at some of his mystery male colleagues, calling them "candy asses," claiming they do not "conduct themselves as stand up men and true professionals" and "are too chicken s--t to do anything about it anyway."
As Johnson later told The Los Angeles Times,"I was very clear with what I said. I've been in the game a long time."