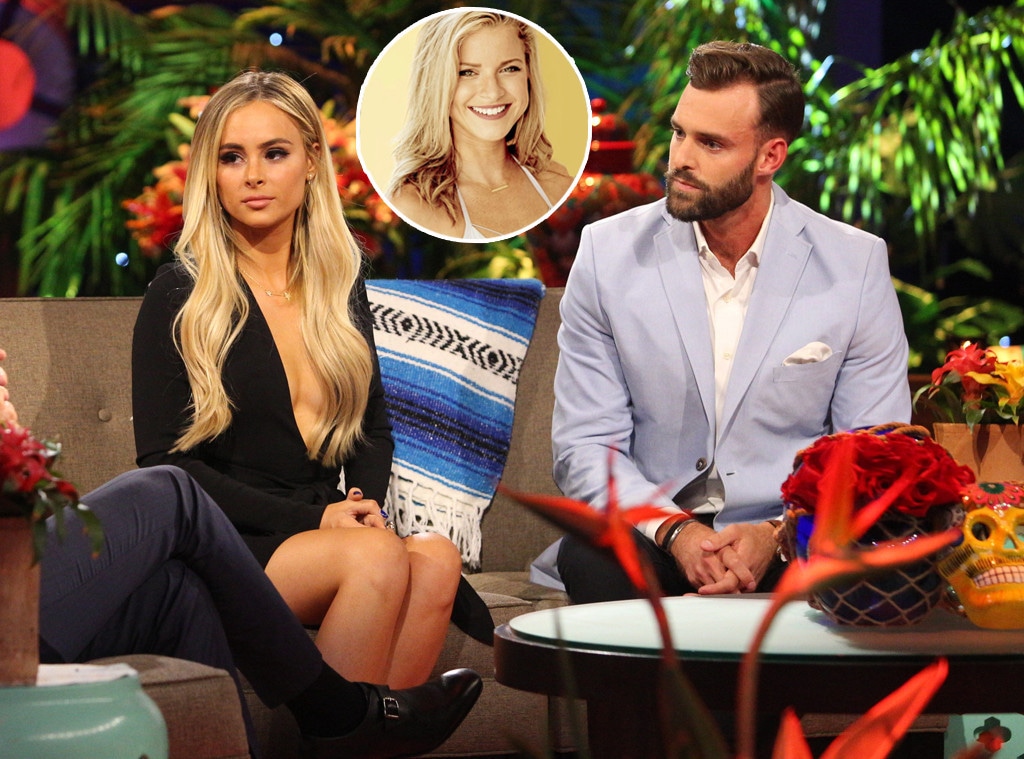 Paul Hebert via Getty Images, MTV
Robby Hayes is not who you think he is according to one close pal.
Shortly after accusations flew that the Bachelor in Paradise star may have cheated on girlfriend Amanda Stanton after filming, one famous friend is coming to his defense.
"Robby is a really good person. He went into Bachelor in Paradise with good intentions. I don't think he meant to hurt anybody," Are You the One's Kathryn Palmer shared with E! News exclusively. "I feel so bad for him. That's not who he is. I don't think he should be portrayed like that."
On Monday night's finale, Robby was put in the hot seat after photos surfaced online showing the social media influencer possibly kissing another girl. He would try and defend himself on Twitter after the episode aired.
"Yes, I'm friendly and personable with many people, but I have respect for myself and even the person I'm casually dating, so I keep my interactions appropriate," he shared with his followers. "History is repeatedly showing that some people thrive off of using the media and their 'army' to manipulate viewers to place one-sided blame, constantly play the 'victim' and use their friends to try and assassinate one's character. Your story-line is getting OLD; at some point it's just on YOU to stop living a double-life, and at this point, everyone sees through it."
Watch:
Why Robby Hayes & Amanda Stanton Broke Up
Soon after, Amanda tweeted a specific photo of her ex getting close to a mystery woman. "I have plenty more + videos," she shared with one follower. "Plus multiple girls have came out and DM'd me with stories since...etc etc."
While many thought Amanda's tweets were good enough proof, others were left wondering why she made things so public.
"I was shocked with everything that happened with Amanda," Kathryn explained. "I do feel it could have been handled a lot better. I don't think that attacking him on Twitter with the picture she posted, I don't think that is the mature way to handle the situation."
While Kathryn and Robby faced their own romance rumors before Bachelor in Paradise started filming, the MTV star assures fans that she has "nothing bad to say" about him. And for the record, she's moved on with a new man in her life.
As for other Bachelor in Paradise co-stars, they are still left scratching their heads as to what exactly unfolded.
"I don't think Robby should have called Amanda his girlfriend and gone to Colorado," co-star Kristina Schulman shared on iHeartRadio's Ben and Ashley I Almost Famous Podcast. "There's always room for interpretation when it comes to pictures but whenever you're that close to another female and you have a girlfriend, that's just not acceptable."
Who's side are you on reality TV lovers? Sound off in the comments below.