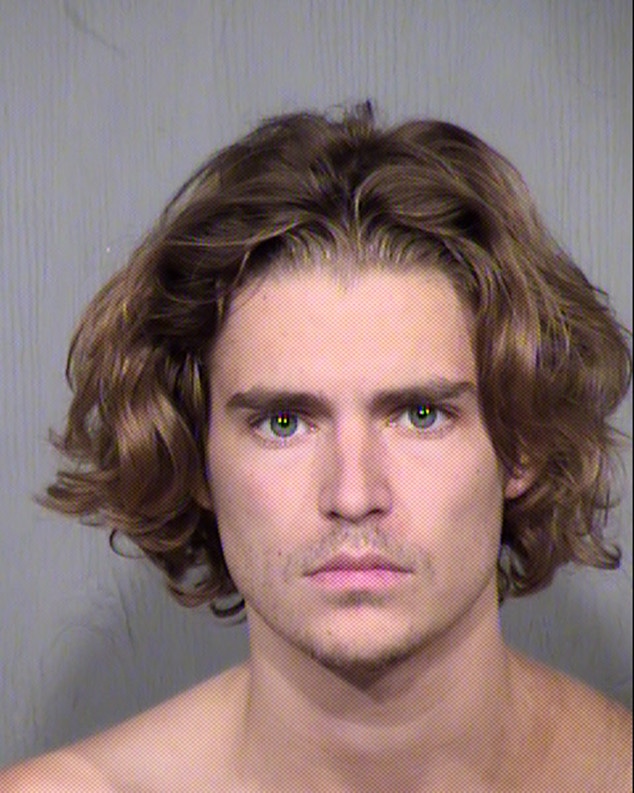 Maricopa County Sheriff's Office
UPDATE: The Maricopa County Superior Court confirmed to E! News that Jean-Claude Van Damme's son Nicholas Van Varenberg has been sentenced to 18 months probation. According to Associated Press, Van Varenberg pleaded guilty to disorderly conduct after holding his roommate at knifepoint near Phoenix. Additional charges against Van Varenberg were dropped after his plea on Aug. 15. USA Today reports that he was arrested on Sept. 12, 2017 on suspicion of drug possession, aggravated assault and unlawful imprisonment.
_______ 
Jean-Claude Van Damme's son Nicholas Van Varenberg was arrested for allegedly holding his roommate at knifepoint.
According to TMZ, police visited the apartment of the actor's youngest son after receiving a phone call that he had punched an elevator in his building and needed to be checked on. They then found a "trail of blood" leading up to his apartment, the media site reports, where they spoke to Van Varenberg, 22, and his roommate and learned that Van Varenberg had hurt his hand.
The police then left the apartment, TMZ continues, but the roommate ran downstairs 20 minutes later and told the officers that he had escaped and that Van Varenberg had held him at knifepoint. 
After searching the apartment, the officers uncovered a knife and marijuana, per TMZ's account.
According to a police report, Van Varenberg was then arrested for aggravated assault with a deadly weapon, unlawful imprisonment, marijuana possession, assault—cause fear of physical injury, disorderly conduct—fighting and possession of drug paraphernalia. The arrest took place in Tempe, AZ.
TMZ also published Van Varenberg's mug shot.
At the time of this writing, Van Damme had not released a statement.
The Belgian actor has been in several films, including Lionheart, Street Fighter and Sudden Death. He has also did the voice of Master Croc in the second and third Kung Fu Panda movies and is known for his epic stunts. In 2013, he did the splits over two moving trucks for a Volvo commercial, which went viral.  
Van Damme has two other children, Kristopher and Bianca.