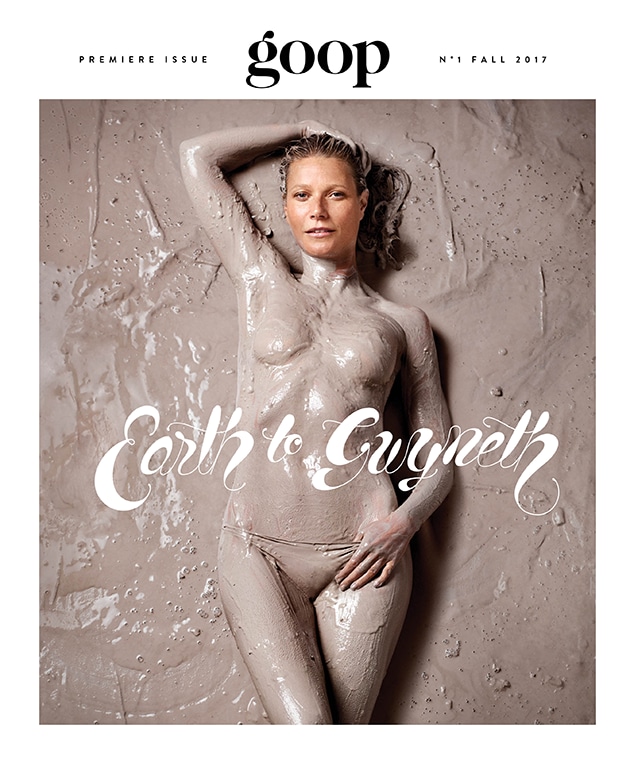 Goop Magazine
Gwyneth Paltrow is stripping down...and for good reason! 
The goop CEO just launched the very first edition of goop Magazine, so in proper Paltrow fashion, she posed topless on the cover, covering her body entirely in mud.
The "Earth and Gwyneth"-themed issue dives into Paltrow's passion for health and wellness, revealing the motivation behind her very first cleanse as well as a few of the other odd things she's tried.
Her late father, Bruce Paltrow's terminal cancer was one of her biggest motivations behind changing her mentality on health.
"I was sort of pushing this can of processed protein food directly into his stomach," she recalled. "And I remember thinking, 'Really? Is this really healing? There's a bunch of chemicals in this.' It was the first time I contemplated [the idea] that you could have autonomy over your own health."
Though we now know Paltrow as the vagina steaming, cleansing, pro-organic emblem of healthiness, it wasn't always that way.
"I remember standing in a hippie health-food store in Greenwich Village," she recalled of starting her first cleanse. "And I saw a little paperback book describing a 'master cleanse,' and I was like, 'What's that?' I remember the next day [after I finished the cleanse] I was like, 'Oh, wow, I just did this cleanse, and I feel so much better. I can have a beer and a cigarette now, right?'"
Oh, how things have changed! Now, Paltrow is focused less on partying and entirely on earthing and alternative remedies.
"For me, when I take my shoes off and walk in the grass, it's so healing," she said. "It's hard to find scientific evidence for the idea that 'I feel good.' But by trying, you get so much juice out of life."
And no matter what you think about them, her unique views on health have garnered her quite the following on goop. But she was never super concerned about whether she'd succeed.
"You can only be a perfectionist if you think, erroneously, that there's a finish line in life," she said of failure. "I try to succeed and fail all the time in all kinds of ways."
Goop Magazine hits newsstands on Sept. 19.