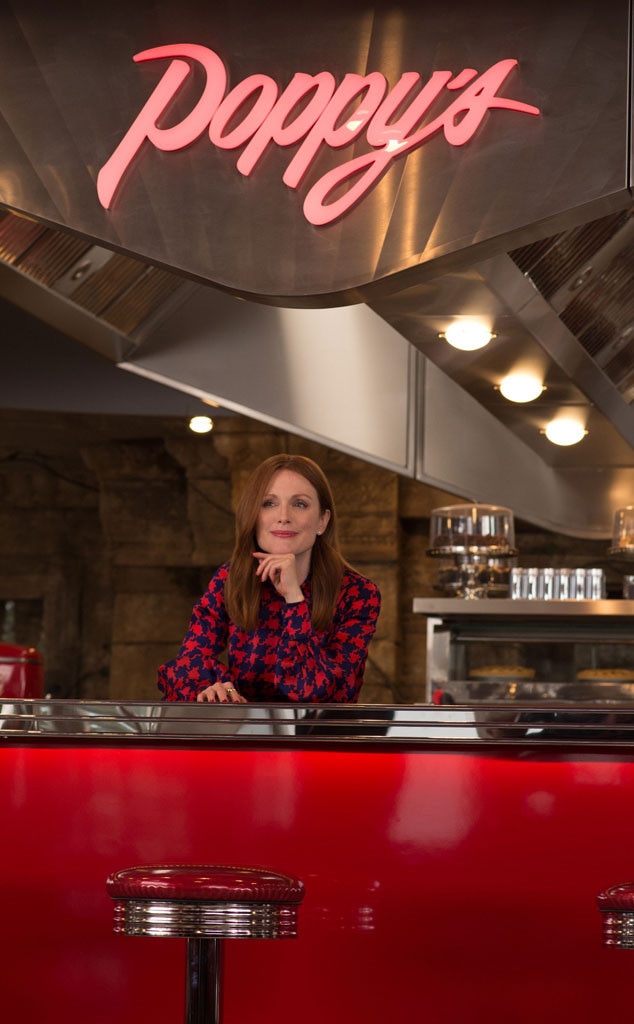 You know Julianne Moore. You love Julianne Moore. But come September 22, you probably won't like Julianne Moore.
That's because for the first time in memory, the actress is taking on the role of a villain. Not like in The Kids Are All Right, where she cheated on Annette Bening and you were kind of pissed at her. And not like in Hunger Games where she started out as a good president and then became drunk with power. This is true villain from start to finish.
Kingsman: The Golden Circle, out September 22, is the sequel to the 2014 sleeper-hit Kingsman: The Secret Service, which introduced a spy program hidden inside of a Savile Row tailor shop. The first installment wowed audiences with Bond-like action and mystery, giving them all the Colin Firth fight scenes they'd ever wanted and introducing newcomer Taron Egerton to the scene.
The flick was so successful ($414 million successful) that Fox decided to bring the characters back for a second round, even finding a way to get around the fact that [spoiler alert] Firth seemed to die at the end of Secret Service.
They recruited a host of new actors for the sequel, like Halle Berry and Channing Tatum, who play the American counterparts to the Kingsman. Every spy movie needs a villain, and that's why they turned to Julianne. She plays the Big Bad, if you will, the one who orders and directs all the evil that the heroes are trying to fight against. And she makes it look easy.
Many of the more minute details of Moore's role are being kept on the down low, but the audience at Kingsman's Comic Con panel were treated to a sneak peek. She plays a drug lord named Poppy (get it?) who lives in a secretive jungle outpost where she trains her many henchmen and murder-for-hires. The clip shown to the audience portrayed Poppy torturing one of her prospective employees with an industrial meat mincer to test his readiness for the job.
As Egerton put it, Moore's character is "America's sweetheart on an acid trip."
This villain role isn't just a new frontier for the A-lister, it's completely new territory for the Kingsman franchise itself. In the first installment the Big Bad was played by Samuel L. Jackson, and it's safe to say that there haven't exactly been a proliferation of female crime bosses on the big screen (shoutout to Priyanka Chopra in BaywatchI)
But early reviews have it that Julianne is about to usher in a new era thanks to her evil skills. Egerton added at Comic Con that she is "absurdly crazy and saccharin sweet" as well as "really crazy and totally terrifying." We're sold.