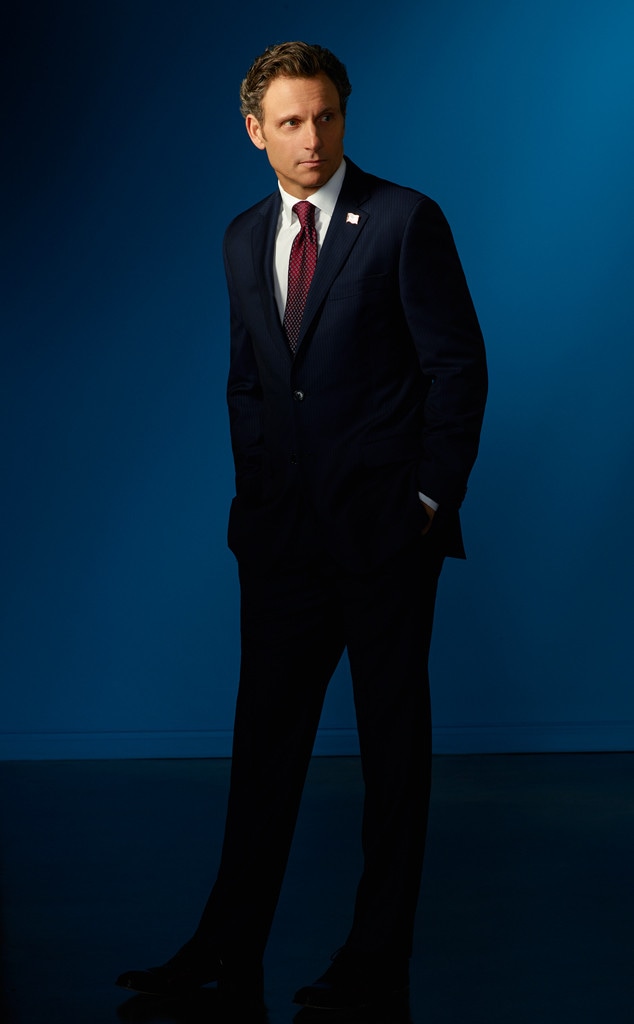 ABC
Olivia Pope (Kerry Washington) has one final season to handle everything. Yes, Scandal is coming to an end and things are going to change, Tony Goldwyn, former president Fitzgerald Grant on the series, teased.
"Well, we have a female president, which people know, which is very exciting. And being the final season, [Shonda Rhimes] has really…the reason we are doing season seven and the reason she wanted to do the final season is because she really wanted to try some new stuff and take these characters that we've really gotten to know so well and explore them more deeply," Goldwyn told press at Esquire's September Issue "Mavericks of Style" event presented by Hugo Boss.
"So that's something that we're really doing. With every script there's something really fresh and groundbreaking that's happening," he teased. "We're super excited about it. Right now we're [filming] our fourth episode and it's really great. It's really great."
Goldwyn said the cast and crew feel "so lucky" that they get to end Scandal on their terms.
"Networks, they don't have to tell you! So a lot of shows, come May, they say, 'Oh by the way in September you don't have a job,'" he said with a laugh. "So we knew a year ahead of time. Shonda called us all and she was like this is what's happening, this is a decision I made. It wasn't the network; I am bringing this to a close and finishing it strong. So it's a celebration, really. It's like being a senior in high school. And we all know we're graduating, so we all get to appreciate every moment. And we're very, very close."
The cast and crew are making a point to get together outside of work, Goldwyn said. As for what he wants from set? That all comes down to the clothes.
"I am trying to secretly steal all my wardrobe. I'll probably end up having to pay for it because I have some really nice clothes," he joked. "'I've been trying to decide what [to take]. Something from Fitz's oval office I'll have to take with me but I haven't decided what that is."
In fact, there has never been any wardrobe he balked at.
"I wear everything they put in front of me. Our designer, Lyn Paolo, is really brilliant. I have to say every time I put something on I just go, 'Yep! That's it.' So what she's done is take my character, who, you know, is the president and who is typically very conservative, and just kept it conservative and pushed it a little bit with ties and it just looks sexy. Or fits right, as opposed to a boxy, old man suit. Which is frankly how most presidents dress," he said with a laugh.
While there's still a season of Scandal ahead, How to Get Away With Murder, no end in sight for Grey's Anatomy and the upcoming Grey's Anatomy spinoff and legal drama For the People, those are Rhimes' last shows under her deal with ABC Studios. She's going to Netflix. The news was both surprising and not a shock for Goldwyn.
"I was surprised because she's has such a long relationship with ABC, but Shonda does not let—what's the word—there's no moss grown on the rocks in Shondaland," he said with a laugh. "She's always trying to break new ground and push herself and tell new stories and do it in her way. I think that Ted Sarandos [of Netflix] really values that and wants to do the same thing. So it seems like a really great match. Her relationship with ABC is continuing. They have five shows together so there's no bad blood there but I am super excited about it."
Scandal returns Thursday, Oct. 5 on ABC.