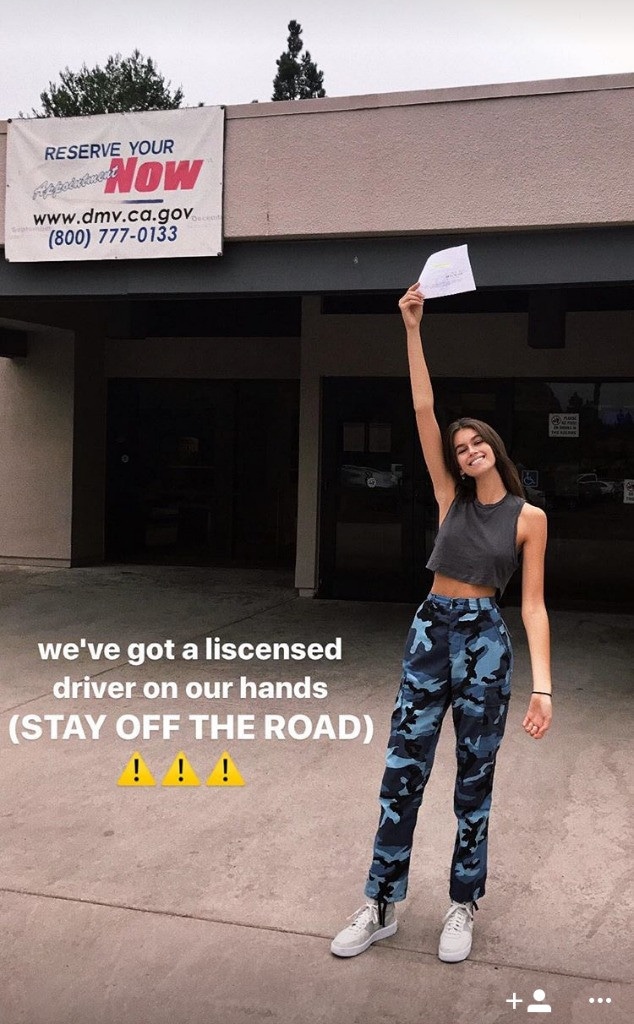 Instagram
And just like that, Kaia Gerber is 16-years-old and a licensed driver!
Cindy Crawford's daughter, who is quickly making a name for herself in the modeling world thanks to campaigns with Marc Jacobs and Alexander Wang, just reached a major milestone in any teen's life by passing her driver's test only two days after her birthday. 
Both Cindy and Kaia shared photos of the celebratory moment on Instagram, which included the brunette beauty proudly holding up her certificate in front of the DMV. Gerber kept it comfy for the exam in a pair of camouflage-printed pants, crop top, tennis shoes and a bright red sweatshirt. 
She teased alongside the image, "We've got a licensed driver on our hands (STAY OFF THE ROAD)!!!" 
Gerber's proud mama posted her own snapshot, writing, "Baby driver. Congrats on passing your driver's test @KaiaGerber!"
Over the weekend, Kaia stepped out to celebrate her sweet 16 with Crawford and dad Rande Gerber over dinner at West Hollywood hotspot, Delilah. She was also photographed attending the Malibu Chili Cook-Off and Carnival with a group of pals. 
No word yet on the predictably fly set of wheels her famous 'rents gifted Kaia, but it's safe to say she's now focused entirely on her debut at New York Fashion Week. The model is expected to walk in her very first show when the week-long event kicks off this Thursday, and Cindy will be there every step of the way. 
The veteran catwalk queen told WWD of Gerber's big moment, "Well, I'm chaperoning her. I'm not gonna be at every show, but I hope she understands how exhausting your first show season can be."
Cindy continued, "My advice to her—and it would be the same if she was going off to college or taking a job in a clothing store—is be on time, be professional, don't be a diva, get off your phone. You're around these incredibly talented people, soak up information, listen, watch, keep your eyes open, be present and enjoy it. Have fun. It's fashion."
Congrats to Kaia on getting her license and good luck at New York Fashion Week!