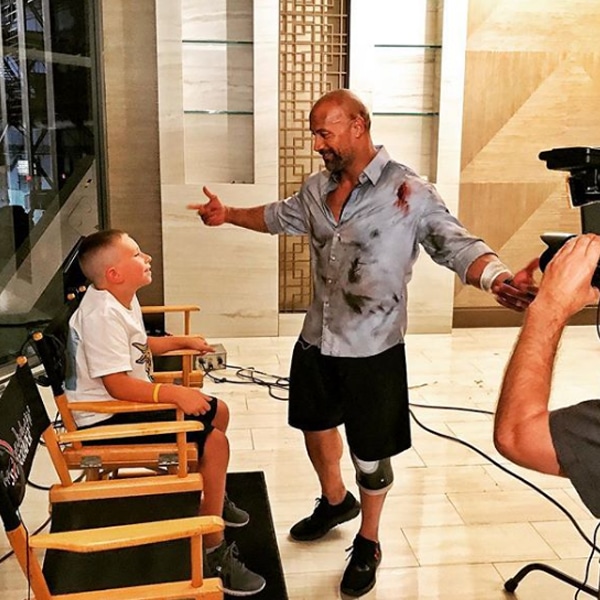 Instagram
Dwayne "The Rock" Johnson had a very special hug to give out this morning.
The actor met 10-year-old "hero" Jacob O'Connor who saved his 2-year-old brother's life after finding him face down in their pool. 
"Ladies and gentlemen, I finally met this real life 10yr old hero," Johnson began, sharing a photo of the moment on set of his upcoming film Skyscraper. "I said, not only do I shake hands, but when I meet heroic kids, I give hugs..now get in here. Despite the fact I looked like 9 ways of hell, battered and bloodied from my scenes, Jacob reluctantly, gave me a hug. A very special day we had on our #Skyscraper set. #JacobOConnor #Hero."
The Rock also shared another photo with Jacob's mother, Christa O'Connor.
"Big Rock hugs for mama Christa O'Connor," he wrote. "As you can imagine, she's so proud of her son and even more, so grateful to have her boys." 
Johnson continued, "She told me that at first she wondered 'Wait, I am just calling Jacob a hero because I'm a proud mom and he's my son? Then I said, no wait.. he IS a real hero for saving his brother's life.' Amen. He sure is. Thank you so much Christa for flying out to Vancouver to allow us to meet you and your boys, Jacob and Gavin. We had a blast and grateful to have you on our set. #OConnorFamily #ProudMama."
But the fun didn't stop there.
The boys got to enjoy some of the perks of visiting The Rock on set, nomming down on all the free candy and food.
"I told Jacob and his brother Gavin that when kids visit my movie sets, it's like Willy Wonka's chocolate factory because children get to eat all the chocolate and sweets they want and the best part is...IT'S ALL FREE," Johnson joked, adding, "Well someone has to pay for it, but it ain't me or the kids lol."
Of course, all joking aside, he made sure to thank his Skyscraper crew for putting on the awesome moment with Jacob, Gavin and Christa.
"Thank you to our entire #Skyscraper crew for all doing their part to make this visit special for this family. #OnSet #RockWonka #OConnorFamily #SugarRush."