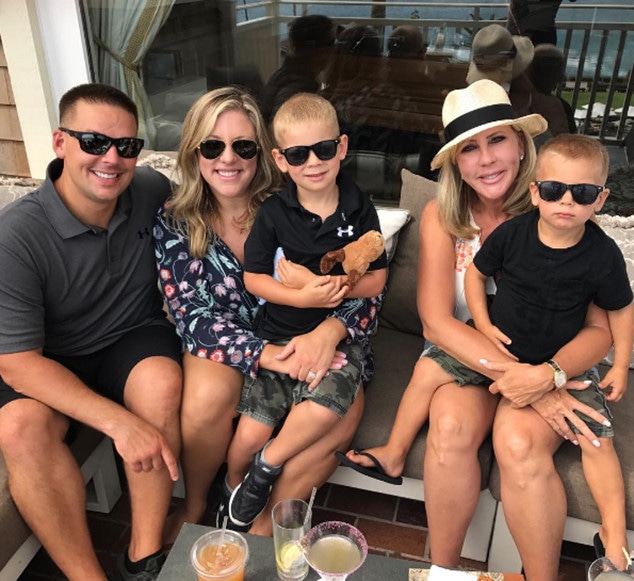 Instagram
Vicki Gunvalson is ready to drop a big "Woo hoo!"
On Thursday evening, the Real Housewives of Orange County star had some big family news to drop on social media.
As it turns out, Vicki's son-in-law Ryan Culberson has completed his service with the military.
"@ryan_culberson has completed his time in the Marine Corps today. Thank you for your sacrifice so we can live in the land of the free!" Vicki shared with her followers. "I'm so proud to call you my son in law and thank you for making my daughter so happy."
She added, "You got this! You're not alone! Our family is strong! #marines #family #hero #husband #father #rhoc #realhousewives #season12."
Quickly after posting the throwback photo of Ryan and wife Briana Culberson at Camp Pendleton, Vicki received likes from co-stars including Alexis Bellino, Peggy Tanous, Peggy Sulahian and Lizzie Rovsek.
"Today is the first day in my civilian journey post Marine Corps," Ryan wrote in a separate post. "I like to thank everyone who over the years have been there for me. I know that with my wife and family by my side this will be a smooth transition, here's to new adventures, Semper Fidelis! #marines #marinecorp #usmc #semperfi #family."
Fans of the Real Housewives of Orange County have witnessed Vicki's daughter Briana be away from her husband and the father of her two children as he remained in Oklahoma.
Earlier this summer, however, viewers learned that he would be heading to his family in Orange County.
"Ryan, good news, just got moved to California yesterday for good. So he's out of Oklahoma," Vicki revealed to Bravo's The Daily Dish. "And that's been a journey for Briana and Ryan since he's been in the Marine Corps, and they went to Oklahoma and she came back to California without him. She's really been missing her husband."
Congratulations Ryan and thank you for your service. Real Housewives of Orange County airs Monday nights at 9 p.m. only on Bravo.
(E! and Bravo are part of the NBCUniversal family)