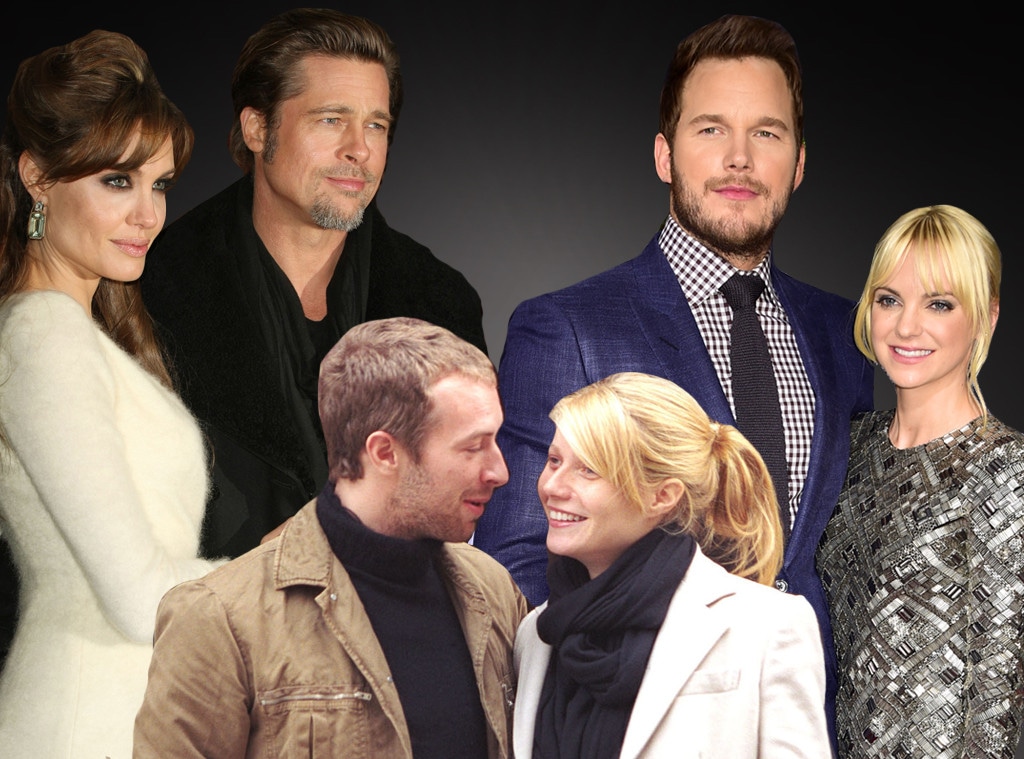 E! Illustration
Happy celebrity couples are all the same—glamorous, gorgeous and #goals. Every unhappy couple, however, is unhappy in their own way. Or are they...?
Well, of course, to each their own issues, ranging from particular slights and misbehavior to the agonizing process of growing apart.
But when the breakups finally do come to pass, these now former couples surely are aware that they're about to enter the checklist portion, the series of steps that almost every duo takes to end their relationship while in the public eye. It's hard to ignore the fact that a pattern has emerged, particularly among the exes who've been together for years and are about to disappoint half a million people and potentially become the subject of myriad late-night monologue jokes.
1. The Buildup
First, there's the rumor mill, the B.S. magazine covers, the skeptics, the schadenfreudists. But then...the reality.
More often than not, the really outlandish and out-of-nowhere tabloid headlines are wrong in the moment. But in an unfortunate case of "what came first," the smoky indicator of fire or the distrust sowed by too many noxious headlines, often times those misleading reports turn into something down the road. Even if it's years later, you remember that there were "all those rumors."
Brad Pitt and Angelina Jolie were likely still 99 percent happy as clams when online and some print outlets boldly made up news of their split ("Brad walks out," "Angelina storms out," blah blah) years before Jolie actually filed for divorce last year. But even broken clocks are right twice a day.
"We had another story for that week and then we got some pretty strong information coming from multiple directions that [Jolie] was going to file for divorce any day," InTouch editor in chief and editorial director, David Perel, told CNN.com on Sept. 20, 2016, the day the news broke (which was one day after she filed). "That's when I bumped the cover, because we didn't know exactly which day she was going to file."
Meanwhile, InTouch had already run six "trouble in paradise-"themed cover stories on Brangelina that year. Prescient in hindsight, but presumably pretty annoying for Pitt and Jolie in the moment as their marriage fell apart.
Chris Pratt and Anna Faris' marriage was also prey to months of gossip before they announced they were separating—rumors people were loath to take seriously, to be sure, because the actors just had that certain something as a couple that regular folks love to moon over.
Whether the headlines hastened the inevitable or not, there was sadly truth to the overarching theme of the rumors, if not each and every detail or supposition that made the rounds.
2. The Breadcrumbs
These are the clues the stars leave themselves, also often haphazardly sprinkled along the path for years before they lead anywhere. But then...oh, how they make sense.
"Sometimes it's hard being with someone for a long time," Gwyneth Paltrow told Elle in the summer of 2011, almost three years before she and Chris Martin announced their conscious uncoupling after 10 years of marriage (and plenty of rumors like the ones that plagued Brangie in happier times). "We go through periods that aren't all rosy. I always say, life is long and you never know what's going to happen." She added, "If, God forbid, we were ever not to be together, I respect him so much as the father of my children. Like, I made such a good choice. He's such a good dad."
Well, that all came to pass. Though considered just admirably candid at the time (and still admirably candid today), it usually takes a lot of personal angst for a major star like Paltrow—still known more for movies than any lifestyle advice at the time—to share so much. It was practically overflowing out of her!
"It's hard being married," the Oscar winner told Glamour in 2013, a year before the separation announcement. "You go through great times, you go through terrible times. We're the same as any couple."
"As much as we can argue and fight—and we all have our challenges—at the end I say, 'My job is to love him,'" Jolie told People in September 2015, almost exactly a year before filing for divorce, recalling the at-times tense environment on the set of By the Sea. Jolie directed herself and Pitt (also her co-producer on the project) in the drama, in which they played an unhappily married couple. "Brad and I have our issues, but if the characters were even remotely close to our problems we couldn't have made this film."
While it's comforting to know that the tip-top of the A-list have their "issues" and think of themselves as "the same as any married couple," truth be told... you don't really want to characterize your marriage like that. 
In interviews with magazines, that is.
Frank Micelotta/PictureGroup via AP IMAGES
3. The Denials
Not every couple bothers to shoot down every rumor—they'd never have time for their day jobs if they did. But sometimes the stories become so untenable—or start to hit way too close to home—that the stars decide to take a stab at putting people off the scent.
"I am really happily married," Russell Brand said on Ellen, 28 days before saying in a statement, "Sadly, Katy and I are ending our marriage."
Well, that cheeky devil may have just been playing with everybody (though you do not lie to Ellen DeGeneres' face, sir, you just don't!), but we've yet to hear of a case in which a major celeb, when confronted with a split rumors, responds with, "Yes, it's true, we've been separated for two months already."
Happily, some denials (Rita Wilson and Tom Hanks got the National Enquirer to apologize for a split story, Will Smith and Jada Pinkett Smith have only grown stronger with every breakup rumor you feed them, etc.) have turned out to be the real deal, thank goodness.
So far, anyway...
4. The Statement
But when it's done, and they can deny it no longer, the pair usually releases a statement. The method of delivery differs from couple to couple—publicists, lawyers, social media, goop—but in a nod of acknowledgment to all of the people who make up the audience for whatever it is these celebrities do, they formulate some sort of comment, however brief, to accompany the bad news.
"Anna and I are sad to announce we are legally separating," read the statement posted to Chris Pratt's Facebook page on Aug. 6. "We tried hard for a long time, and we're really disappointed. Our son has two parents who love him very much and for his sake we want to keep this situation as private as possible moving forward.
"We still have love for each other, will always cherish our time together and continue to have the deepest respect for one another."
Faris tweeted a copy of the same statement, minus the "and continue to have the deepest respect for one another."
Oversight? Or CLUE...?!
Kevin Mazur/Getty Images for Spike TV
Jolie certainly gave a clue, intentionally or not, when her manager told E! News following her divorce filing, "Angelina will always do what's in the best interest of taking care of her family. She appreciates everyone's understanding of their need for privacy at this time."
And while the can of worms was about to burst open anyway, Johnny Depp preemptively cracked the top when his rep responded to Amber Heard's divorce filing in May 2016 with, "Given the brevity of this marriage and the most recent and tragic loss of his mother, Johnny will not respond to any of the salacious false stories, gossip, misinformation and lies about his personal life. Hopefully the dissolution of this short marriage will be resolved quickly."
Heard would file for a temporary domestic violence restraining order the next day, but Depp certainly tipped the public off that things were about to get ugly (after the mismatched pair had ticked off Nos. 1-3 beforehand in their own way).
5. The Brave Face
Most of the time it's for the kids, other times it's for the fans and/or business matters, and the rest is for Instagram—which more or less mandates that you live your best life at all times. 
Jennifer Garner is the reigning queen of the brave face, having taken her alone time to be horribly disappointed in the demise of her marriage to Ben Affleck but at the same time seemingly never missed a beat when it came to amiable co-parenting.
"I cannot let anger or hurt be my engine," she said in Vanity Fair's March 2016 issue about the aftermath of their separation, which occurred almost 10 months before they announced their intent to end their marriage, in June 2015. "I need to move with the big picture always on my mind, and the kids first and foremost."
Like Ben and Jen, Gwyneth and Chris took the kids on a sunny island vacation while the split news broke in the States, and neither couple had ever seemed more firmly on the same page than when they had already separated but were making this new normal work, damn it, for the children.