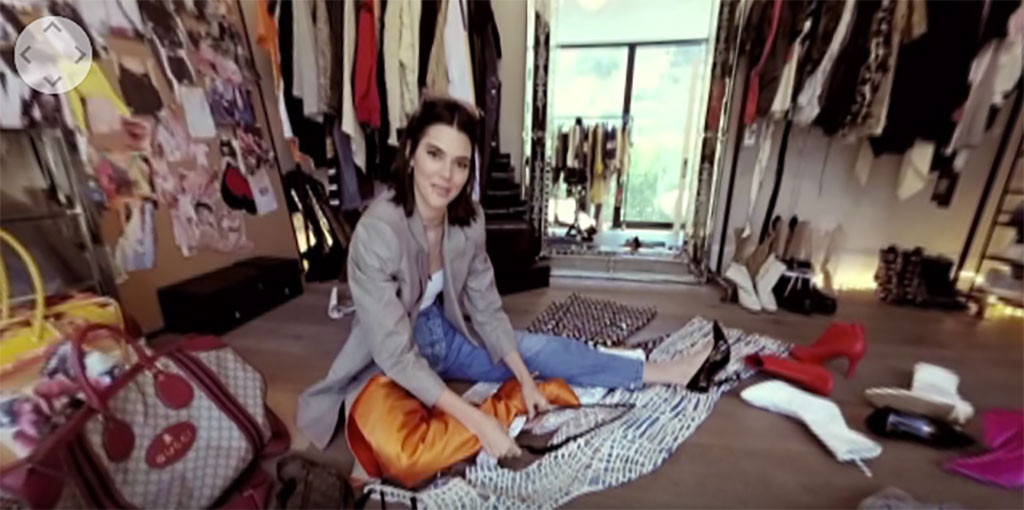 YouTube
Isn't technology amazing? 
With the help of YouTube's 360-degree settings, we now can take a walk inside Kendall Jenner's glamorous closet—even if we've never even met her. In collaboration with Vogue and Condé Nast Entertainment, the supermodel opened her doors to fans and showed off her favorite items, including heeled boots from Kanye West, a canary yellow vintage Hermès tote she uses at the airport and a pair of Marc Jacobs jeans she tried to swipe from a Vogue shoot only to have them gifted to her later. 
If you thought the runway maven only had one walk-in closet, you were sorely mistaken. In a second room, the 21-year-old showed off her pairs of thigh-high boots and got caught up in a try-on session. As for bags, Jenner is a fan of the fanny pack, including a vintage Louis Vuitton one from her grandmother. Her closet merges the old and the new as it also houses the Versace gown she rocked to the Met Gala just last year. 
Jenner also kept her 21st birthday dress, which she had designed off of a reference photo of a woman with the head cropped out. As the reality star recalled in the video, in a curious twist of fate, Paris Hilton ultimately revealed at Jenner's birthday party that she had worn the same dress for her 21st birthday 15 years earlier and that she had been the woman in the picture. "How the world works is pretty amazing and I love it," Jenner said.
Though the closets are the makings of a fashionista's dream come true, Jenner thinks the rooms are missing one special item—a bar. 
As she said, "When I have friends over, we can have some champagne just to get us in a good mood."
Hey, Kendall—can we come over? While we await her formal invitation, take a look inside in the video above!