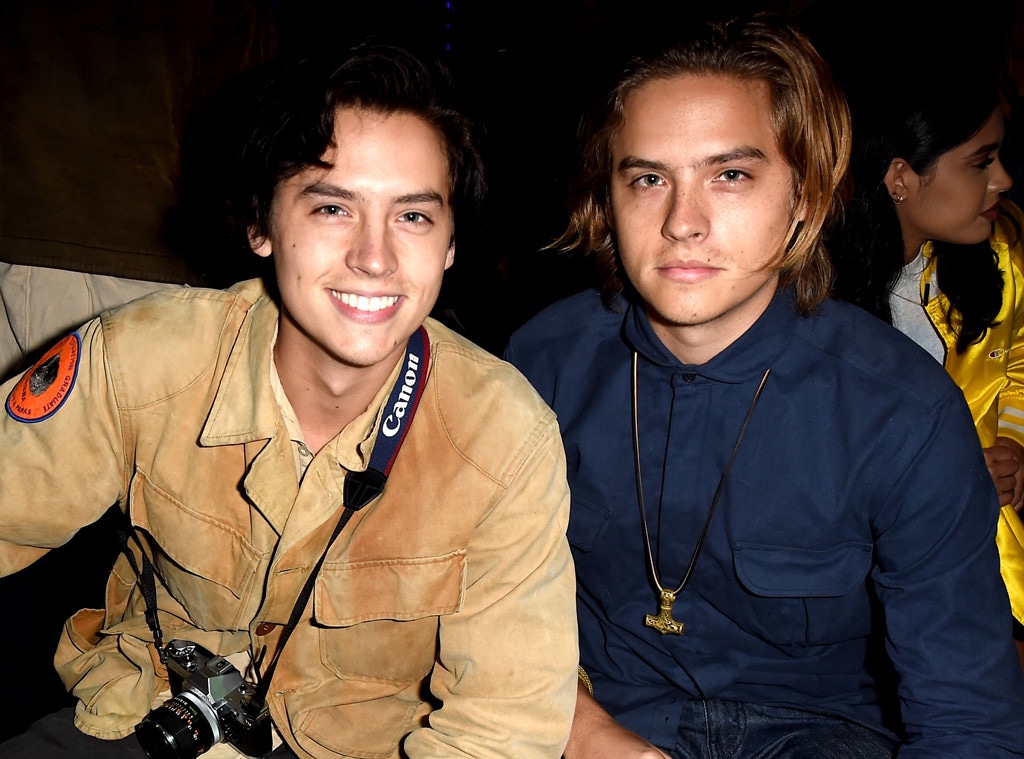 Kevin Winter/Getty Images
The Suite Life sure doesn't have to end once you leave the Disney Channel.
It's no secret that some young, childhood stars have found it difficult balancing fame, fortune and growing up in the Hollywood spotlight.
While being a young actor or actress can bring about plenty of fun, positive experiences, it has also proven to be a bit too much for a few famous stars. Not the case for Dylan Sprouse and Cole Sprouse.
The birthday boys found huge success thanks to Disney Channel's The Suite Life of Zack and Cody. And while some would argue that the two kept a low profile in recent years, the pair is busier than ever with separate projects.
Cole continues his role as "Jughead" Jones in CW's addictive series Riverdale. As for Dylan, he recently return to acting in the short film, Carte Blanche, and has several other projects in the works.
"I'm interested in roles that are human, that have some sort of empathic quality," Dylan previously shared with the New York Daily News. "A role I would not do: cool jock. That's not something I'd be interested in doing."
So how did these two get through their adolescent years without receiving front-page headlines for all the wrong reasons? While there is no secret to success or magic path, the brothers have provided some theories based on their own experiences.
For Cole, he's thankful that he was able to enroll in college and have a normal experience with peers across the country.
"Part of the reason I went to college was that I wanted to fade out peacefully, show everybody I had gone through something that was quite challenging and difficult, but did so with grace and poise and got an education," he explained to Vanity Fair. "By the end of it what I hadn't interpreted was the rise of social media, which kind of kept my brother and I alive in strange, underground subcircles."
Tiffany Rose/Getty Images
In a separate interview with Elle, Cole reinforced the importance of getting an education and staying on a healthy path.
"I think regardless of success, all those kids were dealing with a similar dilemma when it came to their maturity and their publicity and fame, and how they were viewed in the public eye. Some people choose sex, drugs, and rock 'n' roll to come to terms with it. Some people find religion," Cole explained to the publication. "[College] seemed like the most productive way to prove to people we were coming into ourselves. I was finding out my identity and growing by going to an institution where I could evolve and become more adept at understanding why I was thinking certain things, and how society viewed me."
And when Dylan and Cole weren't in front of the camera, fans were always asking about their next project. While some questions were more constant than others, Dylan once wrote on social media that he was living his life on his own terms.
"'I'm enjoying myself by relaxing, traveling, consuming media, and continuing to learn,' but the truth is that unless I'm doing something bigger and better than what I've previously done, people deem it regressive," he once wrote.
As Dylan and Cole celebrate their 26th birthday today, the young men have much to be proud of. In fact, they join a long list of childhood stars who turned out a-okay when they became older.
Happy birthday, Dylan and Cole! Here's to another year of great success. 
(This story was originally published Friday, August 4, 2017 at 3 a.m. PST)