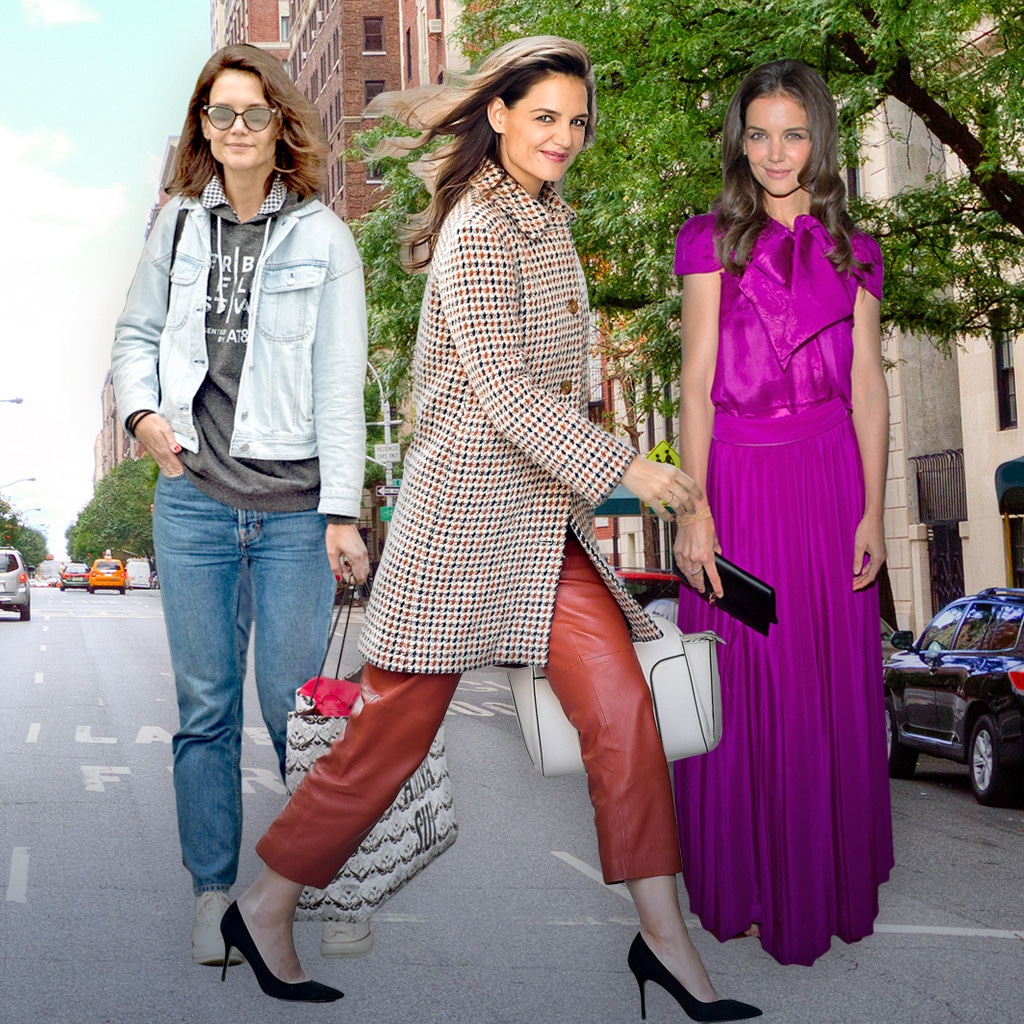 Getty Images; Shutterstock; AP Images/ E! Illustration
It's a Thursday morning in New York City in 2017. The weight of the summer's haze is setting in as Manhattan starts to come alive. The city's residents are busy with their routines; they're waiting in line at Dunkin Donuts, they're dropping their laundry off at the dry cleaners, they're pushing someone out of the way because they're seven minutes late to work and years of living at elbow's length of eight million other people has made them completely forget their manners. 
A few hundred of those inhabitants are on the subway on their way to the office or their children's school or their hot yoga class, but it slowly becomes clear that one of those riders is not like the others. One of those riders is carrying a very expensive purse. One of those riders is wearing sunglasses, despite the fact that they're a few dozen feet underground. One of those riders looks incredibly familiar, catching wayward glances from fellow straphangers who are trying not to stare but also can't resist doing a double take. One of those riders is Katie Holmes. 
She is riding the subway to a work appearance, perhaps. Or maybe to meet a friend for breakfast. The destination isn't important, what matters is that this multi-multi-millionaire, who was once part of Hollywood's most famous couples, is sitting on the A train. It's all part of a routine she is proud to have built, one that is independent and private and shockingly normal and so very New York-y. 
It's a Thursday morning in Beverly Hills in 2011. The smog is setting in as the exclusive Los Angeles enclave starts to come alive. Its residents, snug as they are behind the security-locked entrances of their gated communities, are preparing for their days. They're off to their corner offices at Hollywood agencies or to the morning class at SoulCycle or an appointment for a facial that costs more than the average Los Angeles rent. They get into their Range Rovers or slip into the backseat of chauffeured town cars. 
There among them is Katie Holmes. She steps out of the 10,000-square-foot mansion she shares with her husband, arguably the most famous actor in the world. They're off to a premiere—Mission: Impossible - Ghost Protocol, perhaps. They'll stand on the red carpet for what feels like hours, staring into thousands of flashbulbs as they embrace each other and give off million-dollar smiles. Or maybe they're off a luxury vacation in Brazil, or to sit courtside at a Lakers game. The location doesn't matter, really, so much as the glamour. 
So what gives here? These two different eras of Holmes are like two parallel universes. It's now been five years since Katie's shocking (at the time) divorce from Tom Cruise and she has successfully orchestrated the turning over an entire new leaf. She hit the reset button on her entire life. 
Before the actress got together with the A-list actor, she was an up-and-coming television star who was slowly but surely building her Hollywood resumé. She was a small-town girl from Ohio who played a small-town girl from Massachusetts. She lived largely out of the spotlight, gaining notoriety for her roles on Dawson's Creek and in Batman Begins. But once she coupled up with Cruise she was thrust into a circle of fame and wealth and nonstop attention. When a relationship begins with Oprah Winfrey and the couch-jump-heard-round-the-world, there's really nowhere to go but even further into the spotlight. 
Their love story played out like a movie plot, bookended by the $3 million Italian wedding (that boasted multiple bridal gowns, a serenade by Andrea Bocelli and guests like Will and Jada Pinkett-Smith, John Travolta, Victoria and David Beckham and Jennifer Lopez) and the first family photo splashed across the cover of Vanity Fair. Any news of their life together, and of Katie and Suri especially, was in high demand. 
At the same time, Holmes took a step back from her movie career. During the six years she was married to Cruise she had few major roles, save for taking on Jackie Kennedy in the television mini-series The Kennedys and a guest spot on How I Met Your Mother. As she told DuJour magazine of that period in her life, almost everything took a backseat to Suri (and the rigorous travel schedule that comes with being married to Tom Cruise probably didn't help either. 
"I totally admire women who go back to work six weeks after giving birth," she said to the magazine. "But when she was little, I was not ready. I was a very nervous mother—like, sleeping next to her crib—and I was in that mode for a long time." 
But then the couple announced their shocking split. It was June 29, 2012 and Katie's life was suddenly entirely up to her. She was no longer tied to a husband who could be, by all accounts, intense, and no longer tied to the Church of Scientology which was, by all accounts, even more intense. The world was her oyster, so she did what so many young, single women do: She moved to New York. 
Of course, the "regular" life she built for herself in Manhattan is still markedly different from that of most. She moved into a fancy loft in Chelsea and continued to employ the team of bodyguards and other employees that is wholly necessary when you just got done with one of Hollywood's biggest divorces. She still lived lavishly, but she made a point to step back from the public sphere she had occupied so largely. She cut back her appearances and focused on raising Suri.
Now if she pops up in the tabloids it's because she was snapped by paparazzi on school runs or taking the aforementioned subway ride. Most of the luxury she gets treated to is in the name of privacy—a host of bodyguards and private planes for vacations, for example—instead of outright glamour. 
After the divorce Holmes also began diving back into her career wholeheartedly. For so much of her marriage her narrative revolved around her personal and dating life, and she's determined to refocus all of the attention she receives to her acting. She starred in 2014's The Giver alongside Jeff Bridges and Meryl Streep. She joined the cast of Ray Donovan for 11 episodes. She played Jackie Kennedy again, this time for a different mini-series. And she has three different films slated for the upcoming year, including a role opposite Daniel Craig and Channing Tatum, a movie with the great Michael Caine and a spot in Ocean's Eight. 
With this return to Hollywood also came a literal return to Hollywood. While she'll always be firmly cemented in the fabric of Manhattan, she has become fully bi-coastal. She's gone Kardashian, in fact, occupying an expansive mansion in The Oaks of Calabasas, a gated community that has become famous because of a certain family. Nowadays she and Suri spend a great deal of their time in the Los Angeles suburb, going to dance classes (for Suri) and grocery shopping at natural foods store Erewhon (for Katie). E!'s sources have also reported that Holmes enjoys another one of California's favorite pastimes: SoulCycle. She is often spotted at her favorite morning class, coming in late in an attempt not to be noticed by her neighbors. 
Her love life is kept greatly under wraps as well these days. For a star whose romantic endeavors were once known to practically everyone in America, it's a dramatic change to her current policy of never once commenting on the topic. Even despite years-long rumors that she has been in the midst of a serious relationship, Katie has stayed mum, choosing instead to steer any interviews in the direction of her professional life or stressing the value she places on privacy.
And for now, she's reveling in all of it. As she recently told Town & Country, she's worked hard to create the balance of family, career and the personal that she enjoys now.
"My child is the most important person to me and her upbringing is paramount to my work right now," said Holmes. "It's very important that I'm present and that she has a stable, innocent childhood. I feel so blessed to do what I do, but there's nothing in the world better than watching your child succeed." 
Before Holmes embarks on a year full of career milestones it seems she's taking plenty of time out for the family that means so much to her now, five years post-split. She carves out opportunities for frequent trips back to her native Ohio, and this spring spent a family vacation in Florida with Suri and her nieces and nephews. By all accounts, she isn't in a rush to get back to the red carpets and flashbulbs anytime soon.