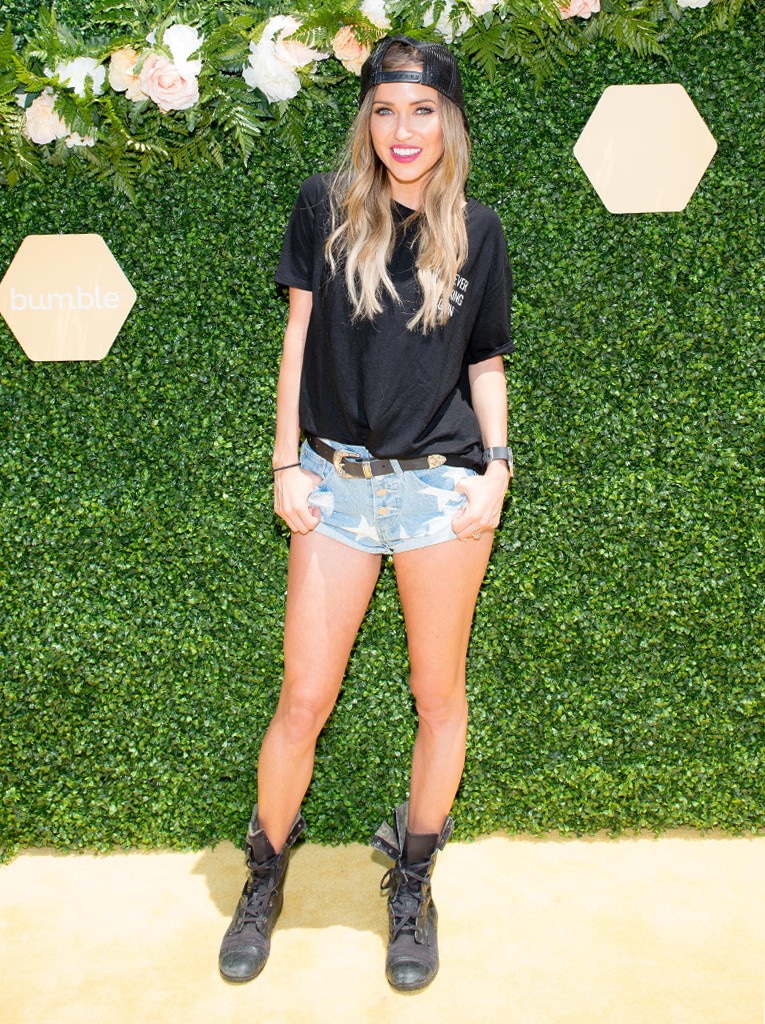 Marcus Ingram/Getty Images
If there are two things we really want from The Bachelorette's Kaitlyn Bristowe, it's dating advice and style cues, right?
Well thanks to Bumble (the dating app where women make the first move, and can now look for BFFs), we had the opportunity to ask her and the reality star did not disappoint.
The day before Kaitlyn was set to DJ the app's "You Look Good" Beetique (hosted by Lady Antebellum, no big deal), she hopped on the phone with us, and we managed to have some of your burning questions answered—like what fashion trend she would not be taking part in any time soon.
Keep reading.
"We all know the Bumble App. I love it because it's the women who make the first move," she started. "And, we all know, I love empowering women. And then there's Bumble BFF, which is about expanding your girl gang and finding friends in your area. I'm actually bringing [my fiance], Shawn [Booth's], sister because she's my BFF in this city."
She went on to say she hadn't actually been able to make friends in Nashville yet, where she and Shawn B. just moved into a house. (So if you're on Bumble, live in Tennessee and want to be Kaitlyn's bestie, you might want to download the app. Just saying.)
Then she told us, "I never was on dating apps. I mean, there was online dating, but I feel like the whole app dating started after I went on the show. And I remember my girlfriend going on her dating app, explaining it to me and thinking that's crazy. I mean, being on a TV show is probably crazier, but you know," she laughed. "I also didn't have Facebook back then and I think you had to have that to be on the app."
If she had a profile on the app, her bio would read "Good, and you?" Her advice to you? "Be picky. Be very picky." And she'd want you to know that, when it comes to wine, she likes "anything red."
"I'm not a snobby wine drinker, but I do enjoy the nice stuff," she added.
When we shifted focus to talk fashion, Kaitlyn admitted this.
"Everyone asks me questions about fashion and I'm like, "I don't really know." [My style] is random," she let on. "I just like when people sent me clothes, then I can put an outfit together. But I'm not a big shopper. [I would say my go-to buys are] jeans, leggings, booties and I love edgy tops."
What's she loving right now? "I just love that hats never go out of style because I'm such a hat-wearer." And what trend does she wish would just go away? "I'm hating the tiny sunglasses. I don't know what's going on with that. I'm just so not down."
And there you have it: dating advice and style cues from the one and only Kaitlyn Bristowe.