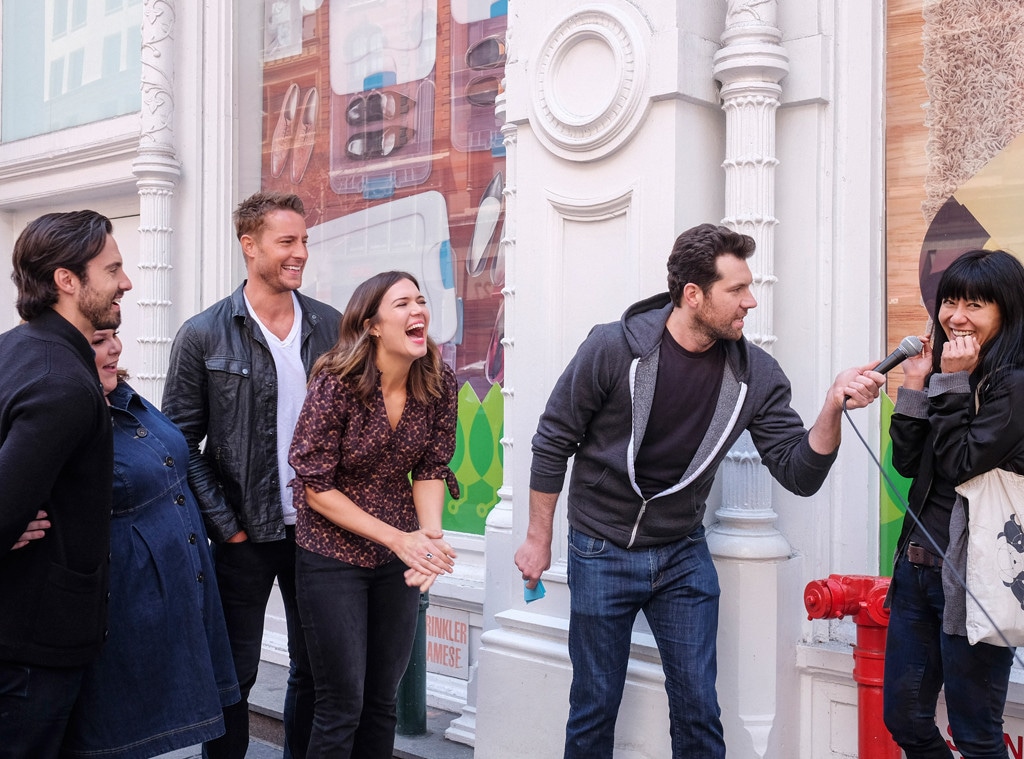 David S. Holloway/truTV
This Is Us' Pearson clan is hitting the streets, well, the Street, with Billy Eichner's Billy on the Street. Toys R Us'—sorry, This Is Us' Chrissy Metz, Justin Hartley, Mandy Moore and Milo Ventimiglia joined Eichner on the streets of New York City to surprise pedestrians solely by their appearance together. And it's a Billy on the Street first: He's with four people!
"How are you gearing up for Mandy Moore's Emmy campaign?" Eichner asked an elderly This Is Us fan. Hey, she watches This Is Us, she doesn't have to understand the nitty-gritty of Hollywood award campaigns.
When another man on the street admits to not being caught up, Eichner was quick with the advice: "Well, let me tell you: You can jump right in on the second season. It's not exactly The Leftovers, you know what I mean?" RIP The Leftovers.
But wait, keep watching because it gets better. The cast encountered a man who didn't even know This Is Us has already premiered, but that didn't stop him from asking Moore if she was single. She's not. "Might as well ask," the man said.
"This is Us and this is sexual harassment if you ask me," Eichner joked.
Stick around for Eichner pitching other shows he wants to see starring pop stars, like a detective series starring Michelle Branch. And props to the woman who refuses to objectify Ventimiglia. That takes courage. But we have to ask: How did Eichner manage to find the only people not in the world watching This Is Us?
What can you expect from season two of This Is Us?
"I know we'll find out how Jack dies and I know we'll see it," Sterling K. Brown revealed to E! News at NBCUniversal's 2017 Upfront. "Don't cry yet! I can't tell you exactly when it will happen...it will happen this season."
This Is Us returns to NBC this fall on Tuesdays at 9 p.m. and there's already a season three order in place. Don't fret.
(E! and NBC are both part of the NBCUniversal family.)