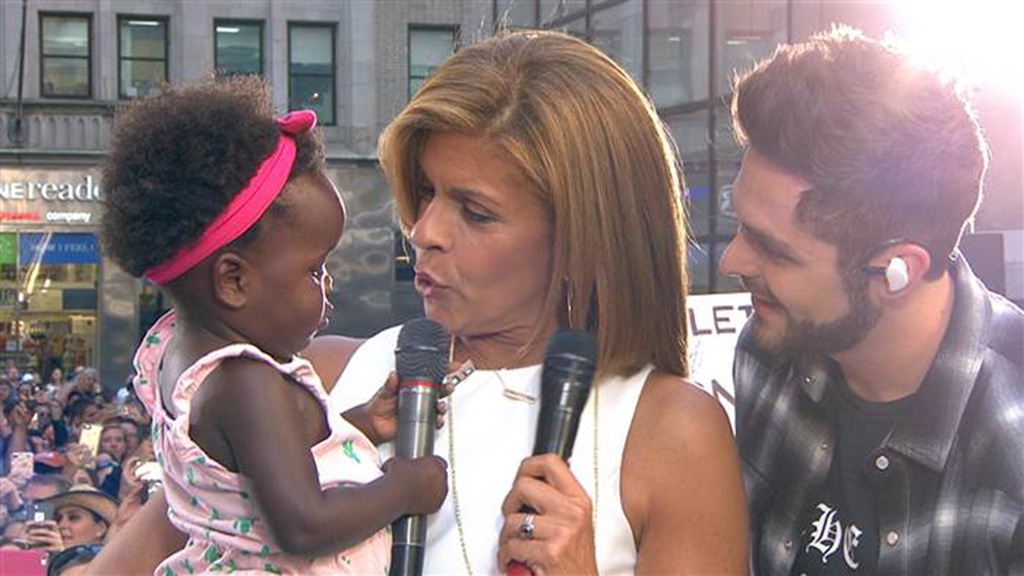 Today Show
Thomas Rhett may sing "Star of the Show," but thanks to his visit on the Today Show Friday, we know who the real star is...His daughter, Willa Gray!
The country singer joined the morning show for the Citi Concert Series, bringing along his adopted 18-month-old daughter and his wife, Lauren Akins, who is currently pregnant with their second child.
But while fans and viewers were undoubtedly excited to watch him perform some of his hit songs like "Die a Happy Man" and "Craving You," it was Willa who managed to garner all the attention.
It all started when Hoda Kotb and the rest of the Today Show team took to the stage to introduce Thomas and kick off the concert while holding baby Willa...who even had her own microphone!
"I found a baby!" Hoda laughed. "By the way, this little baby happens to be Thomas Rhett's baby...Hi, Willa Gray!"
Later on, when Hoda brought Thomas to the stage and mentioned that his wife and daughter were in the crowd, the audience erupted, and Willa couldn't help herself from getting a little fussy as the camera panned her way...Not because she was overwhelmed, but because she wanted to be back on-stage (so her daddy said later).
Still, those tears didn't stop her from soaking up all the attention! She was caught adorably pointing to herself upon hearing Hoda yell out her name over the microphone. Priceless!
Willa was back in her element later on, thoroughly enjoying herself during the food segment of the Today Show.
While testing out some cupcakes, the baby girl put her finger in some icing then adorably shoved it into her mama's mouth. Such a sharer!
Needless to say, Thomas and his wife are pretty obsessed with their little one. And now they have another on the way!
Thomas sat down with Al Roker and Sheinelle Jones following the concert and explained, "We had tried a couple years ago to get pregnant and nothing ever happened. And we always knew in our hearts that we wanted to adopt. It was always in our hearts to do that, and so when nothing happened we were like, 'Well, maybe this is the time to do it.' And my wife had been to Uganda a couple times that year, and we met Willa when she was about 6 months old...She is such a blessing. And when we were over there, we found out we were pregnant!"
The couple brought little Willa home in May, and although Thomas has only been a dad for a couple weeks, he can't help but gush over her.
"She's like the most amazing baby. She sleeps like 13 hours," he said, noting that she also loves the spotlight. "Hoda just ruined her! If you saw that show they did, she was crying because she wanted to be back on stage so bad. And when you hand her a microphone, you're not going to get it back!"
LOL! Well we're certainly looking forward to seeing way more of that little star!