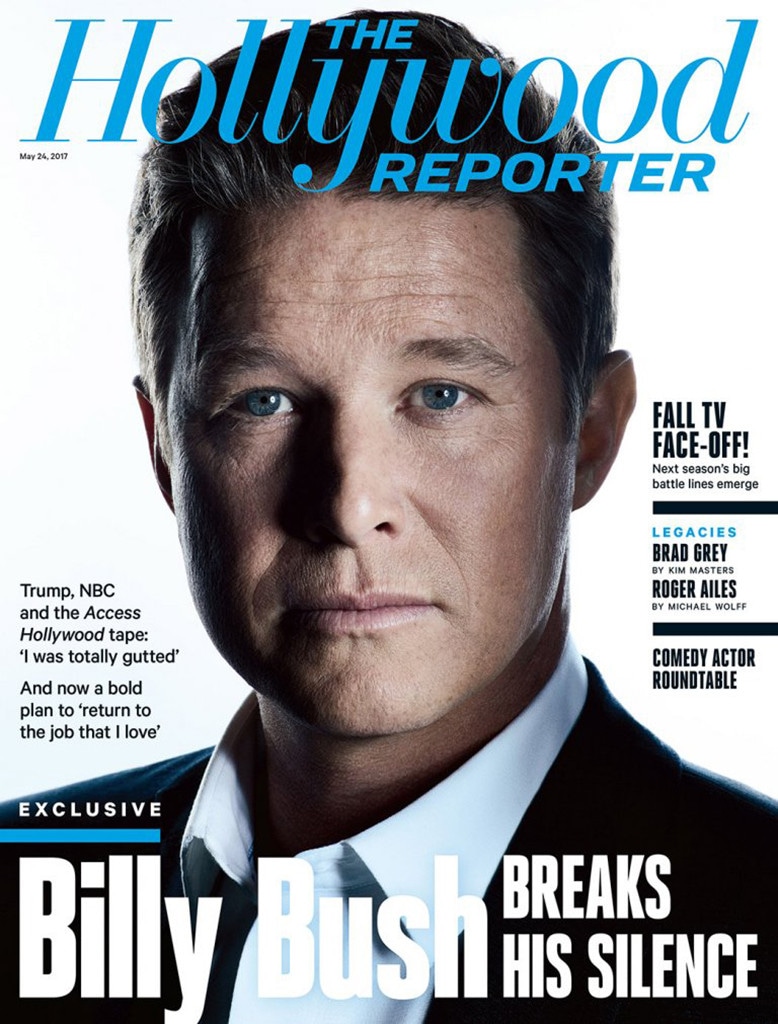 FRANK W. OCKENFELS 3/ THE HOLLYWOOD REPORTER
It's Billy Bush's turn to speak. 
More than seven months after a graphic conversation between the television personality and President Donald Trump was leaked by the Washington Post, Billy has addressed the scandal for the very first time in an interview with The Hollywood Reporter.
Shortly after the leaked tapes swept headlines just prior to the 2017 presidential election, Bush was suspended and eventually parted ways with the Today show. The conversation, which took place in 2005 while taping a segment for Access Hollywood, included audio of Billy and Trump using vulgar language while discussing women. 
Here are nine things we learned from the ordeal, through Bush's eyes: 
FRANK W. OCKENFELS 3/ THE HOLLYWOOD REPORTER
1. He Regrets Making the Comments: Bush said he's only seen the tape three times, but each time it left him feeling "totally and completely gutted." Bush reflected, "Looking back upon what was said on that bus, I wish I had changed the topic. [Trump] liked TV and competition. I could've said, 'Can you believe the ratings on whatever?' But I didn't have the strength of character to do it."
2. But Is Grateful for the Lessons He Learned: Despite obviously wishing it never happened, Bush has since gained perspective on the scandal. "I am not grateful for the moment," he told THR. "But I'm grateful for what I've gotten out of it. I'm grateful that it hit me all the way to my core."
3. He Was Open With His Daughters: As a father to three young girls, Bush said nothing could prepare him for them listening to the tape. "It hit really hard," he recounted to 15-year-old Mary, "and I stopped for a second, and I said, "I have no answer for that that's any good. I am really sorry. That was Dad in a bad moment a long time ago. You know me. I am really sorry that you had to hear and see that. I love you." She needed to hear that, and I certainly needed to tell her that.
FRANK W. OCKENFELS 3/ THE HOLLYWOOD REPORTER
4. His Family Never Strayed From His Side: Bush leaned on wife Sydney Davis through it all, crediting her as a pillar of strength. He explained, "My 18-year-old is more of a fighter. She was like, "All right, who do I need to take out?" And my wife, Sydney, knows the environment and the atmosphere I was in at the time, and she knows very well the person she married. She has been very supportive from the very beginning."
5. He's Ready to Stand Up for Women: Bush said he's looking at the scandal as an opportunity for growth. In his own words, "I've come out of this with a deeper understanding of how women can connect to the feeling of having to fight extra hard for an even playing field. The ground isn't even. Maybe it's improving, but still it isn't even. When a woman watches that tape—and this is what really hit me — they may be asking themselves, 'Is that what happens when I walk out of a room? When I walk out of a meeting, is that what they're saying about me? Are they sizing me up?'"
He continued, "I can't live with that. If a moment like that arose again, I would shut it down quickly. I am in the women-raising business, exclusively. I have three daughters—Mary, Lillie, Josie — and I care very much about the world and the people they encounter."
6. He's Felt Support From Hollywood and His Today Family: Bush's inner circle didn't turn their backs on him, as he revealed Tamron Hall, Hoda Kotb, Kathie Lee Gifford, Matt Lauer, Savannah Guthrie and Al Roker all reached out with kinds words. "I got a wonderful handwritten letter from Suzanne Somers," the 45-year-old added. "I got a great letter from Cindy Crawford. Kate Walsh and Julie Bowen reached out. They were all supportive—'We know the real you.'"
7. He Spent a Week at an Intense Retreat: Bush went into great detail about his "soul searching" journey, which included attending a seven-day retreat in California. "This was my most powerful thing I did," he dished. "Over the holidays, I said, 'I'm just depressed, bloated and miserable. I need to get up and get better...' It's not glamorous. It was seven days—no phones, no communication. And it's so overpowering and so draining that you have to sign an agreement that you'll take two days on your own by yourself before you go back to family or friends."
Bush then explained, "For 13 hours a day, it's a study on your life and your negative patterns. At one point, you're on your knees with a baseball bat and a pillow in front of you, and you are literally bashing these negative patterns that you've identified in your life. For me, one was judginess. I look back three years ago, doing Access Hollywood Live, and some story would come up, and I'd be like, 'Oh, these people, these celebrities, how can they not ba-ba-ba-ba whatever.' So that became the moment of real awakening, and it went on from there. I've done everything."
8. He's Planning a Comeback: Don't expect Bush to sit on the sidelines much longer. He told The Hollywood Reporter he's already putting the wheels in motion to get back to his journalistic roots. "But I plan to return to the job that I love, which is television, communicating, interviewing people," Bush shared. "I have changed in a way that I think will make me better at my job. I believe there will be more people like me in crisis. And with social media, a flame becomes a bonfire quickly."
"So I will be picking up my pen and writing them and calling them on the phone, and I will pursue these interviews and these moments with these people. And through what I've learned and where I've been, I will tell them, 'You have empathetic ears in me.'"
9. He Has No Intentions of Re-Hashing Things With Trump: While Bush is open to a phone conversation with POTUS, he's mostly ready to close this chapter of his life. "Conduct a little private interview? No," he decided. I'd just say thanks and move on. There is nothing I need from him.
(E! and Today are both part of the NBCUniversal family.)