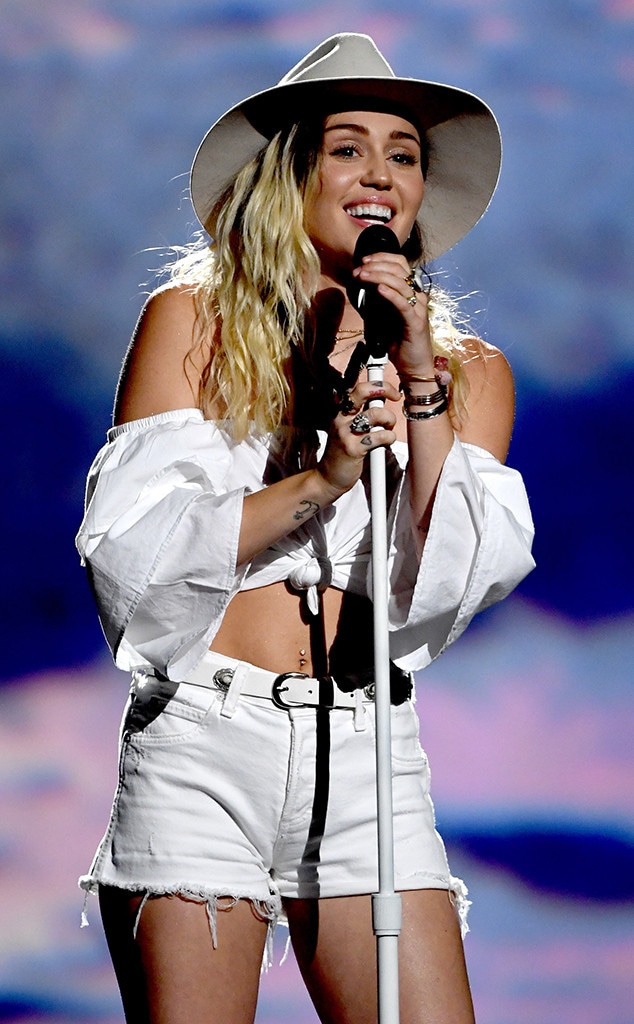 Ethan Miller/Getty Images
She's bringing Malibu to Las Vegas...
Miley Cyrus turned in her leotards and blow-up hot dogs for a new, softer sound at the 2017 Billboard Music Awards.
Introduced by her sister Noah Cyrus and dad Billy Ray Cyrus, the songstress, whose long locks were hidden beneath her hat, made her highly anticipated appearance to perform her new single "Malibu" for fans around the globe. The singer treated fans to an emotional performance that left the audience feeling her new style.
Wearing a cowboy hat, white off-the-shoulder top and white cut offs, Miley returned to her country roots with her new single, "Malibu." Instead of twerking back-up dancers and a wild ensemble, the singer opted for a paired-down performance for her paired-down tune.
Fans are eagerly waiting for the former Hannah Montana star's new album, which shows a big departure from Bangerz.
Miley wrote the lyrics and melodies for various songs on the album with producer-writer Oren Yoel playing the instruments. And while Miley created one song on her album for Hillary Clinton and another for women in the workplace, the album is expected to be more personal than political.
"This is Miley leaning into her roots more than I've ever heard," dad Billy Ray previously shared with Billboard. "For her, this is honest."