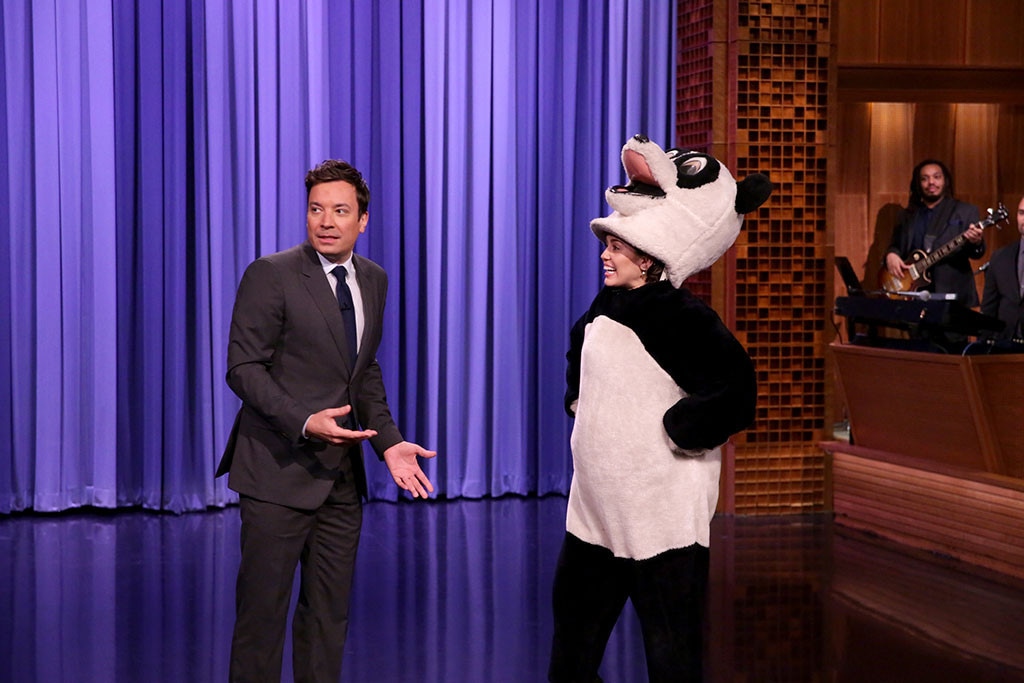 Andrew Lipovsky/NBC
Miley Cyrus had quite the Wednesday. 
On the heels of her new single, "Malibu," the songstress had an NBC bonanza yesterday as she hopped from set to set to visit with fans and share the news of her latest track and upcoming sixth studio album. 
But, first, she had to suit up—as Jimmy Fallon's sidekick, Hashtag the Panda. After taking the Tonight Show stage in the full costume, the host noticed the dancing was a touch different. Surprise! It was Miley. 
"Yeah, I've been doing this the last few months," she joked.
The band definitely had her dancing until she dropped, but there was no time to rest because she was due for a visit to Seth Meyers' set to sit in with the 8G band. 
"I've just been taking over NBC all day. Started with the cooking show, now I'm with you...I've been a dancing panda, so the day has been pretty crazy. That's a normal day for me though," she explained to the audience. 
Of course, it's not every day you have Miley Cyrus conducting your band. 
"That was pretty cool," Meyers noted. 
In addition to her late night visits, Cyrus was up bright and early on Today, where she joined Al Roker to get her cooking on, and Access Hollywood. 
"Looooooved taking over @nbc #MBC #Malibu," she wrote on Instagram. 
(E! and NBC are both part of the NBCUniversal family.)