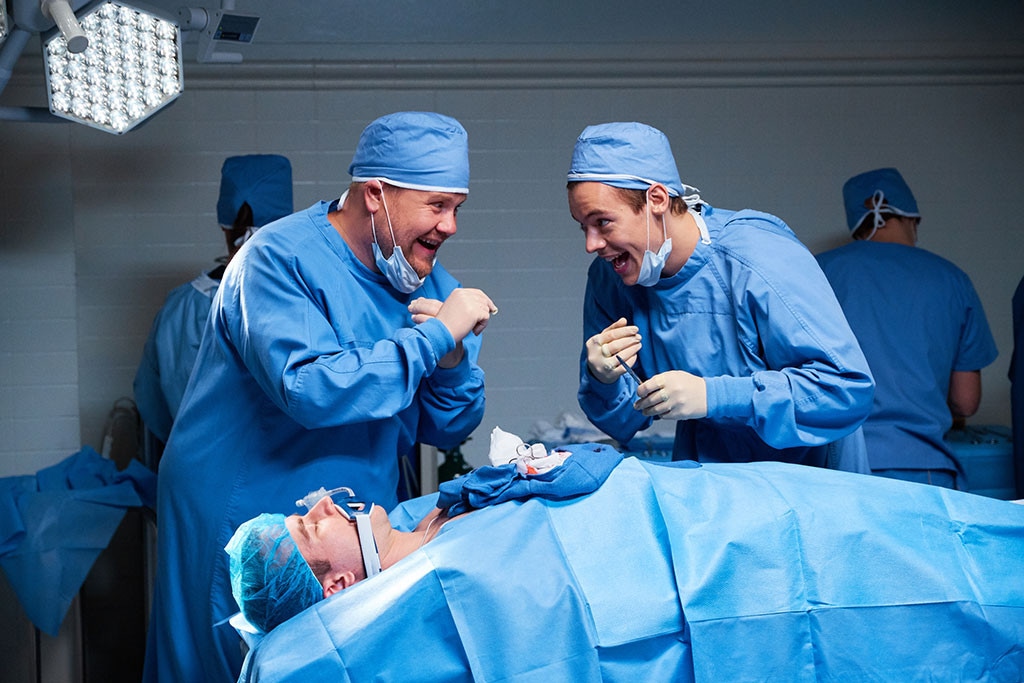 Terence Patrick/CBS
There's a time and a place for everything—and as James Corden and Harry Styles proved on The Late Late Show, they have terrible timing. In a pre-taped sketch that aired Wednesday night, they played people whose unrelenting need to dance and sing had fatal consequences.
The scene opened with Corden and Styles playing heart surgeons. Before he began, Corden said, "Guys, this is going to get a little tricky. I'm going to need everybody's full concentration."
As he began to hum Tom Jones' "It's Not Unusual," the music inside him swelled. Before they knew it, Corden and Styles were full on singing in the operating room—and their patient flat-lined. "That was my bad," the host said. "I'm sorry. I'm not entirely sure what happened there."
In the next scene, Corden and Styles served as pallbearers at a funeral. It was a somber occasion, of course—but Corden couldn't help himself when Lou Bega's "Mambo No. 5" got stuck in his head. As he and Styles sang about Monica, Erca, Rita, Tina, Sandra, Mary and Jessica, the pastor looked at them severely and said, "I think you two should probably leave."
The final scene showed Corden and Styles working as part of a bomb squad.
"I think we're about to play Russian roulette," Styles said.
"I think you're right, but we can't mess this up, OK? The whole world is relying on us. No singing, you understand?" Corden instructed the singer. "No singing! No singing! No singing!"
Of course, they couldn't help themselves—and it ended with a rendition of Wham!'s Wake Me Up Before You Go-Go." Disappointed in himself, Corden said, "Get it together! Get it together!"
The Late Late Show With James Corden airs weeknights at 12:35 a.m. on CBS.