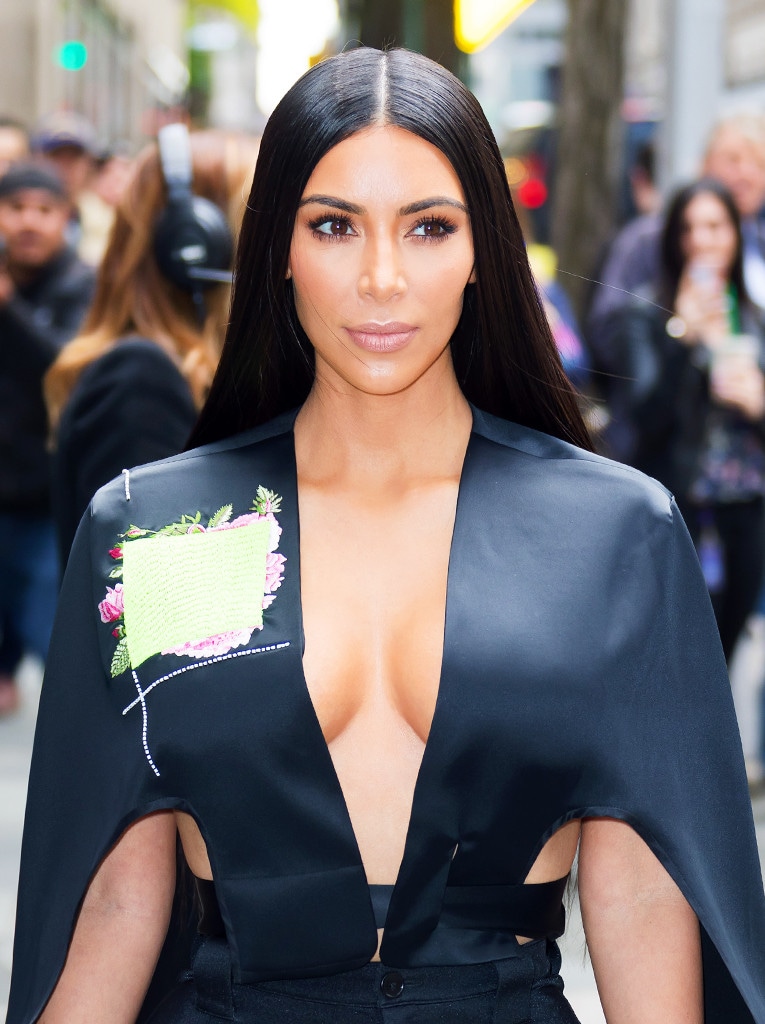 Gotham/GC Images
Kim Kardashian has built a reputation around flawless skin.
One look at her world-renowned selfies, and you'll be dying to no know her skin-care secrets. What products does she use? Who is her facialist? What's her morning routine? These questions (in addition to the glossy appeal of her lifestyle and bangin' bod) are what propels most to hit that precious "Follow" button.
Yesterday, we were happy that we did, as the Keeping Up With the Kardashians star revealed the beauty products that she's excited to try on Snapchat.
First up, Seaweed Bath Co., whose affordable products feature organic seaweed from the coast of Maine. This particular seaweed promises to detoxify and protect the skin and hair. Kim K, however, has specific hopes for her assortment of products. Years ago, the reality star was diagnosed with psoriasis, a skin condition that produces dry, itchy patches (a similar condition to eczema). Since revealing on KKUWTK, viewers have watched Kim use a variety of products and practices to treat psoriasis (including using Kourtney Kardashian's breast milk). Are the Seaweed Bath Co.'s firming detox cream, exfoliating detox scrub, purifying detox facial bar or hydrating seaweed bath the answer? "The note said it is good for psoriasis so we will see," she told her followers.
The next products truly align with Kim's glamorous lifestyle. "I am so excited to try these diamond and gold eye masks, and then face masks. This makes me so happy," she revealed. The Knesko Nano Gold Repair Collagen Face Mask and the Diamond Radiance Collagen Face Mask have brightening and age-defying properties, but its most unique effect is that it may activate your chakras. Will these masks help you reach a higher level of consciousness? You'll need $150 to find out. 
This isn't the first time she's spent big bucks on beauty products. In 2015, the beauty guru confessed a costly beauty must-have during a masterclass with her makeup artist Mario Dedivanovic. "Guerlain moisturizer is my favorite—it's really heavy, which I like, but it's so expensive, so I ask for it for Christmas and my birthday." The orchard-scented cream is $455, but the brand has recently released a cream-based sheet mask, which supposedly delivers 10 times the moisture of applying lotion by hand. It treats hyperpigmention and wrinkles but will cost you $285.
The beauty lover also took some time to give a nod to her favorite products. L'Oreal Paris Voluminous Original Mascara is an all-time favorite for Kim K. and Mario. The company showed their gratitude to her loyalty with custom, glittering mascaras, which she revealed via Snapchat.
Another favorite: the Clarisonic cleansing brushes. However, yesterday, Kim K. revealed how excited she was to try their new makeup applicator, which can be used with liquid and cream based products. Mario, her makeup artist also expressed his excitement with a tutorial on Instagram last month.
Now that you're in-the-know, check out Kim K.'s beauty obsessions below! 
Which of these products are you going to try? Tell us below! 
For all of the hottest beauty launches this season, click here!