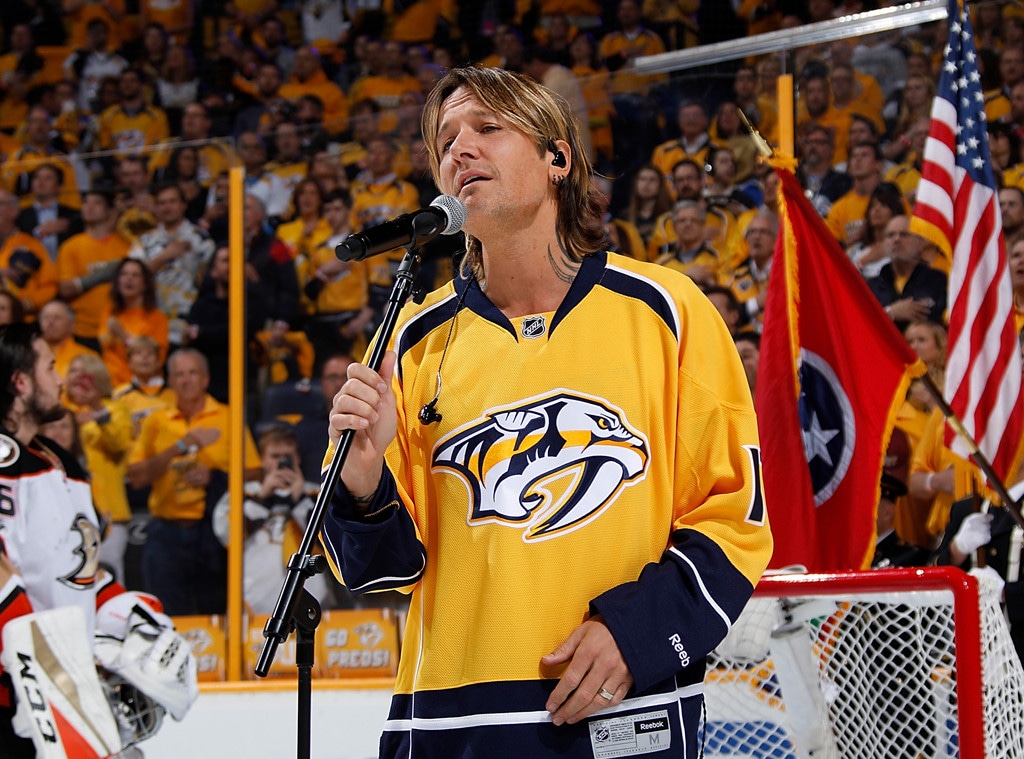 John Russell/NHLI via Getty Images)
Keith Urban had an "incredible" time singing the National Anthem last night.
The native Australian performed before Game 3 of the Western Conference Final between the Nashville Predators and Anaheim Ducks at Nashville's Bridgestone Arena. "I've lived in America for 25 years," he told NHL Network's Jon Morosi. "I've never been asked to sing the National Anthem before, so it's an honor to do it here in Nashville for the Preds." Admittedly, he was "plenty" nervous to sing. "It's a nerve-wracking experience, but above all, it's a huge honor. For me, for all the years I've lived here, it's probably one of the proudest moments ever in my life."
The Predators beat the Ducks 2-1 to take a 2-1 lead in the series.
Urban said the hometown "pride" is "absolutely unbelievable" to witness. "They've just gone from strengths to strengths," he said of the team. "It's phenomenal to see them come this far."
Urban's wife, Nicole Kidman, was there to cheer him on—and to cheer on her favorite team. So, who's the bigger Predators fan? "I think Nic. Nic for sure! She's the one getting us down to the games," the musician said. "I'm always ready to get in the car, too—but she's ready to go."
Carrie Underwood, wife of Predators captain Mike Fisher, live-tweeted the game and gave props to her "Fighter" collaborator. "Aaaaaaand... @KeithUrban just kicked it all off!!!" she said.
Urban and Kidman, who wore matching jerseys, later recorded a video message shared it with his 3.34 million Twitter followers. "We're here at the Preds game. I've lived here in America for almost 25 years and I've never been asked to sing the National Anthem until tonight, so it's a huge honor," the 49-year-old country singer said. "Thank you, Preds, for asking me. Go Preds!"
Game 4 of the NHL Finals is scheduled for Thursday at 8 p.m. ET.