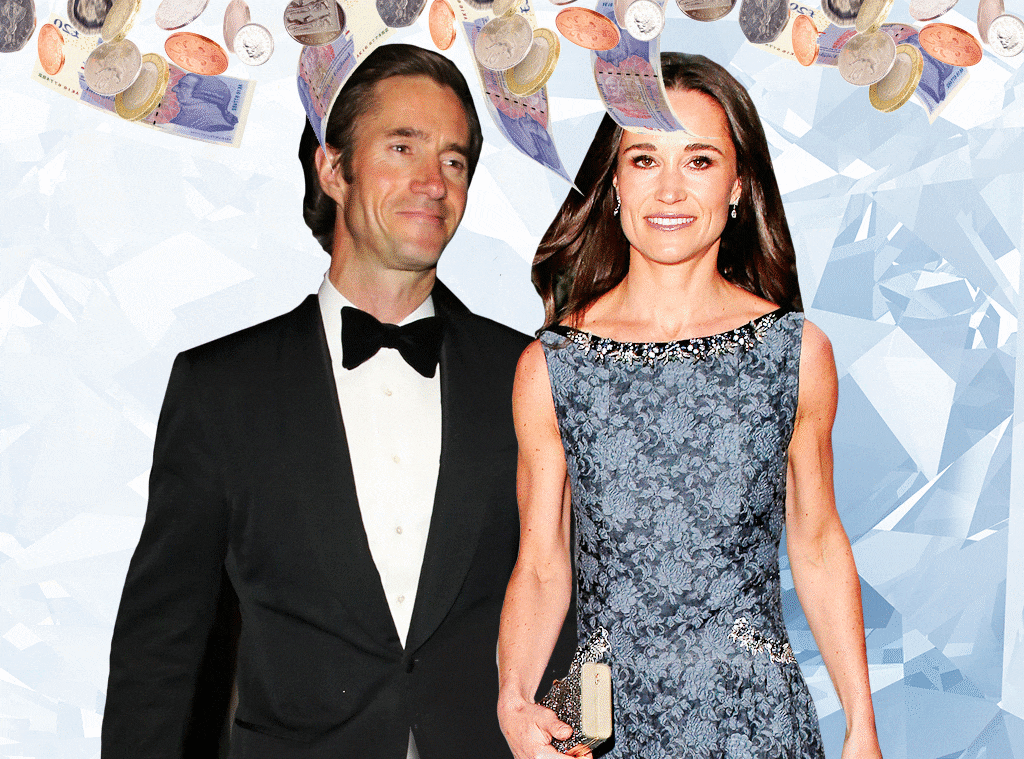 Getty Images; Splash News / E! Illustration
Pippa Middleton may not be marrying into the royal family, but in a matter of just a few days, she'll have wealthy and respected new relatives all her own. 
Duchess of Cambridge Kate Middleton's younger sister is set to walk down the aisle on Saturday to her fiancé James Matthews, a former race car champion-turned-hedge fund manager.
It's no question that Middleton can certainly support herself—she's authored cookbooks, written as a columnist, benefitted from trust funds handed down by her great-grandmother and worked in the family party-planning business, Party Pieces, which is reportedly worth millions of its own. However, when she becomes Mrs. Matthews, she'll also come into contact with her husband's self-made fortune. 
After achieving a level of success in the racing world, Matthews entered the finance world as a trader in 1995 and soon assumed major status as co-founder of Eden Rock Capital Management in 2001, where the 41-year-old remains CEO today. The firm reportedly managed over £1 billion worth of investments by 2007.
"His stake in Eden Capital and the money he potentially has taken out over the last 16 years could make him a demi-billionaire or close to a billionaire on his own merits," David Friedman, co-founder at WealthQuotient, told E! News. However, that estimation is also reliant on other factors like the market and his fees.
While the company has come under fire as of late for alleged association with some scandals overseas, Matthews is also linked to a tremendous family fortune. As Friedman said, "To characterize James wealth, one must look at two core areas: family wealth and Eden Capital."
Before a racing career of his own, Matthews' father David Matthews began as a coal miner and apprentice mechanic. After nearly a decade of racing, he built up a successful car dealership, Kirkby Central Group, before retiring and turning his attention to the hotel business. In 1995, he became owner of the Eden Rock in St. Barts, which has since become an A-list luxury destination, serving the likes of Beyoncé and Leonardo DiCaprio.
He also has the 10,000-acre Glen Affric Estate in Scotland to his name. The sprawling property also comes with a title—one James is set to inherit upon his father's death. That title—Laird of Glen Affric—has a matching moniker for Matthews' spouse, who will be Lady Glen Affric. 
While the title serves more for logistical description of the property owners than for everyday use, we don't think Pippa will mind when she can call 10,000 acres one of her vacation spots.